[amazon_link asins='B00H143UXW,B06Y1VGMH2′ template='MT-product-carousel' store='modernthirstc-20′ marketplace='US' link_id='89cd9de4-ff80-11e7-ad0b-b3d612b3a656′]
In case you noticed the lack of updates, I've been on a short vacation to the Sunshine State for the past week and haven't added any new content in that time.  Well, I'm back.  Time to play catch-up.
I guess we can add this to the list of likely great bourbons 99.9% of us will never actually see on liquor store shelves.  It's hard to get excited about these type of releases, knowing the best chance most people will have to taste them will be at $25+ per glass at a bar, or by paying 4X retail from a flipper who gets a bottle and posts it on a Facebook trading group for $450 before he makes it to the liquor store parking lot.  But don't let my jaded I-live-in-the-center-of-the-bourbon-maelstrom (aka Louisville)-and-am-just-back-at-work-after-a-short-vacation depressed ramblings distract you.
Yes, it's going to be impossible for most drinkers to find, but the Antique collection is, for my money, the best limited release whiskey of the year.  Keep your Pappy.  Keep your overhyped orphan barrels and owls.  I want William Larue Weller, 17 Year Old Eagle Rare, and the grand daddy of them all, George T. Stagg.  Simply put, they are great whiskey.  In fact, the only annual limited release, for my palate, that rivals them is Four Roses Limited Edition Small Batch.
Anyway, here are the details:
---
2015 ANTIQUE COLLECTION WHISKEYS
FRANKFORT, FRANKLIN COUNTY, KY (Sept. 8, 2015) Whiskey fans rejoice, Buffalo Trace Distillery is releasing its 2015 Antique Collection in late September. The highly anticipated collection will once again feature five limited-release whiskeys of various ages, recipes and proofs. Here's what loyal fans can expect:
George T. Stagg
The powerhouse favorite of the Antique Collection, the 2015 George T. Stagg weighs in at 138.2 proof this year. Past releases of this uncut and unfiltered bourbon won many top awards, including twice named the number one spirit in the world by F. Paul Pacult's The Spirit Journal. This year's release contains bourbon from barrels filled in the spring of 2000. This batch contained 128 barrels, a similar size batch as in previous years. Unfortunately these barrels yielded very little whiskey. Some of the barrels were nearly empty, containing only 1 or 2 gallons. Storage location of these barrels varied across a number of warehouses and several floors, but 84% of the original whiskey was lost to evaporation (or some very greedy angels!). Finding a bottle this fall will be harder than ever. This whiskey tastes of expresso, molasses, chocolate, vanilla, and dates.
William Larue Weller
The Antique Collection's uncut, unfiltered, wheated recipe bourbon is William Larue Weller. Previous editions of this wheater have won many accolades, including the Second Finest Whiskey in the World by Jim Murray's Whisky Bible 2015 edition. The 2015 offering was distilled in the spring of 2003 and aged on the second and sixth floors of Warehouses I, K, and L. This bourbon registers in at 134.6 proof – one of the stronger Weller releases. The bold flavors include toffee, nougat, and figs.
Thomas H. Handy Sazerac Rye
Thomas H. Handy is the uncut and unfiltered straight rye whiskey. The 2014 edition was named "World's Best American Whiskey" at the 2015 World Whiskies Awards. This year's Handy was distilled in the spring of 2009; aged on the fourth and seventh floors of Warehouses I, K, and M, and weighs in at 126.9 proof. The flavor has been described as fig, clove, and allspice.
Eagle Rare 17 Year Old
The previous edition of this bourbon was honored with a Gold Medal at the 2014 International Wine and Spirits Competition. The 2015 edition has been aging on the first, second and third floors of Warehouses Q and I. This bourbon was aged for seventeen years and tastes of oak, tobacco, and dates.
Sazerac Rye 18 Year Old
Last year Sazerac Rye 18 Year Old was named the third finest whiskey in the world by Jim Murray's Whisky Bible 2015 edition, and American Whiskey of the Year by Whisky Advocate Magazine. This 2015 straight rye whiskey release has notable flavors of molasses and allspice, with a long, dry finish. Several years ago, barrels of fully matured Sazerac Rye 18 Year Old were put into a stainless steel tank at Buffalo Trace Distillery to prevent further aging. Since then, whiskey has been drawn each year for bottling. This is the last edition of Sazerac Rye 18 Year Old from that tank. Next year's batch will be comprised of whiskey that is currently aging in barrels filled in April 1998 and subsequent releases will contain barrels filled in 1999 and so on.
The Antique Collection was introduced more than a decade ago and has become a cult favorite among whiskey connoisseurs. Since 2000 these whiskeys have garnered numerous awards from such notable publications as Whisky Advocate Magazine, Spirit Journal, and Jim Murray's Whisky Bible.
The 2015 Antique Collection whiskeys will be available in limited quantities starting in late September or early October. Suggested retail price is $80 each. For more information visit http://www.buffalotracedistillery.com/brands/antique-collection.
About Buffalo Trace Distillery
Buffalo Trace Distillery is an American family-owned company based in Frankfort, Franklin County, Kentucky. The Distillery's rich tradition dates back to 1773and includes such legends as E.H. Taylor, Jr., George T. Stagg, Albert B. Blanton, Orville Schupp, and Elmer T. Lee. Buffalo Trace Distillery is a fully operational Distillery producing bourbon, rye and vodka on site and is a National Historic Landmark as well as is listed on the National Register of Historic Places. The Distillery has won 17 distillery titles since 2000 from such notable publications as Whisky Magazine, Whisky Advocate Magazine and Wine Enthusiast Magazine. It was named "Brand Innovator of the Year" by Whisky Magazine at its Icons of Whisky America Awards 2015. Buffalo Trace Distillery has also garnered more than 300 awards for its wide range of premium whiskies. To learn more about Buffalo Trace Distillery visit www.buffalotracedistillery.com. To download images from Buffalo Trace Distillery visit www.buffalotracemediakit.com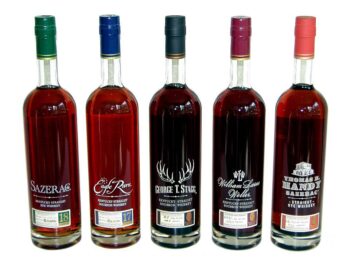 Contact: Amy Preske
Public Relations and Events Manager
502-696-5957
www.buffalotracemediakit.com