George T. Stagg Kentucky Straight Bourbon Whiskey (2009 Bottling)
This is an epic bourbon and should be purchased or sampled at any opportunity. A classic with few rivals.
[amazon_link asins='B00H143UXW,B00MV7E51K' template='ProductCarousel' store='modernthirstc-20′ marketplace='US' link_id='30409326-8c06-11e7-8843-b16a2e2718d0′]
George T. Stagg Vital Stats
Age: 15 Years
ABV: 70.7% (141.4 Proof)
Bottled: 2009
Distillery: Buffalo Trace
Availability: Extremely Limited
What it is:
George T. Stagg is a limited release offering from Buffalo Trace's Antique Collection.  A highly sought-after and difficult to find bourbon, George T. Stagg is aged nearly 15 years before bottling. It's uncut, unfiltered, and they pour it into the bottle as naked and strong as the day it was born. That's right, barrel strength.
What does Barrel Strength mean? Well, that's simple. When distillers age bourbon in large oak barrels, they eventually remove the barrel from the warehouse, taste it, and add water to it until they feel it's a good proof for drinking. Barrel Strength bourbons like Stagg do away with that nicety and take it straight from the barrel to the bottle. In other words, it's pretty damn close to paint thinner in strength, but not in flavor.
Because they don't add water, the proofs of each release vary slightly. It can range from around 130 on the low end to 142 or higher on the high end. The bottle I'm testing is a 2009 release, which clocked in at a tongue-blistering 141.4 proof.
Appearance: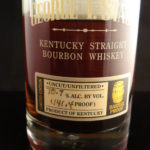 The bottle is tall and slim, like all the Antique Collection, with the trademark antlers signifying  Stagg label.  Simple and elegant, it's attractive and eye-catching.  The bourbon itself is deep amber, very dark, showing hints as to its age and strength.
Aroma:
On the nose, there are strong hints of leather, honey, and caramel, with definite maple presence throughout. Again, this is not a pansy-drinker's bourbon, and even the smell of this will make your eyes water. Nevertheless, it invites smell after smell, as the beautiful aroma of caramel and leather permeate the nose.
Taste:
The taste is powerful, as you might expect. But once the burning subsides, you can taste a definite sweetness and complexity that is surprising in a spirit this strong. Undeterred, I tried a second pour and splashed it with a touch of distilled water. This really brought out hints of fruit and sweetness on the aroma, and a coffee-chocolate finish on the taste. In both tests, there was a heavy taste of caramel and vanilla underlying the strong alcohol burn.
Finish:
Long, powerful, and satisfying. The oak and caramel continue through throughout with the tingle of spicy cinnamon and pepper.
Synopsis:
This is not an everyday bourbon. It's just too difficult to find on shelves, thus too expensive to drink regularly, and really too high in alcohol content for most drinkers. But it's a classic bourbon, a true masterpiece, and one packed with strength, flavor and aroma. It's a treat to smell, and a pleasure to sip. If you manage to score a bottle, you're almost obligated to drink it neat once or twice, but it really shines with a slash of water.
This is a classic bourbon and should be purchased or sampled at any opportunity. It is great both for drinkers and collectors.
ModernThirst.com Score: 95 out of 100 Points
Facebook Comments