[amazon_link asins='B00H143UXW,B016YPDI3A' template='ProductCarousel' store='modernthirstc-20′ marketplace='US' link_id='06fcabde-89a9-11e7-b0cb-753080d9149d']
At a recent trip to Westport Whiskey & Wine in Louisville, Matt and I had a little extra time, so we decided to drop in to the shop's whiskey tasting bar to taste and review a couple of bourbons I haven't yet written about on the site. For those in Louisville, Westport Whiskey & Wine is a great shop with a fantastic tasting room, and always a great selection on their shelves. The Owners, Chris and Richard, are always friendly, always helpful, and very knowledgeable about their business.
After chatting with Co-Owner Chris Zaborowski for a few moments, we made our way to the tasting room, where fellow co-owner Richard Splan met us at the bar. The selection at the tasting bar is outstanding. Guests can select from a huge list of readily available to ultra-rare bourbons and whiskeys to pay for a per-pour sampling. Richard chatted with us as we tasted two extremely fine bourbons. Great experience.
We decided to first taste the 2013 version of the Buffalo Trace Antique Collection's William Larue Weller.
William Larue Weller (2013)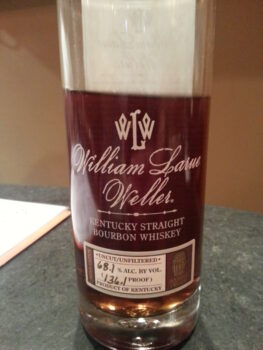 What it is:
WLW is a barrel-proof wheated bourbon from Buffalo Trace. That means, naturally, that it shares its recipe with not only the Weller line, but Pappy Van Winkle. This one didn't disappoint.
Stats:
Produced by: Buffalo Trace, Frankfort, KY
68.1% ABV (136.1 Proof)
Mash Bill: Buffalo Trace Wheated Mash Bill
Availability: Extremely Limited
Price: MSRP is upwards of $80-100
Packaging:
Tall, sloped Buffalo Trace Antique Collection bottle with screen printed label and sticker denoting the proof. These bottles are well-known to bourbon enthusiasts and will be noticed.
Appearance:
Beautiful amber color with a hint of auburn.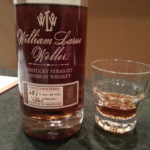 Nose:
Raisins, Cherries, and coffee. Some brown sugar, and a sweetness akin to icing.
Taste:
Sweet butterscotch and cocoa on the front of the mouth give way to almonds, macadamia nuts, and cinnamon on the middle of the mouth, with fresh wood and licorice on the back of the mouth.
Finish:
Long finish. The Sweetness does not subside, but a spiciness from cloves and pepper arrive right after the swallow and are complimented by vanilla and grapes.
Synopsis:
What a great bourbon. If you're into wheaters, this is very nearly the king for me. I love the juxtaposition of sweet wheated recipe with the heat from a high barrel-proof bottling. This 2013 version is dark and velvety with enough zest to really open your eyes, and may be the best version of William Larue Weller yet. If only it were available in stores.
ModernThirst.com score: 93 out of 100 points.
2013 Four Roses Limited Edition Small Batch 125th Anniversary Bourbon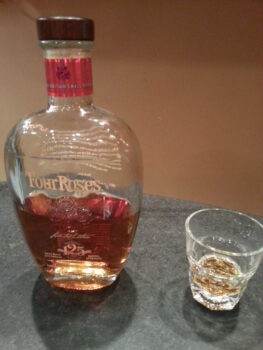 What it is:
The 125th Anniversary Limited Edition Small Batch release obviously marks the 125th anniversary of the Four Roses brand. This bourbon is bottled at barrel proof and mixed from three different Four Roses recipes. The Limited edition is released annually.
Stats:
Produced by: Four Roses Distillery, Lawrenceburg, KY
55% ABV (110 Proof)
Mash Bill: 3 recipes comprising 18 year old OBSV, 13 year old OBSK, and 13 year old OESK.
Availability: No longer available.
Price: MSRP was $90
Packaging:
Rounded cordial-like bottle similar to the standard Four Roses Small Batch. It's definitely attractive.
Appearance:
Deep amber.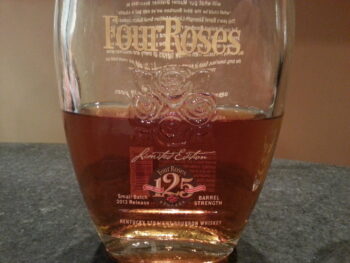 Nose:
The first scent greeting the nose is ripe peach with a hint of citrus. There is a lot going on here, however, as I was able to find cinnamon, clove, cherries, plums, and plenty of vanilla. There is a faint rose-petal hint as well that seems very common with Four Roses blends, and I have often considered it their calling card.
Taste:
Wow. The first taste is immediate fresh, ripe peaches with whipped cream. It transitions very smoothly to vanilla, caramel, and butterscotch, and then to aged wood and spice on the back of the palate. This is extremely well balanced on the tongue.
Finish:
Fresh red fruits and plenty of alcohol bite linger on the finish for quite some time. This is a long, smooth, pleasing finish that seems to go on and on.
Synopsis:
It seems like Four Roses Master Distiller Jim Rutledge can do no wrong these days. This one ticks all the right boxes in perfect sequence. It's one of the better-balanced and most well-rounded bourbons I've tasted this year, and the flavors are distinct, yet nearly perfectly blended. I don't know what the exact percentages are on this blend, but if I did, I'd do my best to duplicate it at home. This is epically good bourbon.
ModernThirst.com score: 96 out of 100 points.
Fantastic bourbon.  Nearly perfect.