Smooth Ambler Old Scout 7 Year
Despite clocking in at 99 proof, it's exceptionally easy to drink.
Smooth Ambler is a label definitely growing in popularity amongst bourbon fanatics. Thus far, Modern Thirst hasn't reviewed any of their products. However, over the past week or two, we've collected four different Smooth Ambler offerings and will be systematically reviewing them here on the site. We're starting with Smooth Ambler Old Scout 7 Year Bourbon.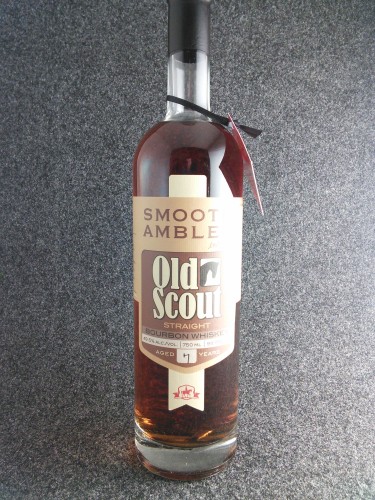 Stats:
Distiller: MGP, Lawrenceburg, IN.
49.5% ABV (99 Proof)
Aged: 7 Years
Mash Bill: 60% Corn, 36% Rye, 4% Malted Barley
Batch #73
Bottled on: 5/22/2014
What it is:
Smooth Ambler is a West Virginia based spirits company. They do own a working still, though it's new, so they have been sourcing bourbon and rye whiskeys for several years now. Unlike many other Non-Distilling Producers (NDPs), however, Smooth Ambler is not secretive about the fact that much of their product is currently sourced. In fact, they're so transparent that they intentionally named their sourced products "Old Scout" to differentiate them from other lines they are producing in-house. This particular offering, Smooth Ambler Old Scout 7 year Bourbon, is 99 proof, and produced by MGP in Lawrenceburg, IN. This particular bourbon is fairly high in rye content, so I expect some spiciness and citrus. It is non-chill filtered.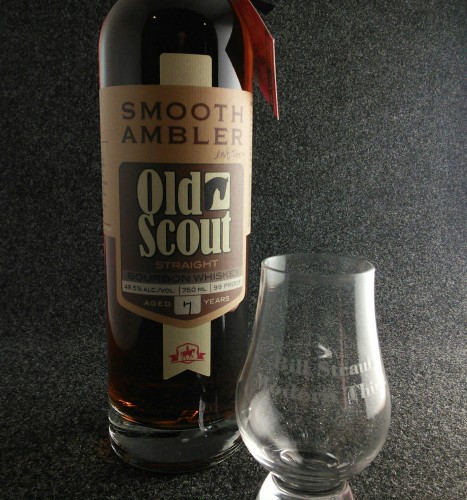 Packaging:
Nothing particularly out of the ordinary, but this is bottled in a tall, standard bourbon style bottle with a printed label.
Appearance:
Dark copper, bordering on brown. It actually appears to be darker than several other older, higher proof bourbons on my shelf.
Aroma:
The first scent I caught was mint, almost like peppermint. But there are definite sweet hints on the nose as well, including a hefty dose of citrus fruit.
Taste:
Very sweet up front. There is caramel and mint that is followed up by a rounded vanilla. Near the back of the mouth, some definite pepper begins to show itself before a rush of citrus and apricot become brazenly apparent.
Finish:
Very warm, lots of spice, with more of that dried apricot and citrus. The vanilla seems to return on the end. Medium in length.
Synopsis:
I like this bourbon. I wasn't sure what to expect, coming in, as I usually skew towards Kentucky made and owned bourbons out of pure home-state loyalty. But MGP turns out a good product, and Smooth Ambler is choosing the right format. The high rye content makes this seem very similar to Willett 4 year rye (prior to Willet's in-house distillate), or a strong Bulleit Rye than to nearly any other bourbon I've tasted, including other high-rye varieties from Jim Beam and elsewhere. But it's still good. In fact, despite clocking in at 99 proof, it's exceptionally easy to drink.
ModernThirst.com score: 87 out of 100 points.
---
The ModernThirst.com scoring system is a standard 100 point system based on 4 categories, taken in order.

Appearance: 15 points
Nose: 25 Points
Palate/Taste: 35 Points
Finish: 25 points

95+        Epic
90-94     Excellent, Good representative of its style
85-89     Solid sipper
80-84     Drinkable, but potentially flawed.
75-79     Low quality, flawed, use as a mixer only
<75        Rot Gut, avoid