Smooth Ambler Old Scout 10 Year
This is a very easy drinking, pleasant sipping bourbon.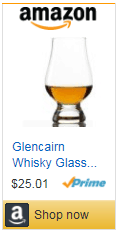 This marks our second installment in a series of whiskey reviews dedicated to West Virginia-based spirits company Smooth Ambler.   In this review, I'm focusing on the 10 year version of their Old Scout bourbon product. This should compare very nicely with the Old Scout 7 year bourbon I reviewed previously.
In an age when it seems whiskey producers do everything they can to obscure the origins of their distillate, and create false and misleading narratives about the source of their whiskey, Smooth Ambler is a refreshing change of pace. While they are distilling many of their own spirits, they also do source whiskey from other producers, namely MGP in Indiana. They are very transparent on the process, which we here at Modern Thirst appreciate greatly. To differentiate between their in-house products and the sourced products, Smooth Ambler labels all the sourced products as "Old Scout." Thus, this is a sourced bourbon from MGP in Indiana.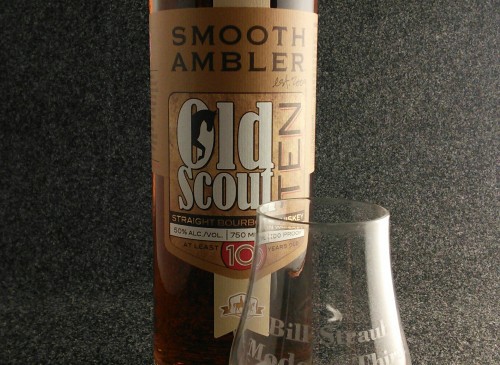 Stats:
Age: 10 years
Producer: Smooth Ambler, Maxwelton, WV
Distiller: MGP, Lawrenceburg, IN
49.5% ABV (99 Proof)
Batch: 14
Price Paid: $49.99; Louisville, KY
Availability: Fairly Available
Mash Bill: 75% Corn, 21% Rye, 4% Malted Barley
Packaging: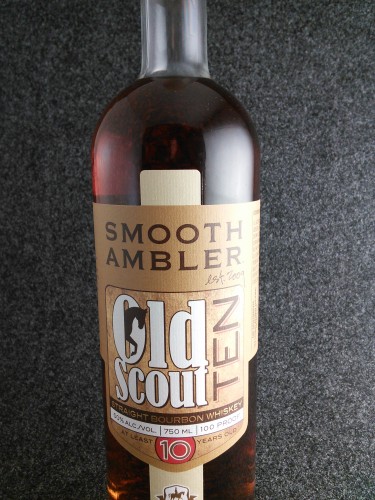 Tall, standard bourbon bottle with printed label. It's unassuming, but attractive.
Appearance:
Slightly darker than copper, but not quite reaching brown, this bourbon seems somewhat light in color for a 10 year bourbon.
Aroma:
Cinnamon, caramel, and a hint of apricot greet the nose. The aroma borders on sweet, with just a hint of citrus, but nothing approaching the citrus blast of the higher rye 7 year offering.
Taste:
Sweet right off the bat, surprisingly so given the mash bill, there are plenty of hints of vanilla and caramel on the front and middle of the tongue. The texture is excellent. It is rich and full on the tongue, with a ton of creaminess. The sweetness doesn't abate, but some slight peppery rye notes develop mid palate with mild oak on the back of the tongue.
Finish:
Medium to long, the sweetness remains as the oak fades away quickly.  The apricots from the nose finally make their long-awaited appearance here with a slash of lemon twist and citrus. There is the slightest acrid note of tannins right at the end that may alarm the drinker at first, but it fades quickly, never becoming unpleasant.
Synopsis:
This is a very easy drinking, pleasant sipping bourbon. It has a lot in common with the 7 year offering, despite the difference in mash bill and age, but feels like a more refined, less citrusy version of the same expression. I like it. If there was any complaint here, it's that this bourbon doesn't' really show its age the way I would have expected a 10 year old whiskey to do.  There are some oak hints and some tannins, but by and large, the experience is sweet and creamy bourbon, not really heavy vanilla, caramel, and oak. But that might be due to lower char levels (most distillers us e a #3 or #4 char, and I'm not currently aware of what level MGP uses or from whom they source their barrels).
ModernThirst.com rating

:

89 out of 100 points.
---
The ModernThirst.com scoring system is a standard 100 point system based on 4 categories, taken in order.

Appearance: 15 points
Nose: 25 Points
Palate/Taste: 35 Points
Finish: 25 points

95+        Epic
90-94     Excellent, Good representative of its style
85-89     Solid sipper
80-84     Drinkable, but potentially flawed.
75-79     Low quality, flawed, use as a mixer only
<75        Rot Gut, avoid