Monday, August 11th marked the latest meeting of Cincinnati's Bourbon Society.

The guest speaker was Seth Thompson of The Bourbon Review. Seth spoke about the history of the publication, including its first issues and its Bourbon Country Guide annual release. The Bourbon Review is a well-known and well respected publication, and Seth's presence shows that the Society plans to continue to bring a wide mix of bourbon related experts to its members.
The Society then tasted two separate offerings from Wild Turkey. The First was a Russell's Reserve 10 year Small Batch.
Tasting notes included: Smooth caramel taste, buttery. Initial burn of the tongue, smooth finish in the back of the mouth. Other notes: Leathery and hearty.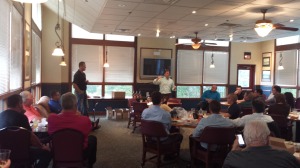 Tasting #2 was Wild Turkey's rare Breed Barrel Proof bourbon.
Notes on the Rare breed included: Spicy taste, buttery and smooth. Hot or warm taste. Hints of a brown sugar or molasses. Lingers for a while.
As per custom, the society then spent the remainder of the meeting socializing and tasting bourbons brought by members to share.
Meetings of the Bourbon Society of greater Cincinnati are held on the second Monday of each month, and are free to first-time guests. You can contact the society on their Facebook Group Page.