Parker's Heritage Malt Whiskey
This is definitely not for everyone. It's neither bourbon nor Scotch, and will both struggle to find an audience, and yet challenge the palate of whiskey geeks. It's worth a sip, but at its price, may be best sampled first by splitting a bottle or buying a drink at a bar.
[amazon_link asins='B00H143UXW,B06Y1VGMH2′ template='MT-product-carousel' store='modernthirstc-20′ marketplace='US' link_id='89cd9de4-ff80-11e7-ad0b-b3d612b3a656′]
Vital Stats
Distiller: Heaven Hill
ABV: 54% (108°)
Price Paid: $130.00 (Evan Williams Experience Gift Shop)
Availability: Very Limited Release (Currently gift shop only, wider release forthcoming)
Mash Bill: 65% Malt, 35% Corn
Age: 8 Years
Aging Location: Floors 5 and 7, Rickhouse Y, Bardstown, KY
What it is:
This year's Parker's Heritage Collection release, the 9th overall, has very big shoes to fill. The Past two releases of PHC have been, to put it mildly, outstanding. The 7th edition, called "A Promise of Hope," was a perfect example of traditional bourbon flavors executed nearly flawlessly. Last year's 8th edition, Original Batch Wheat Whiskey was so unique and so flavorful that we named it our 2014 Whiskey of the Year. So it was with no small amount of excitement that we awaited this year's 9th edition.
Heaven Hill announced a month or two ago that this year's edition would be a Kentucky Straight Malt Whiskey. Wait…malt whiskey? Like Scotch? Sort of. I'll get to that. While some expressed varying levels of dismay that this release would be malt whiskey, and not bourbon or rye, I was more excited. To be honest, limited release bourbons are becoming somewhat…umm…pedestrian to me.
First, there are simply too many. Every distiller or NDP now releases a limited edition whiskey which is a new blend of existing stocks, or extra aged, or finished in a new type of barrel. That's all fine and good, but it's become so common that they've lost their uniqueness and their novelty in a lot of ways. They've become common hyper-priced bottlings. While many of them are outstanding bourbons, it's very possible to find outstanding bourbons in any liquor store if you make the right picks from private barrel selections. What's very hard these days is to find something new and unique. So a Kentucky Straight Malt Whiskey?  This is not just a select few barrels of standard whiskey, or an older expression of an existing whiskey, or a different proofing.  This is a new beast entirely. Sign me up.
And to be fair, I don't even know how to judge it. What aromas should I find? What flavors should I be looking for? Should this remind me of Scotch? Irish Whiskey?
Regardless, this is a 108 proof whiskey aged 8 years on floors 5 and 7 of Rickhouse Y in Bardstown, KY. It is made from a mash that is 65% Malt and 35% corn. That tells me that while this is a straight malt whiskey, there should be an underlying sweetness from the corn that would not be found in traditional single malt Scotches. It was released yesterday, September 10th, to the gift shops at the Evan Williams Experience in downtown Louisville and to the Heaven Hill Bourbon Heritage Center in Bardstown, KY. The gift shop cost was $130, which is a typical markup for the gift shops, and the retail price will be between $90 and $100. Also, since Parker Beam, the namesake of the line, suffers from ALS, $5 from the sale of each bottle goes to ALS research. 141 barrels were produced in total. Past that, I really don't know what to expect. So let's get on to the tasting!
Packaging:
This is packaged in the same bottles as past Parker's Heritage editions, with a green label with gold lettering. The Parker's Heritage logo is screen printed directly on the bottle above the label. Like all Parker's releases, it is very attractive. The first 50 customers who purchased from the gift shop received a leather gift bag embossed with the Heaven Hill logo. It's a really attractive overall package, and I guess that helps take the sting out of the gift shop markup.
Appearance: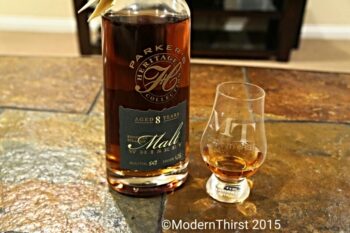 I've seen this described as extremely dark brown, and even murky by some bloggers. That's insane. Holding this up to last year's Parker's release shows it is noticeably lighter in color. It's a medium brown in shade, maybe a few hints of amber. This is, after all, only 8 years old.
Aroma:
First and foremost, the heavy scent of toasted oak permeates the nose on this one. It's extremely pronounced. Underlying that are notes of roasted grains, particularly cereal and oats. Unlike a traditional bourbon, there isn't much in the way of caramel or vanilla, but I do detect some dried peaches and apricots.
Taste:
Just as the nose suggested, there are heavy oak flavors in this. I mean heavy. It's a dark, charred, somewhat oily oak characteristic I've only really tasted recently in the Orphan Barrel Forged Oak release. But it's not the only flavor on the palate. There is a very powerful undercurrent of sweetness on this whiskey. There are only whisps of corn, but a sweet burnt brown sugar note is prominent, along with graham cracker, pie crust, and burnt butterscotch. But that oily oaky flavor right down the center of the palate remains throughout, giving this some Scotch-like smokiness. It's a slightly unbalanced dichotomy between the smoky oak and the sweet flavors.
Finish:
Prepare yourself. A sip of this lingers forever. It's an exceptionally long finish with that super oaky theme carrying right through. It lingers so long that it does, in fact, turn bitter. And since this finish lasts and lasts, so does that bitterness. But some sweet cinnamon and pumpkin pie spice peeks through as well, along with roasted toffee.
Synopsis:
Let me first say that I like this release. It shows a good deal of creativity and skill from Heaven Hill in taking something distinctly "un" Kentucky like straight malt whiskey and placing a Kentucky Bourbon spin on it. And as seems to be Heaven Hill's calling card with heavy barrel char flavors featuring prominently in this tasting.
Nonetheless, I don't know that this stacks up as well to the previous releases of the Parker's Heritage Collection. The first issue is that it will have very narrow appeal. Bourbon drinkers like bourbon. Many also appreciate a good rye whiskey. Some like wheat. But very few really want to see traditional Kentucky distillers dabbling in malt whiskey, especially in a release that has so pleased bourbon geeks in the past. Malt whiskey is simply a different beast. It has a different market, and a different appeal. So The absurdity of seeing this for $300 or $400 yesterday on these ridiculous secondary market groups on places like Facebook is beyond annoying. And it may wind up biting a lot of flippers, because this isn't going to have the secondary demand, in my opinion, that previous releases did.
Is this a single malt meant to appeal to bourbon drinkers? Is this a crossover meant to draw Scotch fans to Kentucky whiskey? Actually, it's both. Or neither. That's the problem. It's tasty enough, but it's weird. If I'm craving a bourbon, will I reach for this bottle? If I want to dabble in Scotch, will I want something with 35% corn sweetening up the bottle? Hardly.
This is a drinker's whiskey, not a collector's. Unless you really love that green label on your shelf, there won't be much reason to have this around unopened.
But if you are genuinely curious about trying something unique and interesting, and you genuinely enjoy challenging your palate, this is a really fascinating experiment. For myself, I'm not unhappy to have spent the cash on this bottle, but I don't think I will buy a second, as I did with last year's release. This one will do just fine.  I think I'll need to revisit other American malt whiskeys to compare, however. And maybe that answers my question above as to what this whiskey even is. I'm a bourbon drinker, and this has piqued my interest in a different expression of whiskey- malt whiskey.
For my final recommendation, this is most certainly a try-before-buy type of bottle. Some people will love this, and some will absolutely hate it. But that doesn't change that it's very well crafted, for what it is, so the truly curious whiskey geek should try it.
ModernThirst.com Score: 88 out of 100 points.