Maker's 46
Improvement over the Original
A nice improvement over the original, I still think there's a slight lack of complexity to Maker's 46. Nevertheless, it ticks enough buttons to deserve a look.
Maker's 46 Vital Stats
◾ABV: 47% (Proof: 94º)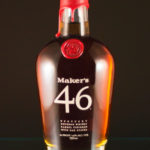 ◾Mash Bill:70% Corn, 16% Wheat, 14% Barley
◾Barrel Entry Proof: 110
◾Barrel Char Level: Unknown
◾Secondary Barrel Staves: Seared French Oak
◾Producer: Maker's Mark, Loretto, KY
◾Price: $37.99
◾Availability: Readily Available
What it is: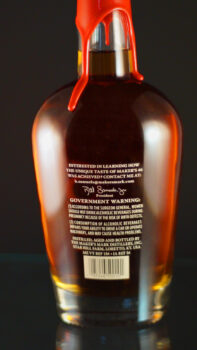 For many years, Maker's Mark prided itself on producing one product.  One product, done right, time and again.  That suited the company well for decades, its red wax signature look becoming an iconic image.  However, the past decade has given rise to an explosion of new bourbon lines and new options from nearly every distiller and NDP on the planet, leaving Maker's Mark in its wake.
All that changed in 2010, when Maker's Mark rolled out Maker's 46.  They began by taking their standard, fully mature Maker's Mark and removing it from its barrel.  They inserted Seared French Oak staves to the barrel, and replaced the bourbon inside the barrel for an additional period of aging.  Thus was born Maker's 46.
Bottled at a robust 47% ABV (94 proof), this is a stout, woody version of Maker's Mark with the added underlying spice of seared French oak.  There is no age statement, but I am told it is between 5 and 7 years old.
Packaging:
A taller, elegant bottle with a screen printed logo and that iconic red wax, this bottle is a beautiful presentation.
Appearance:
Slightly darker than standard Maker's this pours a medium brown in the Glencairn.
Aroma:
There is a lot of Maker's on the nose here, and we expect that theme to carry through to the tasting as well.  Plenty of honey and flower petals on the first whiff, and a smooth, woodiness underlying it that is certinaly not present in the standing Maker's Mark.
Taste:
Caramel and vanilla right off the bat, but a bitter woodiness jumps on the tongue as soon as it hits the mid palate.  The wood is clearly the influence of the seared French oak staves, and there is a spicy warmth to the wood that is interesting, though at times borders on overly bitter.
Finish: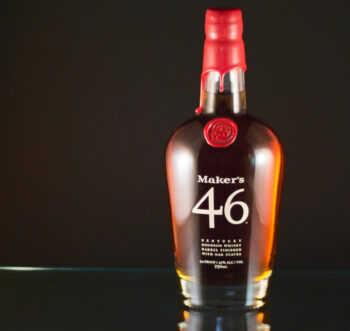 This is a strikingly long finish, with the spicy wood permeating the first half but giving way to traditional oak and sweetness on the tail end.
Synopsis:
A nice improvement on Maker's Mark, this still isn't my favorite sip.  Thinking harder on it, I feel like this serves much the same purpose as the Cask Strength Maker's in that it likely makes a pretty nice bourbon to use in craft cocktails.  The woodiness on this adds a certain depth that is not present on standard Maker's, but the sweetness of the wheated mash bill should serve as a nice compliment to most mixers.
ModernThirst.com Score: 87 out of 100 Points.
*Click here to read about our scoring system*