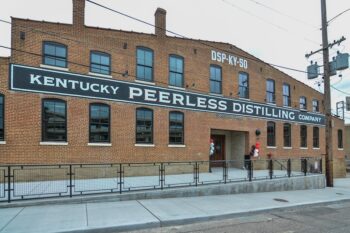 Kentucky Peerless Distilling Company in Louisville is celebrating their one year anniversary on June 3rd.  They will have complimentary tours of the distillery all day and live entertainment.
This anniversary marks one year since the brand's re-introduction, but Kentucky Peerless was originally formed in Henderson, KY in 1889 by Henry Kraver.  The new iteration of the brand is owned by Corky and Carson Taylor, descendants of Kraver, and they will be on hand at the distillery on June 3rd to greet visitors.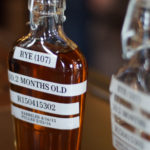 ModernThirst toured the new distillery back in February, and it's a great facility that stays true to the character of the historic building they occupy at North 10th Street in Louisville, and boasts what I can only explain as the most modern and up-to-date computer-controlled distilling operation I've ever seen.  They are currently barreling 12 barrels of bourbon and rye per day, many of which are aging on site in the attached warehouse.  We tasted the immature rye whiskey in February, and the mature version will be released next year.  If the less-than-one-year-old version is any indication, the modern equipment works, because it was worth a purchase then.  After two years, I'm expecting something really special.  If you haven't visited the distillery yet, get there June 3rd.
FOR IMMEDIATE RELEASE
Contact:
Kentucky Peerless Distilling Company
120 North 10th Street, Louisville, KY 40202
Telephone: (502) 566-4999
Website: http://kentuckypeerless.com
Email: [email protected]
Kentucky Peerless Distilling Co. Commemorates Their One-Year Anniversary with "A Day of Celebration".
Kentucky Peerless is opening their doors to the public for complimentary tours, tastings and entertainment in honor of their one-year anniversary. The event will be on Friday, June 3, 2016 from 10:00am – 9:00pm at Kentucky Peerless Distillery on 120 North 10th Street in Louisville, KY.
Louisville, KY (May 23, 2016) – Kentucky Peerless Distilling Co. announces "A Day of Celebration" in honor of their one-year anniversary to be held on June 3, 2016 from 10:00am – 9:00pm at Kentucky Peerless Distillery, located at 120 North 10th Street in Louisville, KY. The event will feature an up close and personal look behind the scenes of Louisville's newest downtown distilling operation. Guests will meet father and son owners, Corky and Carson Taylor while enjoying complimentary tours, tastings, light snacks and entertainment.
Since opening, Peerless has doubled production of their signature bourbon and rye, currently producing approximately 12 barrels a day. Peerless rye will be ready for bottle in 2017 and Peerless bourbon in 2019. Peerless is currently producing and distributing Lucky Kentucky Moonshine in 9 states. They have seven flavored moonshines and on June 3rd will release their latest "Clear Shine".
Located on 10th Street, Peerless is playing an active role in the revitalization of the Portland area by serving as a destination beyond "The 9th Street Divide". They were recently recognized with a Cornerstone Award from the Louisville Downtown Partnership for their contribution to the Central Business District. As a destination on the Kentucky Bourbon Trail Craft Tour, Peerless welcomed tourists and bourbon enthusiasts from all over the world and looks forward to continued growth.
About Kentucky Peerless Distilling Co.: Kentucky Peerless originated in Henderson, KY in 1889 under the leadership of an entrepreneur named Henry Kraver. At the height of their production, Peerless was making 200 barrels of whiskey per day. Peerless was one of the few Distilleries to have a medicinal license during Prohibition and on June 3, 2015 Kraver's descendants, Corky Taylor and his son, Carson Taylor (4th and 5th generation respectively) revived the Peerless name by re-opening the Distillery in Downtown Louisville. The finest grains are milled, cooked, fermented, double-distilled, and barreled as bourbon & rye all under one roof in the state-of-the-art distillery. Kentucky Peerless is open to the public Wednesday through Saturday for tours, tastings and retail shopping.
---
Photos of Kentucky Peerless: