[amazon_link asins='B00H143UXW,B01BI7OGXU' template='MT-product-carousel' store='modernthirstc-20′ marketplace='US' link_id='0dd57259-1261-11e8-9a63-272ea69ce6c3′]
Baker's Vital Stats
◾ABV: 53.5% (Proof: 107º)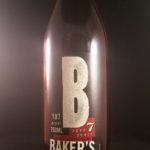 ◾Mash Bill:75% Corn, 13% Rye, 12% Barley
◾Barrel Entry Proof: unknown, reportedly lower than their standard 125º
◾Barrel Char Level: #4
◾Age: 7 Years
◾Producer: Jim Beam, Clermont, KY
◾Price: $48.99
◾Availability: Usually available
What it is:
Baker's is the oft-overlooked middle entrant in the Jim Beam Small Batch Collection.  It is named for Baker Beam, the grand nephew of Jim Beam himself.  The literature from Jim Beam claims this is made using a special strain of Jug Yeast, but I have a feeling this is code for "standard Jim Beam yeast that was originally kept in a jug generations ago."  This is a 107 proof small batch version of the line, aged 7 years.  Comparatively, Knob Creek is 9 years old, but bottled at only 100 proof (the single barrel version aside), and Booker's, which is around 8 years old but bottled at barrel proof.  So it's slightly younger than Knob Creek but also slightly higher proof.  And more expensive.
Packaging:
Baker's comes in a tall standard whiskey bottle with a dark label with a prominent "B" on the front.  The age statement is apparent, though how long that remains is a mystery, given the dropping of the age statement on Basil Hayden's.  It's a nice packaging nonetheless.
Appearance:
This is a really dark whiskey, especially for one that is only 7 years old.  It's a woody, deep brown, almost murky in the glass.  By looking at it, I would expect either a really old or an unfiltered bourbon.  It is neither.
Aroma:
This is a heavy hitter with plenty of leather, deep oak, and lemon zest on the nose.  I expected some heavy sweet characteristics, but they never seemed to materialize.  Really, this smells like an oaky high-rye bourbon, which is surprising, given the standard Beam mash bill.   Bringing up the rear of the nose is the unmistakable Jim Beam smell.  It's been described as "yeasty," or "Cardboard" by lots of reviewers (including me) over the years, but it's a signature of Jim Beam products.  It almost certainly, due to its prevalence in all their products, the result of their yeast, which is why I don't really buy the marketing line of a "special strain of jug yeast."  This is Jim Beam yeast.  Period.  I really wanted a burnt brown sugar to offset and balance the flavors, but it was not to be.
Taste:
There is a malty flavor right off the bat that permeates down the center of the palate.  In addition, the rye notes seem to carry through the tasting as well, with black pepper spiciness combined with lemon zest on the fringes.  Oak is again a defining characteristic, with this tasting much older than the 7 years on its label suggest.  Again, there was some vanilla, but it lacked a lot of sweetness in the glass that seemed like it ought to be there.  Still, there are some nice flavors here.
Finish:
I would call this a medium length finish but it just borders on the cusp of long. The Beam yeast character most definitely asserts itself here, with the oak and black pepper being the main flavors that linger.
Synopsis:
Over the years, I often speak about the Jim Beam Small Batch collection, and Basil Hayden's, Booker's, and Knob Creek spring quickly to mind.  I usually have to think about it for a moment to remember Baker's.  It seems to be the forgotten stepchild of the line.  It is lightly marketed, and there doesn't appear to be great buzz about it online.  I think I understand why.  It's sort of lost in the shuffle- almost redundant.  Knob Creek is older- and at 100 proof isn't so far off that the ABV should be a deal breaker.  Knob Creek is also significantly cheaper.  And if a more robust or higher proof bourbon is your thing, Booker's has that covered in spades at only a few dollars more, or at around the same price or less the single barrel Knob Creek is 120 proof and 9 years old.
Baker's is a fine bourbon.  But it lacks anything to separate itself from its own peers at Jim Beam.  I don't know how much equity Beam sees in the label, but I wouldn't be surprised, as stocks get tighter and demand for Knob Creek grows, to see this label shelved at some point.  Why do we need Baker's?  What role does it fill in the Jim Beam catalogue that Knob or Booker's doesn't or can't already fill? Ultimately, it's a slightly redundant offering from Jim Beam that is a decent bourbon, but doesn't really scratch any particular whiskey itch for me.
ModernThirst.com Score: 86 out of 100 Points.
Baker's
Baker's is a nice bourbon from the folks at Jim Beam. But it suffers from a lack of defining character to set it apart from the other offerings in the Jim Beam Small Batch lineup, making it a somewhat pricey option when Beam has better balanced or less expensive bottles available that cover the same flavor profiles.