Heaven Hill Select Stock
While it's certainly lacking in the subtlety department, there are tons of flavors to explore here, and tons of heat for those who like their bourbon with a lot of burn. Still, the price is a barrier, and the lack of availability means the vast majority of bourbon aficionados will never try it.
[amazon_link asins='B01N5HU3CP,B00J3FJPW2′ template='MT-product-carousel' store='modernthirstc-20′ marketplace='US' link_id='c4eec7bf-377e-11e8-a37c-0b97ce50ab00′]
What it is:
Heaven Hill Select Stock is an annual release of what might be called "experimental" bourbons from Heaven Hill that is available only at the Bourbon Heritage Center in Bardstown, KY.  In this case, "experimental" means a finish not typically utilized by Heaven Hill on an existing product line.  With this bottle, the bourbon is the standard wheated mash bill as you find in Old Fitzgerald and Larceny but it is finished in Cognac barrels.  This formula isn't new, and has been the recipe for Select Stock for several years now, where the time spent in the finishing barrels varies by a matter of months.  This isn't for the faint of heart (or the light-of-wallet), as it retails at the Heritage Center for $150 and proofs out to 126.4°.
This whiskey is 8 year old wheated bourbon finished for an additional 21 months in cognac barrels.
Heaven Hill Select Stock Stats
Producer: Heaven Hill
63.2% ABV (126.4°)
Mash Bill: 68% Corn, 20% Wheat, 12% Malted Barley
Barrel Char Level: #3 (Primary aging.  Secondary barrel: unknown char level.)
Age: 8 Years (Secondary aging in Cognac Barrels for 21 months)
Availability: Limited, Available only at the Bourbon Heritage Center
MSRP: $149.99/750ML
Barrel Serial #: 44829-44835
Lot ID: 03I24A
Rick House/Floor: 3-6
Rack/Tier: 0-0

Packaging: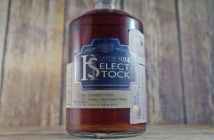 Select Stock is packaged in a short round 750 ML bottle reminiscent of a scientific sample container.  It has a metal screw top with paper label.  It is most definitely intended to look like an experiment, as that is what it really is.  It's nice, and different, but it's not the prettiest bottle you'll have on your shelf.  Then again, that's the point.
Appearance:
This pours a very deep reddish amber into a Glencairn.  It's dark and murky, and looks enticing.
Nose:
Right away, sweet fruits strike the nose with hints of peaches, raisins, and plums.  But they are underscored with caramel and a sweet sugar/simple syrup undertone.
Taste:
Right on the tip of the tongue, there's a burst of maple syrup, plums, and sweet prunes.  Hints of apple gradually rear on the mid palate, and give way to strong oak and barrel flavors by the back of the tongue.  The high proof is evident throughout.  This is a tongue-blisterer.
Finish:
Viscous and long, there is a lot of heat on this one.  The oak remains prominent throughout, but ripe red grapes make a big push on the tail end and the cognac notes shine through at the finale.
Synopsis: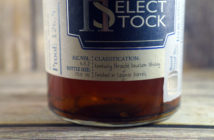 This is a strong, hot bourbon.  But it's absolutely packed with lots of flavors. You'll probably want to splash this with a small touch of water to bring out the sweet notes on the nose, and accentuate the lighter fruits on teh palate, but it's a decadent type of sip regardless.  My ultimate impression was that I'd love to sip this neat after a massive steak dinner at a really expensive steakhouse. It feels like an after dinner aperitif, but with loads of heat.  I really like it, but it's not subtle.  And for the price, it's a hard recommendation to make, ultimately.  Still, I'm partial to barrel-strength bourbons, and this one is certainly unique.  I'm also partial to the Heaven Hill wheated bourbon mash bill, and I've been clamoring for a barrel proof variation of that mash bill for a couple of years.  I don't know that it's the best thing Heaven Hill has done, but it shows they can be creative and offer some really fresh tastes to the industry.  I would love to see Heaven Hill play around with the barrel entry proof of its wheated bourbon lineup.  I feel like if this had gone into the barrel closer to 110 than 125, the flavors would be bursting out of the glass with a touch less heat.  Nevertheless, this is a sweet, decadent sip and I'm very glad to have a bottle.
ModernThirst.com Score: 91 out of 100.