Port Charlotte Islay Barley Heavily
Four standard release bottles from the Bruichladdich distillery sit on my shelves – if I had to choose just one to keep, this would be the choice.  A nice younger Islay whisky – a definite bottle to give a try.
[amazon_link asins='B00H143UXW,B016YPDI3A' template='ProductCarousel' store='modernthirstc-20′ marketplace='US' link_id='7fc60757-9c15-11e7-99c4-557d337b7931′]
INTRODUCTION
For our next series of reviews, we plan to taste two Port Charlotte peated whiskies and two Bruichladdich non-peated offerings from the Bruichladdich Distillery.  Founded in 1881, the distillery is located in Scotland on the Rhinns of the Isle of Islay.  In 2012, Rémy Cointreau purchased the distillery and is the current owner.  Bruichladdich Distillery produces three ranges of whiskies – the Bruichladdich (unpeated range – which includes the ultra-premium Black Art releases), the Port Charlotte (heavily peated range), and the Octomore (super heavily peated range – the most heavily peated whisky in the world).
First up in our reviews, is the Port Charlotte Islay Barley Heavily Peated whisky offering.  From their website:
Port Charlotte single malts, peated to a heavyweight 40 ppm, represent our ongoing exploration into the peat fired legacy of a great distillery, now silent.
Two miles south of Bruichladdich, hugging the shore of Loch Indaal, lies the village of Port Charlotte and ruins of Lochindaal Distillery, that ran spirit for 100 years between 1829 and 1929. 
Following his visit here in 1885 Alfred Barnard wrote: 'Peat only is used in drying the malt, fire in open chauffeurs,' a testament supported in a few surviving faded photographs showing the huge peat stacks waiting to be fed to the kiln fires.
Our heavily peated Port Charlotte single malts are a tribute to the men who once worked this great, now silent, distillery and the skills and legacy they passed on.
Trickle distilled in our cathedral-like still house at Bruichladdich, the spirit is then matured in the original stone warehouses in Port Charlotte.  Living proof that peat can mean elegance.
The wind-driven rain that lashes Islay's fields and the Atlantic air breathed by the casks as they mature by the shores of Loch Indaal, gives the whisky its signature salty, citrus tang.
Port Charlotte Islay Barley Heavily Peated Stats
Mash Bill:  100% Islay malted barley dried over peat (the barley is from farms at Coull, Kynagarry, Island, Rockside, Starchmill and Sunderland)
Casks:  ex-bourbon casks – all Bruichladdich whiskies are aged on Islay – the majority are aged in ex-bourbon barrels (but they note on their website that over 200 different cask types from all over the world are maturing in their warehouses)
Age:  NAS – 6 years; grain harvested in September 2008, distilled in December 2008, and then bottled December 2015
ABV:  50.0% (100 proof); non-chill filtered and no coloring
Producer:  Bruichladdich Distillery
Price:  $55-70
Availability:  available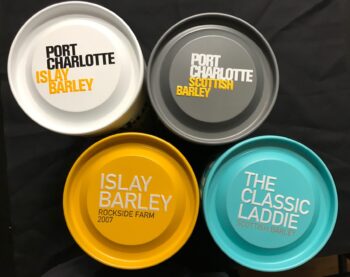 SCORING NOTES
Notes for Jeremy and I are annotated below by the identifiers (JR) or (WJ).
APPEARANCE
before describing the whisky color, I must comment on the tins the product comes in – personally, I think that Bruichladdich has one of the most eye-catching products on the shelf with their colorful sturdy tins; now to the whisky – straw, light gold in color
NOSE
pleasant nose – sweet honey cereal malt with a citrusy element (lemon oil), some smoky vanilla (WJ); sour, medicinal, a darker fruit is a bit buried, a touch of tar (JR)
PALATE
cereal maltiness, sweeter on the taste than nose – some burnt toffee, a lemony tart citrusy note with wood char peeking through at the end, some caramel notes with water added (WJ); vanilla, citrus, peat, a bit more complex in the smoke, medicinal (JR)
FINISH
medium, smoky – pleasant finish, some muted spice, slight pepper, and a touch of bitterness at the very end (WJ); nice, medium-long, some chloraseptic notes, a constant, sustained, and consistent finish (JR)
SYNOPSIS
PORT CHARLOTTE ISLAY BARLEY HEAVILY PEATED:  Thoughts from Wes – A pleasant younger Islay whisky.  A very nice introduction to peated scotch.  Does not blow me away, but a very solid dram.  Would like to taste this same product at a bit older age.  Jeremy – I like this more than the unpeated version of the Islay Barley (that review to come later).
ModernThirst.com Score:  87 (combined); 86.5 (WJ) and 87 (JR)
WRAP-UP
Thanks for reading another scotch review here on ModernThirst.com.  Check back soon for a review of the Port Charlotte Scottish Barley Heavily Peated whiskey. Until then the whisky quote of the day as we close this latest installment is from William Faulkner "My own experience has been that the tools I need for my trade are paper, tobacco, food, and a little whisky."