[amazon_link asins='B00H143UXW,B00MN16ET0′ template='ProductCarousel' store='modernthirstc-20′ marketplace='US' link_id='7baa6147-a2c5-11e7-8318-b31c71be7023′]
If you haven't heard, Bourbon and whiskey distilleries are popping up all over the place these days. They're in the northeast, southeast, west coast- and you name a state, there's probably one there. Of all the non-Kentucky regions making a push into whiskey production, Texas is probably among those with the most promise in terms of long-term viability as well as quality. From Garrison Brother to Balcones to Chip Tate's Tate & Co, Texas is becoming a hotbed of new and innovative operations.  It makes sense.   The state is huge. Above that, Texas produces almost 3240 million bushels of corn per year, which is, naturally, a vital ingredient to most styles of American whiskey production.  Add in varied climate and it has a lot of potential over the next decade to be the next hotbed of whiskey producers.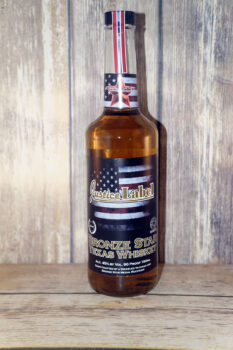 Enter Justice Label. Founded by Jason Justice in 2016, Justice Label is a family owned, Service Disabled Veteran-Owned distillery in Sinton, TX. Initially, Justice Label produced a variety of traditional Appalachian-style corn moonshine. The name of the label, "Bronze Star" was chosen deliberately.  It is an easily recognizable award, and one that commands due respect.  Jason Justice is a Bronze Star recipient, earning the medal in 2010-2011 while on duty in Iraq in which he was wounded in combat.  Despite being 80% disable, Jason still serves as a Logistics Officer in an Individual Mobilization Augmentee program under the Surface Deployment and Distribution Command.  He's a third generation military man, following in the footsteps of his father, who served in the U.S. Army and his grandfather who served in all four branches of the military after World War II.  His wife is also active military, a Captain in the Civil Affairs Command.  This is a family with a long and proud military history, and the naming and branding of the organization is no mistake.
They employ three veterans in the organization, are partnering with a veteran owned brewery on several collaborations, and use a veteran-owned printing company for their labels and printed materials.
Jason sources local corn and cane sugar for his distillate, and uses no pre-packaged syrups of flavorings- only real fruit and sugar. ModernThirst would like to thank Justice Label, who provided a bottle for us to sample with no strings attached.
Interestingly, Justice Label makes use of several unique processes that most distillers aren't currently employing. The first begins with the actual still.  It's not a column still, and it's not a pot still- it's a hybrid designed by Jason Justice, much of which was manufactured by Jason and his father. Taking advantage of TTB ruling 2016-3, Justice Label can produce Texas Whiskey without aging it in oak barrels, instead using charred wood chips. (see Barrel Char in a Jar, which we'll be reviewing in the near future as well). This is a risky maneuver, as wood chips are often employed in home aging to varied results. There is a fine line between too much and not enough in these instances.
So this isn't bourbon, instead it's a corn whiskey made from Texas-sourced grains, namely a mixture of Sinton corn and Robstown Sweet corn and about 10% rye. But a clear innovation is the use of both oak pieces and pecan pieces in the aging process, which is done in glass bottles on-site.  The chips are then charred down to charcoal and used for filtering at the time of bottling. Justice Label does plan on expanding their lineup in the near future, hoping to release a barrel proof version of the whiskey in 2018 and a barrel-aged bourbon thereafter. A portion of the proceeds of the bourbon will go to support Disable American Veterans.
Bronze Star Texas Whiskey is bottled at 90 proof.
Appearance
Light straw
Nose
The corn is the first and obvious aroma here, as this started out life similar to moonshine. There is a hint of mint and char as well, with an undertow of ethanol.
Taste
Whoooo boy. This is not a mild whiskey. There's a strong note of young corn on the front of the palate, but a nutty and yet bitter wood char follows behind that, turning slightly medicinal.
Finish
It's not heavily alcoholic, so there isn't a strong alcohol burn, but the bitter char does permeate the palate on the finish. I get roasted nuts (See below), charcoal, and corn rounding out the final experience.
Synopsis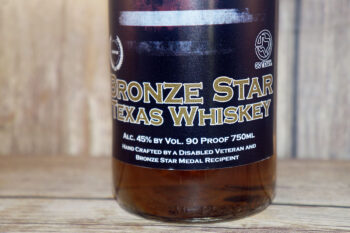 Despite the whiskey label, this is still a little closer to a corn shine than a finished whiskey. In fact, it makes me really want to try their moonshine flavors if I'm ever near Sinton, TX. The downside here is that using wood chips rather than barrels does impart a bitterness to a whiskey that, while providing color, doesn't add the vanilla and caramel flavors that come from barrels. There just isn't the same ratio of charred wood versus the inner layers of un-charred wood full of sugars and tannins that makes American whiskey what it is.  So don't go into this expecting a standard whiskey, it's still more like a moonshine with wood and char notes. Interestingly, I think I could get the pecan notes, which I wasn't even aware of prior to writing the review. It's a nutty, woody flavor, but it's not oak. And regardless few the future direction of their products, I think they should keep pecan in the picture as it adds something unique and interesting to the overall flavor.
I haven't assigned this a score yet, as it's such a unique whiskey from a production standpoint that I'm still not entirely sure where it deviates and where is matches up.  I plan to sip more of this over the coming weeks and will revisit.  But I have to admit, I love this brand's story. They're new on the scene, and trying things very few other producers are trying right now. And they're making sure their company means something and provides services above and beyond the product they produce. If making the world a better place is important, I can't imagine that simultaneously making liquor and supporting veterans and veterans groups doesn't tick just about every box. The next time you're in Stinton, stop in to see Justice Label. Thank the folks there for their service, and give their products a sip.
Cheers!  And God Bless America!