Knob Creek Single barrel Rye
This has been teased for a while, but Jim Beam did not fail to deliver on the first-ever barrel of Knob Creek Single Barrel Rye. It's unique, sweet, and tasty.
[amazon_link asins='B00I52FRWG,B00J3FJPW2′ template='MT-product-carousel' store='modernthirstc-20′ marketplace='US' link_id='8e7e2cf6-16b7-11e8-8468-9b9b35c40f97′]
What it is
Knob Creek Rye isn't new. It's been out for a while, and it's fine. But the single barrel program has been anxiously awaited by whiskey lovers for some time ever since it was teased on the TTB label applications website. So those of us who obsess over such things have been obsessing over Knob Creek Single Barrel Rye. We didn't know the age, we didn't know much else, but we knew it was single barrel and 115 proof.
Many whiskey enthusiasts had visions of a poor man's Booker's Rye in their eyes as they waited for the first barrel to be released. Many envisioned Kentucky Owl Rye at a lower price point.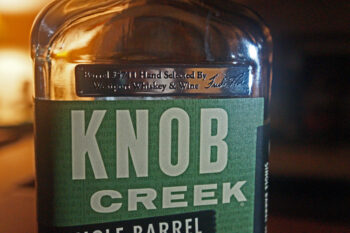 It's neither. But that doesn't mean it isn't good.
This is the first barrel released to the public of Knob Creek Single Barrel Rye. It was selected by Westport Whiskey & Wine, perhaps THE premier spot in Louisville (aka "Bourbon Central, USA") for top-notch single barrel picks and one of the best tasting bars in the city. It is bottled at 115 proof, which makes rye enthusiasts drool. The Retail Price was $43.99. It was 5 years 4 months old at the time of bottling.
Appearance
Medium brown, trending towards gold.
Nose
There is a nice face-off between sweet and fruity on the nose here. There are candied orange notes that are prominent immediately, but they're followed by some sweet cinnamon and savory cloves on the tail end. The two notes play off each other well, and dissipate into a spicy pepper scent.
Palate
This is far sweeter than the typical rye whiskey. I suspect a slightly higher corn content than the popular 95:5 mash bill (rye/malted barley). This is definitely a "Kentucky" style rye. The candied orange is front and center on the palate, but it is quickly overtaken by cinnamon and black pepper. Cloves and some bright fruits make an appearance on the rear palate, but this is not a subtle sip. It's bold and rye-forward with lots of sweet and spice playing on the tongue.
Finish
Long and warm, this whiskey finishes as you might expect a high proof Jim Beam product to finish. The Rye certainly carries through with notes of oak and black pepper, but the Beam 'yeastiness' makes an appearance on the finale that is rarely present in Knob Creek Single Barrel Bourbons. It leaves no doubt as to the provenance of the whiskey. I usually describe it as "cardboard," which isn't usually a compliment, but in this case, it's subtle to the point where it isn't a major issue. Pikesville Rye might be its only real competition as a high proof rye over 3 years old and at a reasonable price. Let's hope this becomes as easy to find and consistently good as the Single Barrel Bourbon.
ModernThirst.com Score: 90 out of 100