James E. Pepper 1776 Sherry Finished Rye
While sherry finishes gain momentum in the American whiskey world, this presentation misses with a bitterness on the rear palate that throws off otherwise enjoyable sweet flavors.
[amazon_link asins='B01N5HU3CP,B00JG4XC10′ template='MT-product-carousel' store='modernthirstc-20′ marketplace='US' link_id='0963b302-38f2-11e8-bac9-033285e73182′]
What it is
James E. Pepper is a relatively new distillery located in Lexington, KY. The distillery itself has only begun making it's own distillate recently, but the company has sourced whiskey for some time, usually from MGP Ingredients in Lawrenceburg, IN.
This Limited Edition straight rye, finished in Pedro Ximenez and Oloroso Sherry barrels, follows suit. It is distilled by MGP, and is at least three years old, and is bottled at 92 proof. It is non-chill filtered.
James E. Pepper 1776 Sherry-Finished Rye Stats
Style: Straight Rye finished in Pedro Ximenez and Oloroso Sherry Barrels
Mash Bill: 95% Rye, 5% Malted Barley
Proof: 92º (46% ABV)
Age: At least 3 years
Batch: PXI
Price Paid: $39.99
Availability: Limited Release
Appearance
Medium Brown
Nose
Sweet dark chocolate, spice cake, dark ripe fruits, and just a hint of oak greet the nose. It's very rich, and deviates from the typical citrus bite of MGP rye, though some candied orange zest is present.
Taste
And here's where the rye assets itself. The black pepper spice is prevalent down the center of the palate with some sweet notes on the perimeter of the tongue. A slightly bitter note makes itself known on the rear palate, somewhat marring the overall flavor, but not completely.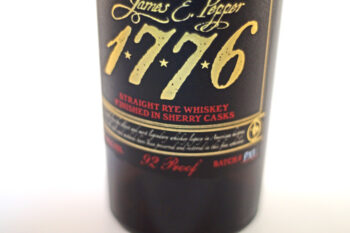 Finish
The Bitterness from the rear palate remains, taking on a brown-paper-bag characteristic at the end of the long finish, with a burst of sweetness in the middle.
Synopsis
Overall, this is a slightly flawed, yet still drinkable rye. Sherry finishes, long a staple in the Scotch world, are making their way into American whiskey, sometimes to great success. Were it not for the bitterness at the end of the palate and on the finish, this would also be a great success. Unfortunately, that bitterness keeps this from being a homerun sip. That's especially disappointing considering the success of a very similar product from Limestone Branch- Minor Case Rye Whiskey, another MGP rye finished in sherry barrels.
ModernThirst.com Score: 83 out of 100.