The Balvenie 12 Year Single Barrel
On a rainy day – a sunny day – at the county fair with friends – or alone listening to Van Morrison or Jelly Roll (Morton), this dram will fit the bill.
[amazon_link asins='B000AV16H0,B003QX2JMA' template='MT-product-carousel' store='modernthirstc-20′ marketplace='US' link_id='ef4bf9cb-aa41-11e8-a07c-dfb894d51b00′]
MUSINGS
The second review in our six part series on The Balvenie Distillery is The Balvenie 12-Year Old Single Barrel. Jeremy and I have tasted and revisited all seven bottlings a few times individually and with our Proper Pour Whisk(e)y Club.  Last time we touched on two bottlings of The Balvenie DoubleWood 12-Year Old – a 2014 bottling that has been open for a few years and a newer 2017 bottling (an interesting comparison). Soon we will review The Balvenie 14-Year Old Caribbean Cask, The Balvenie 14-Year Old Peat Week (2002 Vintage), The Balvenie 14-Year Old Peat Week (2003 Vintage), and The Balvenie 15-Year Old Sherry Cask Single Barrel.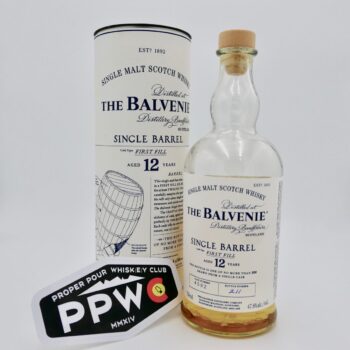 So, with Van Morrison's And It Stoned Me from the Moondance LP playing in the background – probably the one artist that I have not seen in concert that is on the really want to see bucket list – let's jump into the review.  "And it stoned me to my soul . . . stoned me just like Jelly Roll."
BACKGROUND ON THIS BOTTLE
For a little background on this bottling from The Balvenie Distillery:
The Balvenie Single Barrel First Fill is a 12 year old single malt whisky, aged in a first fill, ex-bourbon cask. Almost all Scotch whisky is matured in casks previously used by Bourbon distillers. When brought to Scotland and used for the very first time they are known as 'First Fill'.
Our Malt Master samples the aged whisky, cask by cask and selects only those characterised by sweetness and subtle vanilla oak to be bottled as The Balvenie Single Barrel First Fill.
A series of "limited editions" – Each bottle is one of no more than 300 drawn from a single cask and each is hand-numbered and carries the number of the cask in which it matured.
STATS
THE BALVENIE 12 YEAR OLD SINGLE BARREL FIRST FILL
Mash Bill: 100% malted barley
Casks: first fill ex-bourbon barrels
Age: 12 Years
ABV: 47.8% (95.6 proof)
Producer: The Balvenie Distillery
Price: $80-90
Availability: available
SCORING NOTES
Notes for Jeremy and I are annotated below by the identifiers (JR) or (WJ).
As always – the notes you see below were written and the bottle scored prior to any discussion by Jeremy and me of what we nosed, tasted, or felt overall, about the dram in consideration.
APPEARANCE
pale to light gold
NOSE
much brighter on the nose versus the 12 Year DoubleWood, honey sweetness, floral note (WJ); cereal forward, pear, berries, honey, floral – lavender, oak, and pepper (JR)
PALATE
vanilla much more prominent versus the 12 Year DoubleWood, more oak and spice (WJ); nice dry/sweet balance, vanilla, berries (JR)
FINISH
medium finish – touch longer than DoubleWood, more oak present (WJ); nice, subtle – I like it, mouthfeel was very pleasant (JR)
SYNOPSIS
THE BALVENIE 12 YEAR OLD SINGLE BARREL:  A very pleasant dram – I wrote, nice and consistent from multiple tastings (WJ);  great – best of the group in a six whiskey Balvenie side-by-side whiskey group tasting – which would later be surpassed (JR).  As always with a single barrel offering your bottle and results could easily vary.
ModernThirst.com Score:  89 (combined); 89 (WJ) and 89 (JR)
WRAP-UP
Interestingly enough when our whiskey club tasted the six different Balvenie whiskies this particular bottle came out on top with an 89 overall average from six scorers [range of 86.5 to 90.5].  Jeremy and I have tasted it multiple times and typically range within a half-point up or down from that rating.  Next up in our reviews is The Balvenie 14-Year Old Caribbean Cask. Until next time a little more from Van Morrison's And it Stoned Me:  Half a mile from the county fair, and the rain came pouring down . . . And it stoned me to my soul. On the way back home we sang a song but our throats were getting dry.  Then we saw the man from across the road with the sunshine in his eye . . .  I could definitely see enjoying this Balvenie on a rainy day (or sunny day) listening to Van.  It does wonders for the dry throat.  Cheers.