A very pleasant, peated scotch that checks all the right boxes. Maybe Balvenie should peat their barley for more than one week a year. There is "reason to get excited" about this new annual release.
[amazon_link asins='B003QX2JMA,B000AV16H0′ template='MT-product-carousel' store='modernthirstc-20′ marketplace='US' link_id='6bedb2c4-ca59-11e8-9f8e-bbf8c7ce960a']
MUSINGS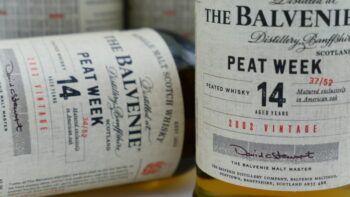 The fourth review in our six part series on The Balvenie Distillery is The Balvenie 14 Year Old Peat Week (2002 Vintage). Jeremy and I have tasted and revisited all seven bottlings a few times individually and with our Proper Pour Whisk(e)y Club.  In our first Balvenie review we touched on two bottlings of The Balvenie DoubleWood 12-Year Old – a 2014 bottling that has been open for a few years and a newer 2017 bottling (an interesting comparison) and then we discussed The Balvenie 12-Year Old Single Barrel before touching on The Balvenie 14-Year Old Caribbean Cask last time. The final two reviews, after this one, will be The Balvenie 14-Year Old Peat Week (2003 Vintage) and The Balvenie 15-Year Old Sherry Cask Single Barrel.
As I sit writing up these two Peat Week reviews (2002 and 2003 Vintage) I'm listening to my favorite artist of all time Bob Dylan – specifically, various versions (eleven to be exact) of All Along the Watchtower. And I feel that is a fitting tune for these drams.  So, with "there must be some way out of here – said the Joker to the thief – there's too much confusion – I can't get no relief" – let's jump into the review.  I think the Balvenie Distillery will provide some relief – let's see.  For me peat always seems to help.
BACKGROUND ON THIS BOTTLE
For a little background on this bottling from The Balvenie Distillery:
The Balvenie Peat Week Aged 14 Years (2002 Vintage) is the result of trials undertaken in 2001 by The Balvenie Malt Master David C. Stewart MBE and our former distillery manager Ian Millar.
At a time when few Speyside distilleries were using peat in production, The Balvenie decided to distil a batch of heavily peated malt, which was laid down to mature at the distillery in Dufftown, Scotland.
Ever since then we've dedicated one week each year, named Peat Week, to using 100% Highland peat to dry our barley. Instead of coastal elements of iodine, salt and medicinal characteristics so commonly associated with Islay peat, Highland peat imparts earthy, woody smoke notes. This means that even though Peat Week is made using heavily peated malt (30ppm) it has an unexpected sweetness deeply rooted in the Speyside regional character.
STATS
THE BALVENIE 14 YEAR OLD PEAT WEEK (2002 VINTAGE)
Mash Bill: 100% malted barley dried with Highland peat
Casks:  aged solely in ex-bourbon American oak casks
Age: 14 Years
ABV: 48.3% (96.6 proof)
Producer: The Balvenie Distillery
Price:  $95-115
Availability: limited release, the 2002 Vintage is getting harder to find


SCORING NOTES
Notes for Jeremy and I are annotated below by the identifiers (JR) or (WJ).
As always – the notes you see below were written and the bottle scored prior to any discussion by Jeremy and me of what we nosed, tasted, or felt overall, about the dram in consideration.
APPEARANCE
straw, light honey – classic tin with lots of info included
NOSE
not your standard peat note – definitely different than Islay peat, musty – with a dirt, barn, and vegetal element, green apple, smoked caramel, some citrus and a lemony note, with some wet wool – really like the smoke element here (WJ); earth, charcoal, spice, smoke, medicinal in the background, a mild touch of rubber, and light salt – very nice (JR)
PALATE
like the taste a bit better than the nose, none of the peat comes to the forefront on the taste, a pleasant earthier smoke which dissipates into a dry honey sweetness – like the Bit-O-Honey candy, toffee, vanilla cream, caramel wrapped in a smoky blanket (WJ); some mild salt again, honey, smoked fruit, a good mouthfeel, smoke is not overpowering – it enhances the other flavors, letting them shine, quite delicious (JR)
FINISH
medium-long, smoky sweetness with a little honey malt and a touch of peppery char create a very pleasant ending (WJ); medium to medium-long, pleasant spice (JR)
SYNOPSIS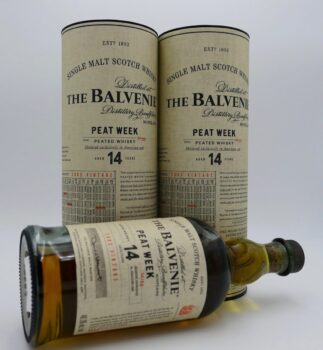 THE BALVENIE 14 YEAR PEAT WEEK (2002 VINTAGE): Of all the Balvenies reviewed so far (and of those in the whiskey club tasting – which did not include the 2003 Vintage) this one comes out on top for me.  A unique dram, not overwhelmingly peaty in any sense – a nice melding of smoke with the traditional Balvenie profile (WJ); Water although not needed brings out more fruit and spice.  The finish, in my opinion, is improved by water as well – a favorite in the Balvenie line-up. I'd buy. (JR).
ModernThirst.com Score:  90 (combined); 89.5 (WJ) and 90 (JR)
WRAP-UP
Interestingly enough when our whiskey club sampled the six different Balvenie whiskies (not including the 2003 Vintage Peat Week) side-by-side this particular bottle came in at number 4 of the 6 tasted with an 87 overall average from six scorers [range of 79.5 to 90 – with five of six raters at 86.5 or higher].  It appears that some liked the peated Balvenie better than others – but for Jeremy and I this is a winner and a solid A-/B+ borderline whisky overall.
Hopefully, keeping with the lyrics from Dylan's All Along the Watchtower there was not "too much confusion" in our take on this whisky.  Until the review of the 2003 Vintage Peat Week – cheers.