[amazon_link asins='B003QX2JMA,B000AV16H0′ template='MT-product-carousel' store='modernthirstc-20′ marketplace='US' link_id='6bedb2c4-ca59-11e8-9f8e-bbf8c7ce960a']
MUSINGS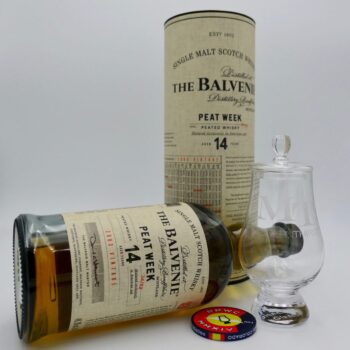 The fifth review in our six part series on The Balvenie Distillery is The Balvenie 14 Year Old Peat Week (2003 Vintage). Last time we spent some time with the 2002 Vintage of the14 Year Old Peat Week.  In our very first Balvenie review, we touched on two bottlings of The Balvenie DoubleWood 12-Year Old – a 2014 bottling that has been open for a few years and a newer 2017 bottling (an interesting comparison) and then we discussed The Balvenie 12-Year Old Single Barrel before moving to The Balvenie 14-Year Old Caribbean Cask.  Last time we enjoyed The Balvenie 14-Year Old Peat Week (2002 Vintage).  Our final review in this series will be The Balvenie 15-Year Old Sherry Cask Single Barrel.
As I sit writing up the two Peat Week reviews (2002 and 2003 Vintage) I'm listening to my favorite artist of all time Bob Dylan – specifically, various versions (eleven to be exact) of All Along the Watchtower. And I feel that is a fitting tune for these drams. So, with the lines "businessmen, they drink my wine – plowmen dig my earth – none of them along the line – know what any of it is worth" echoing in the background let's jump into this review and see how the 2003 Vintage stacks up against the 2002 Vintage from our last review.
BACKGROUND ON THIS BOTTLE
For a little background on this bottling from The Balvenie Distillery (same as last time but repeated again here):
The Balvenie Peat Week Aged 14 Years (2003 Vintage) is the result of trials undertaken in 2001 by The Balvenie Malt Master David C. Stewart MBE and our former distillery manager Ian Millar.
At a time when few Speyside distilleries were using peat in production, The Balvenie decided to distil a batch of heavily peated malt, which was laid down to mature at the distillery in Dufftown, Scotland.
Ever since then we've dedicated one week each year, named Peat Week, to using 100% Highland peat to dry our barley. Instead of coastal elements of iodine, salt and medicinal characteristics so commonly associated with Islay peat, Highland peat imparts earthy, woody smoke notes. This means that even though Peat Week is made using heavily peated malt (30ppm) it has an unexpected sweetness deeply rooted in the Speyside regional character.
STATS
THE BALVENIE 14 YEAR OLD PEAT WEEK (2003 VINTAGE)
Mash Bill: 100% malted barley dried with Highland peat
Casks:  aged in solely in ex-bourbon American oak casks
Age: 14 Years
ABV: 48.3% (96.6 proof)
Producer: The Balvenie Distillery
Price:  $95-115
Availability: limited release, but the 2003 Vintage is reasonably available


SCORING NOTES
Notes for Jeremy and I are annotated below by the identifiers (JR) or (WJ).
As always – the notes you see below were written and the bottle scored prior to any discussion by Jeremy and me of what we nosed, tasted, or felt overall, about the dram in consideration.
APPEARANCE
same as the 2002 Vintage – straw, light honey
NOSE
more in the Islay realm than the 2017 (2002 Vintage), the smokiness is more pronounced with vanilla breaking through, some honey underneath (WJ); much more Islay-ish than last year's release, vanilla, apple, pear, touch of chalk, a smoky crème brulee (JR)
PALATE
nice dram, tingly smoke with malted sweetness, honey, caramel just before it has been heated too long (WJ); honey, some spice, apple, citrus, medicinal and a touch of ash at the end (JR)
FINISH
medium-long, the smoke lingers longer than the 2017 (2002 Vintage), charred sweetness (WJ); smooth, satisfying medium-long, smoke through and through, but not overpowering (JR)
SYNOPSIS
THE BALVENIE 14 YEAR PEAT WEEK (2003 VINTAGE): Both the 2002 and 2003 Vintage Peat Weeks are very nice drams.  I give the nod to the 2018 release (2003 Vintage), but could see that those that like a little less smoke preferring the 2017 release (WJ); So balanced – great balance of spice, heat, smoke, and fruit.  2018 wins (JR).
ModernThirst.com Score:  91.5 (combined); 91.5 (WJ) and 91.5 (JR)
WRAP-UP
Earlier I noted that I was listening to Dylan's All Along the Watchtower while writing these reviews.  Now a few days later, as I put the finishing touches on them, I sit in a hotel in New Mexico awaiting Bob Dylan's show in Albuquerque tomorrow night – it will be my tenth show and I cannot wait.  In the most recent shows he hasn't played All Along the Watchtower and if he doesn't that will be fine, just being in the presence of Bob is like experiencing a fine whisky, it is something you never forget . . . Cheers.
A winner and one of our favorite Balvenies. I'll look for this release each year. In Dylan's, All Along the Watchtower, he sings "and the wind began to howl" – this whisky would provide comfort in the midst of the storm.