[amazon_link asins='B003QX2JMA,B01H71BC0Q' template='MT-product-carousel' store='modernthirstc-20′ marketplace='US' link_id='28b47b25-0eca-11e9-acc5-4512329d9bef']
If you've been reading along with my "Making a Whiskey Label" series thus far, you're aware that I'm launching a lineup of barrel finished whiskey. I'm a fan of properly finished bourbon and rye, but it occured to me recently I've actually reviewed very little of it on the site overall.
Let's fix that.
Today's review encompasses three different finished whiskeys- one is a rye and the other two are bourbons.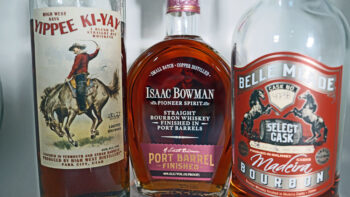 Yippee Ki-Yay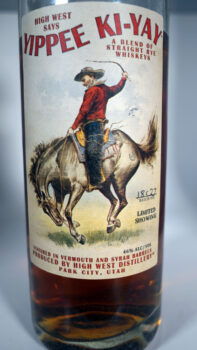 Yippee Ki-Yay is a blend of sourced straight rye whiskeys produced by High West Distillery of Park City, Utah, finished in a combination of vermouth and syrah barrels. To be more exact- it's their Double Rye! finished in those barrels. It is bottled at 92 proof.
Appearance: Copper/Gold
Nose: Medicinal, red grapes and dark fruit, some spice, faint hint of oak
Taste: A strong bitterness from the vermouth barrels assault the palate with an initial pulse of liquor. It gives way eventually to some nice spicy rye and lemon drops before the red fruits coat the rear of the tongue.
Finish: Somewhat long, with the vermouth and syrah competing for the mouthfeel to the tail end with just a touch of alcohol and rye.
Synopsis: It's definitely unique. This really never feels like a whiskey to me- but some sort of a fancy whiskey-inspired martini or something like that. It's okay, particularly if you want to break up a series of bourbon tastings with something altogether different, but it's not going to be everyone's cup of team. That vermouth is very heavy handed.
ModernThirst.com Score: 82 out of 100
Isaac Bowman Port Barrel Finish Bourbon
Also at 92 proof, Isaac Bowman is produced by the A. Smith Bowman distillery in Fredericksburg, VA. That being said, the underlying whiskey begins life at parent company Sazerac's Buffalo Trace distillery in Frankfort, KY before being re-distilled in virginia. There is no age statement on the bottle denoting either how long the underlying bourbon was aged before hitting the port barrels, or even how long it was finished in port barrels.
Appearance: Ruby Red with deep brown notes
Nose: Caramel, simple syrup, and brown sugar. Red fruits (plum, prunes, raisins), port wine, tangy green apples.
Taste: Sweet caramel and vanilla, green tea, red wine and dark plums
Finish: Medium in length, the port finish adds a sour port roundness to the mouthfeel.
Synopsis: Solid, if uninspiring. The finish is the star here, but the subtle port finish is a solid application of barrel finishing, allowing the youthful whiskey to remain the center of attention.
ModernThirst.com Score: 86 out of 100.
Belle Meade Select Cask Madeira Finished Bourbon
Another sourced whiskey, Belle Meade uses MGP bourbon finished in madeira (a fortified Portuguese Wine) casks with no age statement, but offered at barrel proof. In this case, 116 proof, and it is non-chill filtered. This is essentially a private barrel pick, and this bottle is # 167 out of cask # 4738.
Appearance: Mahogany with deep red tint
Nose: Spicy and warm with strong sweet red fruit notes.
Taste: The heat of the barrel proof offering is immediately apparent. So, too, is the high rye mash bill common to MGP bourbon. The citrus and spicy notes of the bourbon interplay very nicely with the warm fruity madeira finish that evokes thoughts of black cherries and sweet fruit.
Finish: Long and pleasing as the madeira and spice continue to meld and develop on the tongue with a huge burst of wonderful tart cherries.
Synopsis: A very enjoyable drink that seems to just disappear from my glass faster than I plan to drink it. The mouth feel on this is outstanding, and this is no doubt due to the barrel proof format and non-chill filtering. A definite homerun for barrel finishing. The "Kentucky" on the faux tax stamp indicates where it is distributed, apparently, not where it is made. I do find that misleading.
ModernThirst.com Score: 94 out of 100.