[amazon_link asins='B07794BDKD,B00H143UXW' template='MT-product-carousel' store='modernthirstc-20′ marketplace='US' link_id='768fd994-0e97-11e9-a952-c583ebeda559′]
For Part I, read here first!
As it turned out, soliciting investors was both very difficult and very easy. In today's climate, just mentioning that you're starting a whiskey company immediately gets a lot of ears to prick up and inquiries from interested parties. But once you start talking dollar amounts, the list of potential investors thins considerably.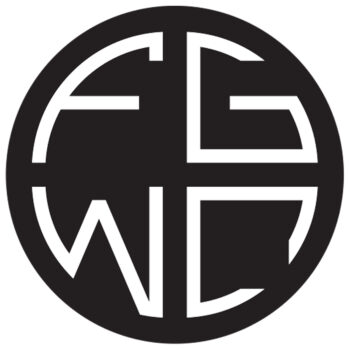 But more than the dollars, we weren't interested in throwing a huge net out and taking the first interested people with a check. This is a second job for us, and one that we intend to succeed. But it's also something neither Bob nor I were willing to jump into if it wasn't going to be fun for us as well. And frankly, no one has fun working with a bunch of a__holes. So we intended to be, and were, very picky with who we wanted to be part of this. Turns out, that's a good plan.
Our first investor happened to have a daughter who had worked in marketing for a major distillery in the past. Would we want to have her help us out with marketing? YES WE WOULD. Enter Lauren Raque, our Director of Sales & Marketing.
While all that was going on, Bob was working the phones relentlessly. He made introductions to every bulk whiskey broker and half the producers I can think of, and a few I'd never even heard of. Through Kelvin Cooperage, he found list after list of whiskey that we thought had potential. Some Indiana bourbon and rye, lots of Tennessee bourbon, and a few odds and ends. We tried numerous samples, and had nearly decided to roll with some 12-14 year old Tennessee bourbon. We really wanted our first batch to make a splash, so we were choosing the best barrels we could possibly find.
Then I got a text from Bob. I was driving home from Shelbyville, KY at the time.
Bob: "Gunna love this!!!"
Me(skeptically): "OK." 
Bob: "Just found barrels of 11.5 Year Old Kentucky Bourbon."
At this point, I pulled over to re-read the message.
Me: "WANT."
Eleven and a half year old Kentucky bourbon? Yeah, that qualifies as a splash in my book. Its high rye mash bill of 74% corn, 18% rye, and 8% malted barley sounded exactly like the type bourbon I wanted to finish. I've always believed that higher rye recipes take to sweet barrel finishes better than low rye mash bills- sweet on spicy is a nice contrast, sweet aon sweet is more difficult to pull off.
We ordered samples straight away. It was excellent stuff, and meetings with potential investors suddenly got a lot easier. It was easy to say we were going to find the very best barrels we could lay hands on and ask for money, but explaining that our first purchase was well-aged Kentucky Bourbon? That's a layup- well, as long as your business plan is sound and you have the necessary skills to present it! The last few investors fell into place.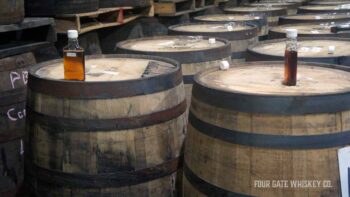 Meanwhile, my part of the job was kicking into high gear. How would we present this? What would the final product be? I knew from day 1 that would first batch would be barrel proof. So that part was quite easy. But would we blend barrels from different sources together? Would I choose to present the first batch as all 11.5 year old Kentucky Bourbon? How would we finish it?
To get that rolling, we headed back to Kelvin Cooperage to meet with William Hornaday and taste some samples. We compared samples from all sorts of different whiskey. We blended and mixed and played around like kids with a chemistry set before I decided that batch 1 needed to be special, and despite the cost, we weren't blending anything with the Kentucky Bourbon. William started talking about what types of finishing he thought would work. Then his eyes lit up.
"I've got some barrels in the warehouse you guys need to see."
Off we went. There on a pallet of wood were six oversize barrels sitting all by themselves. Just six.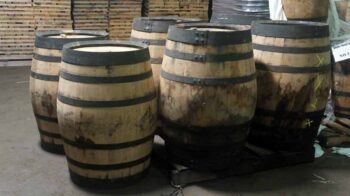 "These are ex-sherry barrels that then aged rum," he explained. "They're some of the best smelling barrels I've had in here."
We started pulling bungs and seeing what aromas these barrels had in store for us. And we were floored.Grape Jelly, Maple Syrup, Dark Chocolate- all rounded out by a sweet but not overpowering boozy character. In other words, heaven in a barrel. About 59 gallons each, we immediately took all six.
Next step was creating the blend of barrels that would be batch 1.
End Part II
Check back often for more info in Part III and beyond of Making a Whiskey Label,  and look for Four Gate Whiskey Batch 1 this spring in Kentucky and Tennessee:
Four Gate Whiskey Company
The Kelvin Collaboration, Batch 1
Spring 2019
The rest of the series "Making a Whiskey Label:"