[amazon_link asins='B00J3FJPW2,B016YPDI3A' template='MT-product-carousel' store='modernthirstc-20′ marketplace='US' link_id='cdebe56c-ffc1-11e8-8fdb-213d9cdfeefb']
Greetings and Happy Holidays, ModernThirst readers!
I guess at some point, nearly everyone who has blogged about, written professionally (or semi-professionally) about, or been involved with whiskey media will eventually daydream about having their own label. Maybe it's just frustration with what other producers are doing (or not doing) and feeling like there's an itch we would scratch if we had the helm. Maybe it's just the dream of walking into our own warehouse and pulling a sample straight from the barrel. Or maybe it just seems like the natural progression. I don't know. Maybe it's just ego.
Either way, I've had that itch for a few years now. For me, it was a growing fascination with what barrel finishing can be when done correctly. I really can credit the addition of Wes Jolly to ModernThirst with the desire to get more into barrel finished American whiskey. His writings about Scotch really introduced me to the world of whisky that uses different barrels to age or finish their product and got me thinking about the American whisky scene and its general lack of options in this category. Tasting samples with him opened my eyes to a whole new world of whiskey.
Yeah, I'm aware that there are American products that are finished. The craft malt whiskey scene in the US has been doing it for some time. Heaven Hill, Jim Beam, especially Belle Meade and Angel's Envy have all either played in the arena with limited releases or have a range of standard offerings that are barrel finished. But in many cases, I found them heavy handed or lacking pop. In some cases, they were just boring. I wanted something different. And in other cases, I simply can't find the bottles often enough to really enjoy them.
The idea really started taking  more concrete shape a couple of years ago when I met Bob D'Antoni through a mutual friend, and he introduced me to the guys at Kelvin Cooperage. Kelvin is such a different animal than other cooperages I've visited. They make amazing brand-new barrels, mostly by hand, in their cooperage. But their warehouse is stocked full of used barrels of different types from all over the world. Some had aged liquors I've never even heard of. I began a mild obsession with what differing types of wood and barrels could do to some of my favorite whiskeys. I played around at home with aging masts, blending, and anything else I could do to replicate "finishing" with some of my favorite bourbons and ryes.
I finally decided there was a niche market that wasn't being addressed, and I wanted to address it. The timing seemed right. The pieces all seemed to be available. So on a whim about a year ago, I sent a message to Bob asking if he thought Kelvin would be interested in collaborating on some unique very limited private releases if I were to start a new label of my own. Bob, as is his nature, was gung-ho from the start. Then I asked him if he wanted to join me as a partner in the venture, and it took all of about 8 milliseconds for him to jump on board. That was fortune playing its hand there.
It took us a while to get our thoughts and ideas together. There was a lot to consider.
How would we fund it?
Where would we get our product?
What was our target market?
What was our core philosophy?
What price could we realistically bring this product to market?
What other pieces would we need in order to make it happen? Who would bottle it? Where would we store it? Who would distribute it and where?
What licenses did we need?
What role would Kelvin Cooperage play, exactly?
Is this something we realistically could do successfully?
The last question is the first one we addressed. I needed someone with great business and financial sense to help on the business end, and bob was the perfect fit. Aside from being a whiskey (especially rye) fanatic, Bob has spent years owning his own business and working with clients on their own costs and controls. On the blending and production side, I've spent the past 5 years consulting with large producers and craft companies on blends for various releases and taken part in so many successful barrel picks over the years I've lost count. And my contacts and lessons learned through my time writing here at ModernThirst dovetail perfectly. I felt Bob and I had the skills we needed to realistically pull it off if the rest fell into place. So we pushed forward.
Our idea was simple. We're going to produce small limited batches of premium finished whiskey for sale in the Kentucky and Tennessee markets. We're going to barrel finish each batch, and each batch will be unique. We're going to be as transparent about what we do and what we make as we can possibly be. Anything the TTB doesn't allow us to put on a label that we can put on our website instead will be there. No dishonesty, no smoke and mirrors. We're not going to distill.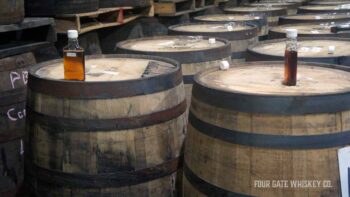 The first connection we made was between Bob and Kelvin Cooperage. Bob has worked with Kelvin in his day job for years and has a great personal and business relationship with both Kevin and Paul McLaughlin, the owners. They were on board from the start, willing to lend their time and invaluable expertise to use as collaborative partners. They even offered their head of production, William Hornaday, to meet with us on each batch and suggest great finishing ideas for each release. We spoke with William who was also excited to lend his expertise.
Then we began talking about funding. Yikes. Gathering investors for a project like this is difficult. Buying bulk whiskey and bringing it to market is expensive and there are no guarantees. But it's also very rewarding, and bourbon and rye whiskey are very popular right now, so there was no shortage of potential investors to speak with. Finding the ones willing to commit the investment was harder.
While that was on going, we began the process of creating the company. We chose a name and had a company develop imagery and logos.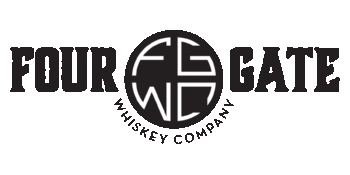 Four Gate Whiskey Company.
Four Gate.
Why Four Gate? Easy enough- I liked the sound of it. Bob did, too (it was his suggestion).
What does "Four Gate" mean? It's a slang name for the style of fence you see around horse farms, particularly in central Kentucky, with four horizontal bars. Four Gate (sometimes called "Four Rail") fence are usually built in double rows and painted black or white, depending on the farm. It's iconic to Central Kentucky, the area we call home. And we didn't want to try to attach ourselves to an image that wasn't authentic- no old defunct labels we have no connection to. No misleading names or statements.
While all that branding and logo talk was ongoing, Bob began networking through every contact we could leverage to find quality finished whiskey. Remember when I said Bob joining this project was fortune playing its hand? Aside from the connection to Kelvin, this is where it came to fruition. Bob worked the phones and his contacts constantly for months.
So as the funding came together, so did the whiskey.
End Part I
Check back often for more info in Part II and beyond of Making a Whiskey Label,  and look for Four Gate Whiskey Batch 1 this spring in Kentucky and Tennessee:
Four Gate Whiskey Company
The Kelvin Collaboration, Batch 1
Spring 2019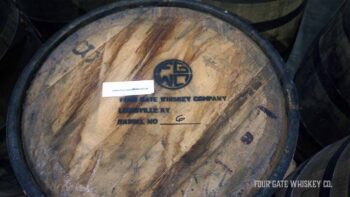 The rest of the series "Making a Whiskey Label:"