A nice whisky to cap off nearly a month-long journey with Japanese whiskies. Different, pleasant, and worth visiting with should you have the chance.
[amazon_link asins='B07KJD5WWZ,B00JG4XC10′ template='MT-product-carousel' store='modernthirstc-20′ marketplace='US' link_id='09559824-07b5-11e9-b21f-974370d37ba3′]
INTRODUCTION
For the month of December, as some of you may already know, I've been reviewing the Drinks by the Dram Japanese Whisky Advent Calendar.  To catch up on this series of 24 mini-reviews click here – Japanese Whisky Advent Calendar 2018.  As I was thinking of wrapping up this series, I thought I'd open a new bottle from my own collection.  Only 11,000 bottles of the Mars "Komagatake" Nature of Shinshu – Shinanotanpopo Single Malt Japanese Whisky has been produced.  It is the third release in this series.
As I sit here with another dram of this whisky I'm listening to the live album Bob Dylan at Budokan which was recorded at the Nippon Budokan in Tokyo, Japan during Dylan's 1978 World Tour.  Some are critical of this Dylan work – personally, I really appreciate some of the altered arrangements of this collection of his hits.  As Love Minus Zero, No Limit (one of my favorite Dylan songs) plays in the background and the lyrics "Some speak of the future, my love she speaks softly. She knows there's no success like failure, and that failure's no success at all" ring out over the speakers beside my desk let's see if this Mars Shinshu Distillery release is a success or failure.  Here are a few more details on this distillery and release.
Tokiwa Imports provides the following description of the Mars Shinshu Distillery:
Sandwiched between Japan's soaring Southern Alps and the towering Central Alps, at just over 2,600 feet, Mars Shinshu is Japan's highest whisky distillery.  The Hombo family have been distilling for more than a century and they added whisky to their repertoire in 1949.  Back then the distillery was located in Kagoshima Prefecture on the southernmost island of Kyushu.  Until 1984, it was the southernmost whisky made in Japan, which ended with the Hombo clan moving the distillery to the idyllic alpine setting of Miyada village in southern Nagano Prefecture.  They chose this site for its cool temps which slowed the maturation, and the plentiful, soft, granite filtered snowmelt fed aquifers.
 The packaging for the whisky describes the bottle this way:
The nature of Shinshu – our quiet and beautiful surroundings inspire us to make a good collection of whisky.  Our third release is Shinanotanpopo, dandelions which pop up in spring in Nagano.  With this symbolism in mind, precious 20-year-old whisky from sherry casks is vatted with young whisky matured in Bourbon and American white oak barrels.  The result is a floral and fruity impression.
There are some reports that the younger aged spirit ranges from 3-6 years old.  Now, to the whisky and my thoughts.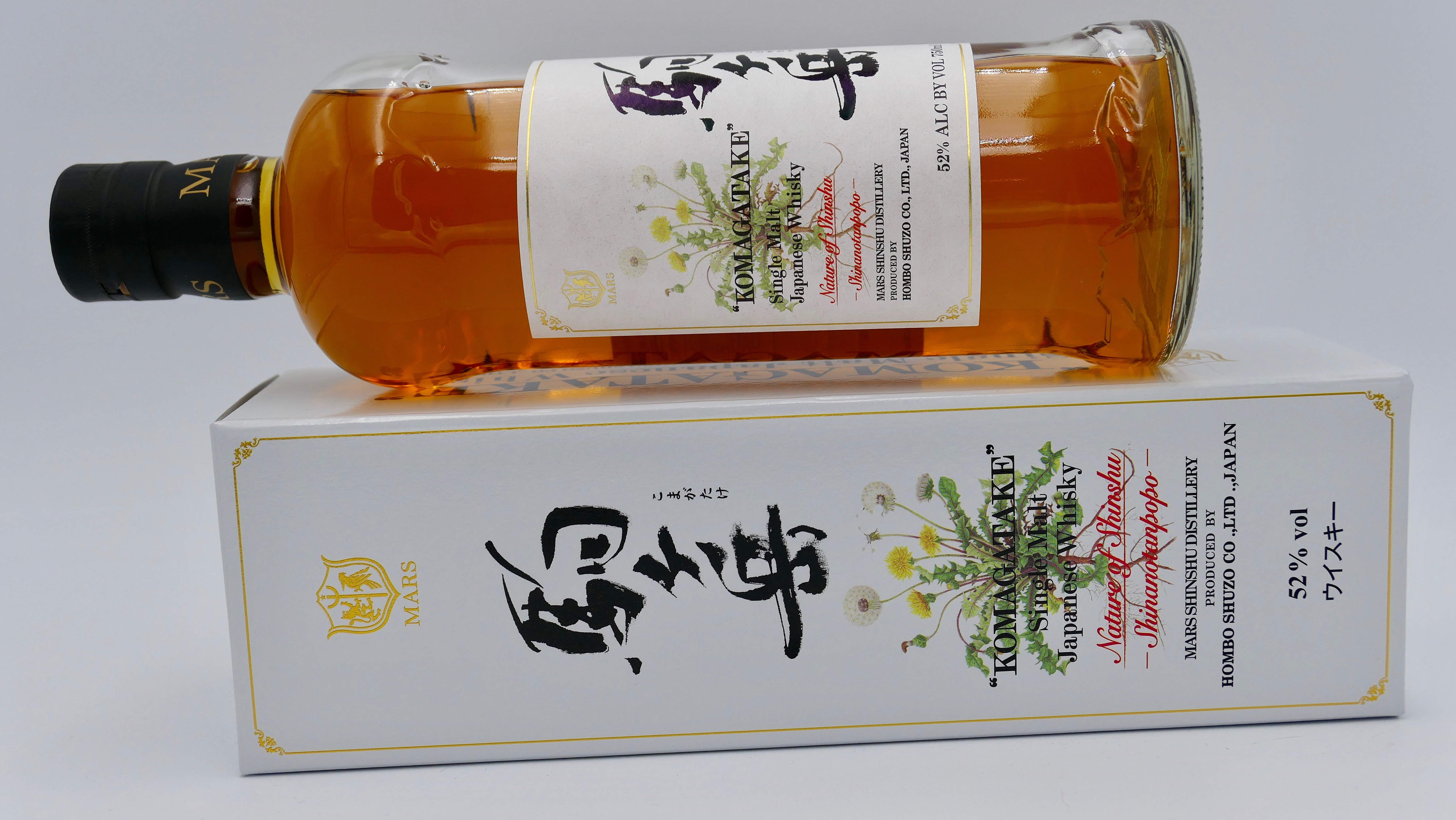 STATSMARS "KOMAGATAKE" SINGLE MALT JAPANESE WHISKY – SHINANOTANPOPO
Mash Bill:  100% malted barley
Casks:  sherry casks for a portion of the aged malt (no proportions provided), plus a younger spirit aged in bourbon and American white oak casks (again, no proportions provided)
Age:  NAS – but includes a portion of whisky at least 20 years old
ABV:  52% (104 proof)
Producer:  Mars Shinshu Distillery
Price:  $145-$160 in U.S.
Availability:  limited (I've come across it in only two stores)
SCORING NOTES
Notes for this review do not include Jeremy, as in the past, since he has not been a part of the ongoing Japanese whisky reviews for this month.  All notes are solely mine for this review.
APPEARANCE
golden, with almost a copper-ish hue
NOSE
a lot going on here – honey malt, sherry notes, raisin, sweet darker sugars, blueberry-raspberry fruit pie with some vanilla ice cream on top, a little floral element and more orchard fruits, this dram has a depth to it on the nose that draws you back, as the whisky sits in the glass a tartness emerges
PALATE
spices come to the fore – toasted caramel, honey, ginger – mouth coating, with apple skins, spiced apple, smoke, leather, and an oak note present – a sweetness punches through at the end
FINISH
lengthy finish – nothing out of place or off putting
SYNOPSIS
MARS KOMAGATAKE SHINANOTANPOPO JAPANESE SINGLE MALT:  This is my twenty-fifth Japanese whisky dram in as many days, and it fares well overall within the group tasted.  It is different – but in a good way.  A bit more is present on the nose than the palate; will definitely spend much more time with this bottle in 2019.  No remorse in the purchase.
ModernThirst.com Score:  88
WRAP-UP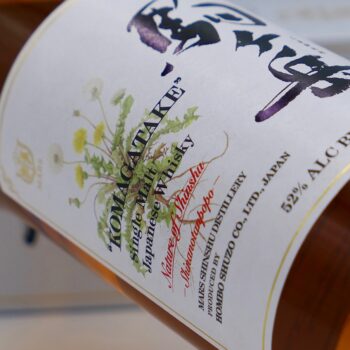 I hope you enjoyed the world whisky reviews on ModernThirst for 2018.  We do not take any of our readers for granted and so appreciate that you spend a little bit of your time reading our ponderings on the wonderfully diverse world of whiskey offerings. As we look forward towards 2019, I'll leave you with these words from Bob Dylan's Forever Young – and another favorite song, also reworked on the Budokan album . . .
May God bless and keep you always
May your wishes all come true
May you always do for others
And let others do for you
May you build a ladder to the stars
And climb on every rung
May you stay forever young
May you stay forever young
Cheers.