FOUR GATE WHISKEY COMPANY BATCH 1 LAUNCH EVENT
Disclaimer:  Bill Straub, Co-Founder and Editor-in-Chief of ModernThirst.com, is the Founder and Chief Blending Officer for Four Gate Whiskey Company (FGWC).  As the Senior Staff Writer for ModernThirst.com, I was invited to Kentucky this past week to experience the launch for Batch 1. All expenses for the trip and FGWC bottles obtained were purchased with my own funds. Due to the connection to ModernThirst.com, for both Bill and I, all references to any tasting notes and thoughts on the whiskey contained herein will be from FGWC marketing materials or other whiskey reviewers.
THE PROCESS – MAKING A WHISKEY LABEL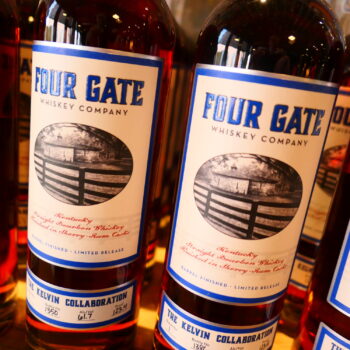 Since December 2018, Bill Straub has been outlining the details of creating a whiskey label in a four-part series on ModernThirst.com [click on the following links to read some of the background on FGWC: Part I, Part II, Part III, and Part IV].  Being a native of Louisville, KY – bourbon and its roots run deep for Bill. The dream of having a whiskey that he shaped has been on Bill's mind for several years, but this journey was not one he could make alone.  After meeting Bob D'Antoni (who now serves as the Chief Barrel Officer for FGWC) a couple years ago, introductions were made to the owners of Kelvin Cooperage.  If you want to finish a whiskey – there is no better place to start than with a cooperage, and Kelvin's reputation and passion for all things barrel related was a perfect match.  The dream was becoming reality.  For more in-depth insights on this creative effort please refer to the links above.
NO LONGER A DREAM
On Wednesday evening, April 17th, at Old 502 Winery in Louisville, KY – Four Gate Whiskey Company held a
 launch event for a little over a hundred guests to introduce Batch 1 [click here for the press release and tasting notes]. This release is a cask strength 123.4 proof, eleven-year-old bourbon finished in sherry-rum barrels. During the event Old 502 Wine aged in the bourbon-sherry-rum FGWC barrels, along with Falls City Beer aged in those same barrels was available for guests to sample, but the centerpiece of the evening was hearing from Bill Straub and Bob D'Antoni share briefly about their vision for FGWC and then introducing the guests to the bourbon they had all been waiting to taste.  As the evening progressed, stories were shared, and FGWC logoed glencairns emptied and filled again. The fellowship of bourbon drinkers knew they had been a part of something very special. Around 150 bottles were available to guests the night of the launch and when all had ended, none remained.  And within hours after the event concluded, all cases of Four Gate Whiskey Company Batch 1 had been purchased by distributors and were making their way to retail outlets throughout Kentucky and Tennessee. As I write this – those bottles are moving quickly off the shelves.  In my opinion this is definitely a bottle to seek out – after tasting it, I personally picked up two bottles to bring back to Colorado.
A GREAT NIGHT AND A GREATER FUTURE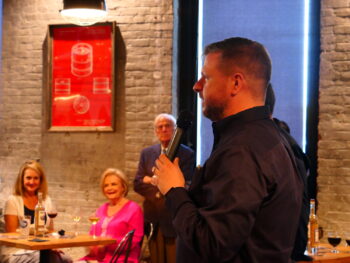 A week removed from the event as I think back – it was quite the night for launching a new whiskey label. And as you hear more about the future plans for FGWC there is excitement in the air for their upcoming uniquely finished batches.  They are planning multiple releases a year moving forward.
What are others saying?  The first to provide a review was Bourbon & Banter: "First thing – I really love the nose on this whiskey. It's full of sherry, golden raisins, and cooked plums – delicious. If I had to make a purchase decision on the nose alone, I would buy this all day long. The sherry-rum cask finish is a lovely partner for the high-rye bourbon that Four Gate Whiskey Company used for this expression . . . . I applaud Four Gate Whiskey Company on their first release and look forward to what comes next. Their willingness to push the envelope by blending and finishing is exciting. I remain as optimistic as ever that independent blenders are vital to the future of American whiskey and I look forward to the journey."
The night of the event, Kenny and Ryan from Bourbon Pursuit were present and later on the their Instagram feed the bourbon was described as follows: "This 123.4 bourbon is a smell monster. The taste is subtle, influenced by characteristics of its previous barrels so you get a full body of bourbon notes."  Oh, how true on the smell monster designation, I could sit and nose this whiskey for a long, long time.
Recently Scott from My Bourbon Journey (click here for to go to the video) hosted a Livestream with Bill and Bob. After the show he commented online – "Oh and by the way the Bourbon is absolutely fantastic! Price point aside and in today's market I'd give this a 'High Recommendation.'"  More reviews and YouTube events are slated for the near future.
To wrap-up I thought I'd touch on the taste and finish from the FGWC notes, since the nose was touched on so accurately above.
Taste: Oloroso Sherry hits the front palate with a burst of sweet fortified wine and simple syrup. The mid palate
gets traditional high-rye bourbon notes of vanilla, black pepper, and oak, while the rear palate gets a molasses and brown sugar sweetness from the rum finish.
Finish: Medium-to-long, there are prevalent barrel tannins and rye spices that linger on the tongue while a boozy rum finish coats the inside of the mouth.
There are only 1,732 bottles in this first batch.  Grab a bottle while you can – I do not believe they will last very long.  I'm already looking forward to Batch 2.
 PHOTO GALLERY OF EVENT