[amazon_link asins='B07794BDKD,B016YPDI3A' template='MT-product-carousel' store='modernthirstc-20′ marketplace='US' link_id='dfbc4254-2881-4850-8a82-19ed42a2bba9′]
What it is
Like the first edition of Cooper's Craft, this Barrel Reserve version is intended to pay homage to the craft of barrel making, thereby honoring the work done by Old Forester's own cooperage.
If you'll recall, we weren't thrilled with the first version. I considered it trapped by the need to keep it lower proof to allow the beechwood filtering to show through on the palate while at the same time being a rather overly simple whiskey lacking complexity and flavor.
This one is different. Instead of filtering through beechwood, Barrel Reserve is made  by cutting grooves into the inside of the barrels post-charring to allow more surface area to the alcohol to interact with. While it isn't the first time I've heard of grooving barrels, this makes more sense to me than simply filtering it through beechwood, as this at least is a custom barrel type, which actually DOES relate to coopering as opposed to filtering it post-aging.
We received this sample from Brown-Forman with no strings attached. The opinions and thoughts herein are my own.
Before I go any further, know this: Three times I recorded a video review of this whiskey. Three times, major technical issues caused me to lose either the footage or the audio of it. So fuck it, here's a written review.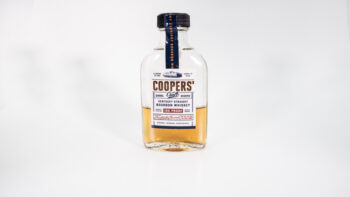 Appearance
Medium brown
Nose
Plenty of oak with slight undercurrents of typical Old Forester including graham crackers, pie crust, and toast. However, the standard red fruits I am accustomed to with other Old Forester products are gone here, replaced by green apple and pear.
Taste
Here's where the rubber meets the road, so to speak. How does that "grooving" method impact taste?
Right on the front of the palate, the tongue is hit with a burst of freshly sawn oak. It's like being in a wood shop with lots of sawdust and new oak lying about. The mid palate drops out almost entirely, with only the slightest hint of caramel and vanilla. That is quickly overwhelmed by a return to oak- this time older, bitter, and more tannic.
Finish
The two competing oak notes seem to battle it out on the palate after the finish, turning bitter before finally subsiding.
Synopsis
I don't know what it is with this, but there seems to be a war on the tongue between the front and rear of the palate, with freshly sawn and pleasing oak fighting it out with the rear palate's bitterness and nothing int he middle. This is not an issue with the grooves or the whiskey. We know Old Forester distillate is very good. We know grooving works, and at the very least doesn't destroy traditional bourbon flavors. So that only leaves me to the barrel selection and blending. Somewhere, the ball was missed on that front. It's so unbalanced that I question what they were even going for on this. The job of the blender is to pick the right mix of barrels and flavors, choose the right proof, and release something cohesive and tasty. That didn't happen here.
ModernThirst.com score: 80 out of 100.
Cooper's Craft Barrel Reserve
Fresh and tannic wood flavors compete too heavily here, resulting in an unbalanced and slightly bitter sip.