[amazon_link asins='B07KJD5WWZ,B071YPWMZ6′ template='MT-product-carousel' store='modernthirstc-20′ marketplace='US' link_id='32a70bc3-e1d2-4722-af39-9c63a0718515′]
INTRODUCTION
Kavalan Solist Sherry Cask– simply put, I love them.  I think I've tasted 4 or 5 iterations of the sherry cask so far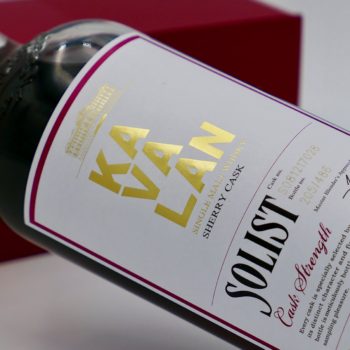 and have enjoyed each and every one.  In my ModernThirst 2017 Top Whiskies Tasted listing a Kavalan Sherry Cask pick from California was my #1 overall whisky of the year.  That #1 whisky from 2017 was a Southern California Artisanal Group Kavalan Sherry Cask pick and it currently sits at the #12 whiskey, with a 92.5 rating, out of 258 scored in the Proper Pour Whisk(e)y Club– our local group that will reach the five-year anniversary milestone this year.  In the 2018 Top Whiskies Tasted rankings a different Kavalan bottling – this one reviewed below, made the #3 spot overall for the year and the #1 world whisky tasted.  I now have three bottles of the Solist Sherry Cask, and one each of the Vinho Barrique, Port, and Ex-Bourbon cask bottlings.  I'm definitely a Kavalan fan.  So, will Jeremy and I view this new older Kavalan Solist Sherry Cask bottling in a similar manner – we'll see after a few notes from the distillery.
THE KAVALAN DISTILLERY BACKGROUND and this SHERRY CASK
The Kavalan Distillery (as described on their website) was: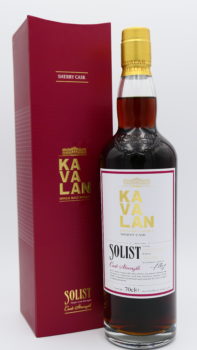 Established in 2005, and itis Taiwan's first whiskymaker and the nation's only family-owned whisky distillery.  In March 2006, their first new make left the spout in the spirit safe. Their first whisky, the Kavalan Classic Single Malt was released in December 2008.  The Solist Ex-Bourbon and Sherry Cask bottlings were first introduced in 2009. The following year, in 2010, the Fino Sherry and Vinho Barrique bottlings joined the lineup.  In 2015, the Amontillado Sherry, Manzanilla Sherry, PX Sherry, and Moscatel Sherry Single Cask Solist bottlings were released and the Kavalan Solist Vinho Barrique Single Cask Strength was awarded the 'World's Best Single Malt' by the World Whiskies Awards.  In 2016 the Solist Port Cask was introduced and for a second consecutive year a Kavalan bottling – this time the Solist Amontillado Sherry Single Cask Strength – was awarded the 'World's Best Single Malt' by the World Whiskies Awards.
The bottling we will be tasting today is matured exclusively in oloroso sherry casks.  It is a bit older than the typical bottling which have typically been in the 5-7 year range. The spirit for this effort was placed into the casks on December 17, 2008 and was bottled on March 3, 2017.  The cask number code on the front label S081217018 allows you to determine the barreling date; "S" = sherry, the next six numbers reference the date, and the last three numbers indicate the barrel for that day.  The back of the bottle includes a bottling date code.
STATS
KAVALAN SOLIST SHERRY CASK [Cask No. S081217028]
Mash Bill: 100% malted barley
Casks: Oloroso Sherry
Age:  8 years and 2 months (from bottle codes), non-chilled filtered and natural color
ABV:  59.4% (118.8 proof)
Producer:  Kavalan Distillery
Price:  $150-$250 (prices can fluctuate quite a bit – shop around)
Availability:  available
SCORING NOTES
Notes for Jeremy and I are annotated below by the identifiers (JR) or (WJ).
As always – the notes you see below were written and the bottle scored prior to any discussion by Jeremy and me of what we nosed, tasted, or felt overall, about the dram in consideration.  We have spent time with this whisky on multiple occasions.
APPEARANCE
dark cherry cola (WJ); same (JR)
NOSE
love it, sherry, raisins, molasses, dark fruit, figs, raspberry-filled dark chocolate – a consistent nose over the bottlings I've encountered (WJ); sherry, raisins, figs, prunes, Dr. Pepper cola syrup, some balsamic vinegar, raspberry chocolate, nice malt coming through balanced with sherry (JR)
PALATE
nice mouthfeel, dark fruits, raisins, pipe tobacco with a touch of dark cherry, some spice with dark chocolate at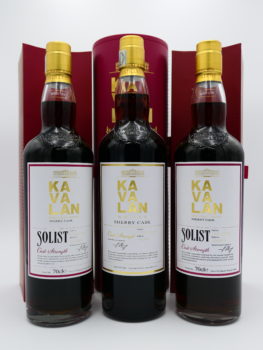 the end, a savoriness, does not feel like 59.4% ABV (WJ); wonderful, rich, assertive, oily mouthfeel, tobacco, everything from the nose – plus some on the palate, a bit savory, sweet – but not cloying, picking up something like wood particles from a woodworking shop, not tannic, not bitter, or astringent – a different wood note (JR)
FINISH
did not seem as long as some Kavalan Sherry Casks I've had, medium-long, with raisins and pouch tobacco lingering (WJ); long, nice heat, very pleasant, tobacco, more of aroma and taste continues here – the sweetness dies out; I want more – very drinkable (JR)
SYNOPSIS
KAVALAN SOLIST SHERRY CASK: Now on my fourth bottle of this stuff – have tasted several others – and never but a wonderful experience.  If you like sherry you must try this whisky.  I've stocked up (WJ).  Great! Wonderful use of sherry (JR).
ModernThirst.com Score:  94 (combined); 94 (WJ) and 94 (JR)
WRAP-UP
Kavalan Solist Sherry Cask is an outstanding dram and highly recommended.  Of all the world whiskies we've rated so far, this one has the highest average to date – that says something about this dram.
Kavalan Solist Sherry Cask
After my first bottle, I bought another. After my second bottle (this one), I bought two more. If that is not a testament to this whisky, nothing is. A must try whisky in our opinion.