[amazon_link asins='B00P553P1Q,B01N5HU3CP' template='MT-product-carousel' store='modernthirstc-20′ marketplace='US' link_id='fba23b08-6628-4d3d-9df0-7585bdf2163a']
INTRODUCTION
Today marks the first bourbon review for Jeremy and I on ModernThirst.  We typically review world whiskies.  That is not to say, however, that world whiskies are our sole drams of choice.  For the past few years I have been keeping track of the different whiskies I've been able to experience during the given year – and well, let's say it is a big number. Percentage-wise, since the beginning of 2017, the portion of those drams that have been American (bourbon, rye, American single malt, etc.) stands at 48% and the World Whiskies category comes in, obviously, at 52%.  When I just calculated this tidbit of information, I was surprised at how close it was between the two categories.  Suffice it to say, I'm an equal opportunity whisk(e)y drinker – and like things about all styles of the water of life.
On my shelf, right now, there are six different bottlings of Elijah Craig Barrel Proof plus a few empties hanging around.  As some of you know that read ModernThirst regularly, I lead a whiskey club in Colorado – the Proper Pour Whisk(e)y Club [click on the club name to learn a little about our efforts]. Over the course of the past five years we have tasted and scored over 275 whiskies – first known, and then later blind (sometimes years later – which can make it a tedious project, but a really fun endeavor).  Of those 275+ whiskies only three have received an A+ rating (scoring over a 94 average) – Elijah Craig Barrel Proof Release #8 was one of those three. It currently stands at #3 out of all the whiskies we've rated (interestingly the known and blind tasting for Batch #8 were exactly one year apart). It scored a 94.1 average overall – rated by nine tasters total, only beaten by a William Larue Weller in first at 96.2 and a George T. Stagg at a 95.6. Needless to say, it stands in good company.  We currently have seven different Elijah Craig Barrel Proof reviews on the site – the Bourbon and Whiskey Reviews page (click on the highlighted words) will take you to everything reviewed on ModernThirst – well over 300 so far.
So, all that background to say, reviewing a bourbon is not a stretch for us.  Now on to the bottle at hand – Elijah Craig Barrel Proof B519.
 BRIEF BACKGROUND ELIJAH CRAIG BARREL PROOF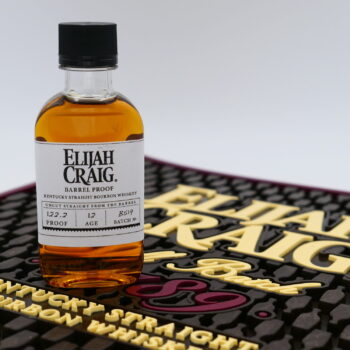 Heaven Hill Distillery, plain and simple, makes great whiskey.  In 2017, Whiskey Advocate, named Elijah Craig Barrell Proof B517, Whiskey of the Year and the barrel proof releases have received many accolades.The first in this series of 12-Year Old releases (yes, the age statement remains for the barrel proof) was made available in March 2013. The newer B519 labeling/identification system – moving from the batch or release numbering created by fans of the whiskey – represents the number of the release for the year, or for this bottle, the second release, and the numbers represent the month/year, in this case, May 2019 for 519.
I grew up attending a Baptist church and therefore find the history behind Elijah Craig, a Baptist preacher, fascinating.  For me the flavor profile for Elijah Craig Barrel Proof is always on point – and epitomizes how a bourbon should taste.  As you can probably tell, I'm a fan of this whiskey – so how does this release stack up.  On to the review.
STATS
 Mash Bill: 75% or 78% corn, 13% or 10% rye, and 12% barley (both found online)
Casks: #3 charred oak barrel
Age: 12 Years
ABV: 61.1% (122.2 proof)
Producer: Heaven Hill Distillery
Price: $60-$75
Availability: coming soon to retailers
SCORING NOTES
Notes for Jeremy and I are annotated below by the identifiers (JR) or (WJ).
As always – the notes you see below were written and the bottle scored prior to any discussion by Jeremy and me of what we nosed, tasted, or felt overall, about the dram in consideration.  I have spent time with this whisky on multiple occasions.
APPEARANCE
golden amber – nice looking bourbon in the glass
NOSE
nice caramel with vanilla – think those caramel crème candies (love those), a slight dustiness, brown sugar – molasses, candy shop sweetness (WJ);  alcohol apparent immediately, brown sugar, vanilla, sweet caramel, strawberry candies, some menthol peeking through (JR)
PALATE
a bourbon drinker's bourbon on the palate, dark caramels with baking spice that shifts to a vanilla and light chocolate at the end – sweet, does not seem like 122.2 proof (WJ); red licorice ropes, strawberry candy, some dryness – what is here is good but a bit one-note to me (or two note I guess), water softens heat but hurts flavor (JR)
FINISH
lingering finish – with a touch of oak and spice, followed by caramel sweetness again finishing in a mouth-coating goodness (WJ); long and warm, tannins and dryness lingering, cinnamon at the end (JR)
SYNOPSIS
ELIJAH CRAIG BARREL PROOF B519: As I mentioned before I have lots of Elijah Craig Barrel Proof bottles on my shelves.  This is  a really nice dram – I will seek it out when it makes it to Colorado.  Nothing out of profile, this one is a winner in the lineup (WJ).  Total candy shop – not cloying, but very sweet for something this hot.  I'd like it to be a little more complex, however, even wanting more depth – the whiskey is fine as is.
ModernThirst.com Score:  90 (combined); 91.5 (WJ) and 88 (JR)
WRAP-UP
Elijah Craig Barrel Proof B519 is an excellent dram.  I'm going to look for it when it hits the shelves in my favorite liquor stores.  It falls into line with the other Elijah Craig Barrel Proof bottles we've tasted in the past  – may not be the best overall, but solidly in the middle of the pack.
Disclosure: The sampled bottle of Elijah Craig Barrel Proof was graciously provided by Heaven Hill Distillery.  ModernThirst.com appreciates their willingness to provide their product for review.  The contents of this review are our own, made without outside influence, or strings attached. 
A typical very solid ECBP release. An overall sweet dram that I'd gladly share with anyone that wants a great bourbon. A bottling I always seek out – every release.