I recently was given the chance to purchase a bottle of pre-fire Heaven Hill bonded from a private collection and since I'm a bit of a Heaven Hill nut (nowhere near as wild as Bill Straub)I figured I do a lineup of all the open products I have in this category.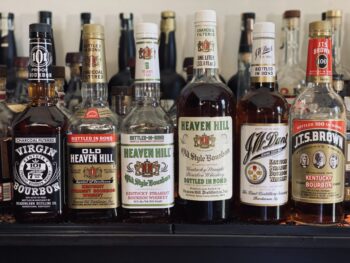 JTS Brown bib:
Barrel forward, corn, cream, and nice spice going into a pleasant tannic finish.
The nose has some cinnamon spice (red hots) sweet corn and new oak.
JW Dant bib: Sweet upfront, slight oak, and barrel char show up and then quickly fall off to lingering sweetness and tannins.
The nose has lots of sweet corn and baking spice.
Heaven Hill 6yr (2000) pre-fire bib:
Lots of caramel and faint notes of baking spices (clove and nutmeg) followed by wild honey fresh oak and slight tannins in the background.
The nose is apricots, burnt sugar, butterscotch followed by a slightly earthy note of fresh soil and caramel in the background.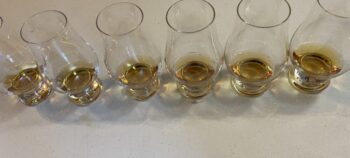 Heaven Hill 6yr bib:(2017)
Sweet and creamy on the palate much like mascarpone with honey drizzled on top. Nice balance of barrel chair, tannin, and spice.
on the nose, its Red hots and yeast rolls followed by sweet creamed corn, butter, and Madagascar vanilla is faint on the back end with a slight earthy mushroom note in the distance.
Virgin Bourbon 7yr: (2012)(The Weirdo)
Lots of spice upfront, followed by sun-dried raisins and sea salt that quickly disappears into artificial vanilla and red apple skins
mild oaky notes and tannins mid and back palate.
On the nose, there are lots of sweet cream and vanilla notes followed by fresh soil and corn husk
Heaven Hill 4yr bib: (2013)
light and Decadent on the palate with the faint but announced notes of corn and caramel much like carnival caramel corn made in the kettle. It doesn't sit long on the palate and drops off quite quickly
The nose smells sweet and spicy with mild hints of oak.
Conclusion:
While I wasn't on a mission to find a "winner" per say, I was more interested in seeing how thees stacked up against each other. In closing, I will say that I wish I had a truckload of the pre-fire expression. It's so fruity and different from most of what Heaven Hill is offering today. Overall I would still choose to drink the 6yr HH BIB everyday.
Thanks for stopping by.
Cheers