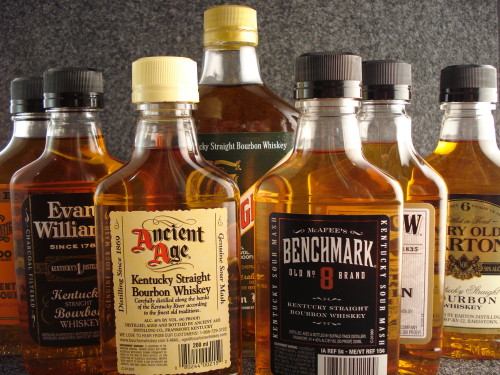 Not all bourbons are top shelf collectibles.  Hence, not all bourbon drinkers can or are willing to drop $50, $60, or $100+ on a single bottle of bourbon.  That leaves a large swath of the drinking public often left in the cold when focusing almost entirely on premium top-shelf bourbons.
So when Modern Thirst announced last week that we would be starting our systematic reviews of budget (aka "Bottom Shelf") bourbons, the response was enthusiastic from our readers and followers.  There is indeed a large market for budget bourbons, and a strong desire by the drinking public to read thoughts and reviews on that.  We aim to please.
Rather than simply review them in the same vein as other reviews, we decided to have a little fun, hence the "Battle Royale" concept.  We'll compare two budget bourbons, with truncated, but useful reviews, and score them the same way we do any other bourbon. The higher scoring of the two will remain in the ring, so to speak, while the lower scoring bourbon is eliminated.  The next review will feature that winner versus a new budget bourbon challenger.  We'll keep a running ranking of all the budget bourbons we taste, and in the end, we hope you, as the reader, will have a nice list of sub $20 bourbons and our rankings of them.   We'll ignore packaging.  Let's be honest, we're not buying $20 bottles of bourbon for the bottle.  When possible, Modern Thirst will be buying smaller 200ML bottles of bourbon (or even smaller, at times) for the review, and that will be reflected in the photos.  So let's get to it.
Round 1: Old Grand Dad Bottled-in-Bond versus Very Old Barton Bottled-in-Bond
To paraphrase the great Michael Buffer:
For the thousands on twitter and the millions of readers around the world, ladies and gentlemen, LLLET'S GET READY TO RUUUUMMMBBBLLLLLLLLEEEE!
In the blue corner, we have
Old Grand Dad Bottled-in-Bond 100 Proof.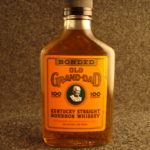 This robust high-rye bourbon is produced by Jim Beam Brands.  It is bottled in bond at 100 Proof, though various other proofs have been and still are available for purchase.
Appearance:

Medium copper.

Nose

: Rye, pepper, alcohol, and some woody pine hints.

Taste:

Strong black pepper spices, some maple syrup, and cinnamon.

Finish:

Long, with an almost over-the-top spicy tingle.

Score

: 76 out of 100.
In the red corner, we have
Very Old Barton Bottled-in-Bond 100 Proof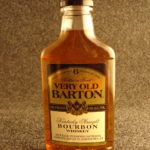 VOB100, as it's often called, is a product of the Sazerac Company.  It is distilled and bottled at the Barton Distillery in Bardstown, KY rather than the massive Buffalo Trace Distillery in Frankfort.  Like the previous bourbon, this version is bottled-in-bond at 100 proof, though it, also, can be had at various lower ABVs.
 

Appearance:

Mahogany.

Nose:

Caramel, Corn, and Vanilla.

Taste:

Caramel, maple syrup, bananas, and some ripe dark fruits.

Finish:

Long, sweet, and satisfying.  There is enough alcohol burn to remind you you're drinking 100 proof whiskey, but it is far from unpleasant.

Score:

83/100
Synopsis:
The first round of the Budget Bourbon Battle Royale was surprisingly revealing.  Neither of these bourbons are particularly bad bourbons whatsoever.  Those who love rye spices will probably enjoy OGD, while those seeking a more traditional decadent bourbon flavor in a lower price tag will probably prefer VOB100.  In the end, VOB100 was a more complex and layered bourbon, tasting very much like something that might cost $10 or even $20 more.  It is an enjoyable sipper both neat and with ice/water, and comes out on top in this first round.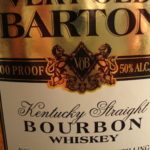 Next Challenger: Old Fitzgerald Bottled-in-Bond 100 Proof
Follow the rest of the Budget Bourbon Battle Royale action here.
---
The ModernThirst.com scoring system is a standard 100 point system based on 4 categories, taken in order.

Appearance: 15 points
Nose: 25 Points
Palate/Taste: 35 Points
Finish: 25 points

95+        Epic
90-94     Excellent, Good representative of its style
85-89     Solid sipper
80-84     Drinkable, but potentially flawed.
75-79     Low quality, flawed, use as a mixer only
<75        Rot Gut, avoid