Brandy distillers at a Bourbon Society Meeting?!? What Gives?
Normally, that would be a legitimate question, but the Bourbon Society of Louisville is no slave to convention. Head Distiller Brandon O'Daniel's Copper and Kings Distillery is located in the nearby neighborhood of Butchertown in Louisville, and surprisingly, the history of Brandy in this region stretches back quite a ways. The Bourbon society welcomed Brandon as its featured speaker last night during its August meeting.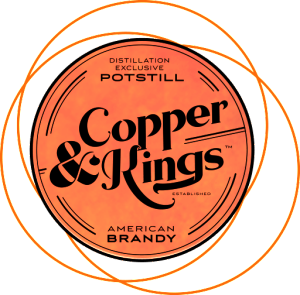 Copper and Kings is relatively new on the scene, having celebrated their soft opening on July 11th of this year, but they aim to make a big splash by bucking the traditional practices that mark most distilleries. They boast three full stills in their urban distillery, all named after women from Bob Dylan songs. The music theme doesn't end there, as the rickhouse, where barrels of brandy mature in new and used oak barrels, is hit 24/7 with music ranging from Louisville natives My Morning Jacket to classic bands like Rush. The sound, pumped through subwoofers, agitates the barrels slightly, aiding the aging process.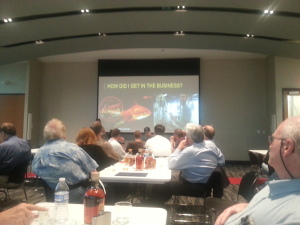 The distillery itself also hosts an art gallery, climate-controlled rick house, and an outdoor entertainment area complete with fire pit that will serve host to neighborhood gatherings and social events.
O'Daniel brought samples of the company's two current products: the Immature brandy and the Craft Distilled brandy. The immature spirit is a clear liquor distilled from grapes, with a fresh, fruity taste with very apparent grape flavors and even a hint of green apple. The craft distilled brandy is a golden-amber, oak aged with a full, rounded flavor profile.
Copper and Kings can be found online, as well as Facebook and Twitter.
I did break down later in the evening and purchase a society selection of Wild Turkey's Kentucky Spirit.  Can't wait to crack this open.