I am often asked by visitors who come to the area to experience the bourbon culture of Kentucky which distillery I enjoy most. The regular names always come to mind- Jim Beam, Buffalo Trace, Makers Mark, Evan Williams, Woodford Reserve, etc. For some reason, one of the oldest and largest of the distilleries always seems to be missing from my list: Barton 1792.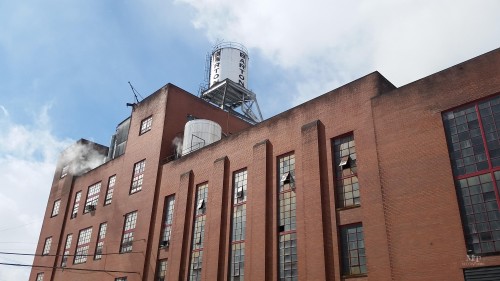 I can't honestly say why, unless it's because, like it's sister Distillery (Buffalo Trace), Barton 1792 isn't officially on the Kentucky Bourbon Trail. I certainly like Very Old Barton, especially the bottled-in-bond iteration. I've never really given Ridgemont Reserve 1792 much of a chance, though I can't say why, as I've always enjoyed it when I've had a sip. That's a shame. This is a huge, beautiful distillery in Bardstown, KY- the only operating distillery in Nelson County, to be exact (Jim Beam's nearby American Stillhouse and their Booker Noe distillery are just outside the county line).  As luck would have it, a number of bourbon writers and bloggers were treated to a tour of the facility as part of the recent Bourbon Classic Media Tour.
The Distillery itself hearkens back to the 19th century when, in 1874, Ben Mattingly started a distillery on the present site, called Morton's Spring. Tom Moore, an employee on the site, purchased the distillery with a fellow employee, and operated it until 1881, when they sold it to outside investors. Moore stayed on, however, and eventually purchased over 100 acres adjacent to the property in 1899 and opened a competing distillery. In 1916, he then re-purchased Morton's Spring and merged his newer distillery with that. The distillery was then called "The Tom Moore Distillery."
The distillery reopened following prohibition, and was eventually sold off and renamed the "Barton" distillery, apparently at random. It changed hands a couple more times over the decades, eventually being renamed the "Tome Moore Distillery" once again, until, in 2009, along came Sazerac. We all know Sazerac. You've no doubt been familiar with the Sazerac Rye, part of Buffalo Trace's Antique Collection, or the commonly named "Baby Saz" (a younger version from Buffalo Trace.) Anyway, Sazerac is a Louisiana-based spirits company that owns Buffalo Trace.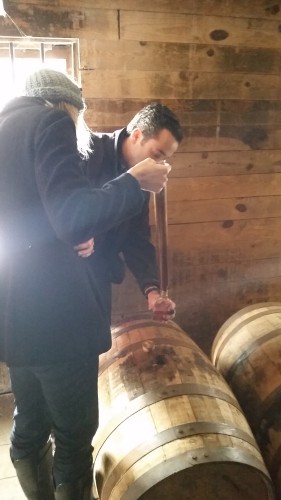 Sazerac purchased the distillery and renamed it (again) the Barton 1792 Distillery. Interestingly, at the time of purchase, Barton was the larger of the two companies, and its acquisition more than doubled Sazerac's size in the market.
Today, the distillery produces 1792 Ridgemont Reserve, Black Ridge, Very Old Barton, Kentucky Tavern, Tom Moore (of course), and others, amongst smattering of other liquors including vodka and brandy.
Our visit was marked by about a foot of snow, making footing treacherous on some of the sidewalks and stairs, but we were treated to a VIP experience nonetheless.
We visited a new non-traditional barrel house on the site (there are 28 traditional rick houses as well). The building holds over 75,000 barrels, stored upright, in a cinder block style building reminiscent of the final warehouse scene in Raiders of the Lost Ark when the Ark of the Covenant is packed up and lost in a warehouse so large it's nearly unfathomable.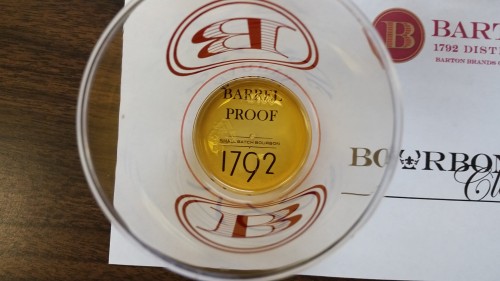 A visit to a rick house included the opportunity to draw uncut bourbon straight from a "Sweetheart" barrel (filled on Valentine's Day, 2006). We later tasted that bourbon in a tasting room at the distillery office, and were lucky enough to take several travelers of it on the bus as we left. There are few bourbons that really knock my socks off. Barrel Proof 1792 did just that. WOW! Huge barrel notes, tons of vanilla and caramel, with loads of creamy goodness. I had a flask of Barrel Proof Elijah Craig with me at the time (as you may know from my reviews, it's a favorite of mine), and this is head and shoulders better. A recent Comment by Buffalo trace Master Distiller Harlen Wheatley tells us a new 1792 is about to hit the market, and we can only pray it's this. As there appeared to be a bit of labeling for it mocked up on our tasting sheets, I'm holding out hope. So if you're into writing letters to companies, maybe write a quick letter to Master Distiller Ken Pierce asking, or begging, for this to come to market ASAP.
I heartily recommend a visit to Barton next time you're in the area and looking to visit a distillery or four. Its location makes it an easy stop if you're trying to see several bourbon sites, as Jim Beam, Heaven Hill's Bourbon Heritage Center, and Willett are all nearby.
---