[amazon_link asins='B00H143UXW,B06Y1VGMH2′ template='MT-product-carousel' store='modernthirstc-20′ marketplace='US' link_id='89cd9de4-ff80-11e7-ad0b-b3d612b3a656′]
I'll admit it.  I love product testing.
ModernThirst was contacted a few weeks ago inquiring as to whether we'd be open to testing a forthcoming new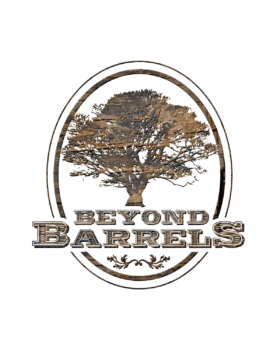 product called "Beyond Barrels."  Beyond Barrels is the latest in the recent trend of products that allow home aging of alcoholic spirits and cocktails.   These are not yet publicly released, and we, of course, jumped at the opportunity to test pre-release samples and review them for you, our readers.  Our standard disclaimer is that, naturally, we aren't receiving compensation for this review, and we're not guaranteeing positive comments in any way.  We also provide the liquor to be used in testing.  We'll be honest and forthcoming.  To ensure that, I'm letting a panel of tasters help me out with the testing.  We have three bourbon and whiskey aficionados here in Louisville, with no connections to our site, who will join me for tasting sessions at various intervals of age and provide their unbiased feedback and thoughts.
Most of the common home spirits aging products such as small barrels from American Oak Barrel, Oak Infusion spirals, Signature Whiskey Elements from Time & Oak, and others use charred wood, and almost all use white oak (as is used in bourbon barrels) exclusively. Beyond Barrels is different.  These are not charred wood sticks, so this is not an attempt to recreate the barrel aging process from scratch, as so many other products seem to do.  These are heartwood masts that are naturally weathered at least two years (not Kiln Dried) and not charred.  Beyond Barrels is clear that this is a product intended to supplement the original barrel aging process; to pick up where the barrel left off.  This isn't a replacement for the original barrel.
The second main difference is the selection of available woods.  The Beyond Barrels store lists choices as American White Oak, French, Oak, and Cherry, which we were sent for testing.  Think of it like smoking meats.  When smoking pork ribs, different types of wood impart different flavors than others when placed in the smoker.  Why would that be any different in alcohol?  Thinking of the product that way, it reminds me less of a "home spirits aging" product and more of a "home barrel finish" product.  Much like Maker's 46 inclusion of French oak staves isn't intended to supplant the effects of American White oak barrels, the staves add a nuance of flavor.  I would expect, if Beyond Barrels products hold up, that they would do the same.  So yes, this is still a form of aging, but its effect seems more like "finishing," as we're using much shorter time frames and non-charred wood. Time will tell.
These are designed to provide the same wood-to-alcohol ratio as a 53 gallon barrel.  The fact that they're tall, and stand upright in the bottle helps keep that ratio in place as the bottle is consumed, as the upper portions of the aging mast as the bottle empties will not be in contact with the wood.
Our Testing Process:
Yesterday, we set to aging two spirits by selecting, at the suggestion of Chris from Beyond Barrels, a mid-range bourbon and mid range rum for testing.  The idea of "mid range" in bourbon is a bit nebulous these days, as there are fantastic drinking whiskeys well under $20 that can be found quite easily on liquor store shelves.  But I settled on Four Roses Small Batch, purchased for $24 at a local big box store.  Why Four Roses?  Well, I like Four Roses quite a bit, and their higher rye content makes for a nice spicy sip.  They're well aged, but I've never tasted a barrel finished version of Four Roses, as they do not barrel finish their products.  Also, selfishly, while I've had many-a-bottle of the small batch from Jim Rutledge, I've never officially reviewed it on this site, so I wanted a bourbon I would take a small sample of for a regular review (that is forthcoming) in addition to testing the effects of Beyond Barrels.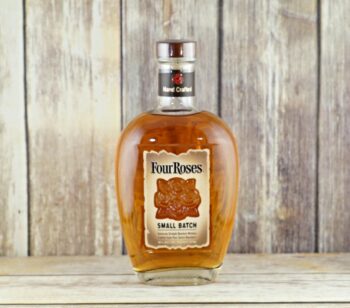 For the rum, I reached out to the Twittersphere.  I like rum, but aside from price, I have little insight into what's considered "medium range."  So special thanks to Very Serious Goat (@OldGoatMan) on twitter for his recommendations.  He provided several good options with explanations on why they would be good choices in the "mid range."   I took those and others to my local big box and found El Dorado 12 year rum at a reasonable $32.  Perfect.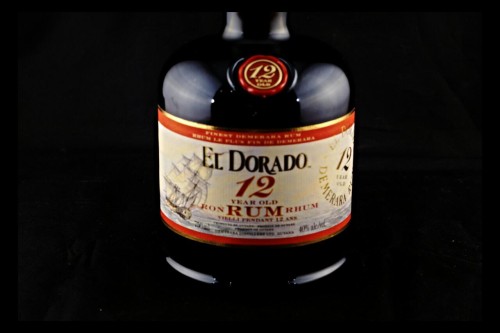 Following the suggestions from Chris, I then removed a 4 ounce "control" sample from each bottle to use for comparison testing as the spirits age.
Last, I added an aging mast to each bottle.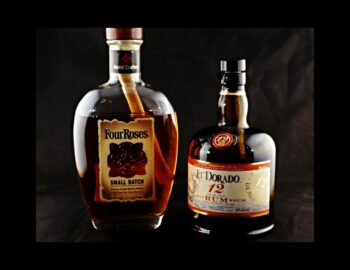 And Now we wait.  It was suggested that we try the spirits at one month, then two, and three months if we like the effects of the masts.  So that's our plan.  I will convene my hand-selected tasting panel in one month, and we'll taste the control sample from each, followed by aged samples from each bottle.  A month after that, we'll reconvene and do it again.  I'll provide each taster's feedback as we progress, along with my own thoughts on the product.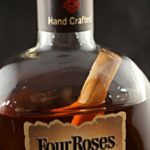 Thus far, it's a really easy process, as you might expect.  Just remove a little from the bottle to prevent overflow and provide a control sample, then add the aging mast and close it back up.  One thing to point out to the folks at Beyond Barrels: The aging mast is about a quarter inch too long for the cork on the rum bottle to be fully inserted.  You might want to consider alternate lengths, if possible.  It won't be an issue at all with anything taller than the El Dorado bottle.  Anyway, that's quibbling.
So stay tuned for updates, and subscribe to our email list for notifications of new posts each week so you won't miss the results.
[wysija_form id="1″]
Cheers!