[amazon_link asins='B00H143UXW,B06Y1VGMH2′ template='MT-product-carousel' store='modernthirstc-20′ marketplace='US' link_id='89cd9de4-ff80-11e7-ad0b-b3d612b3a656′]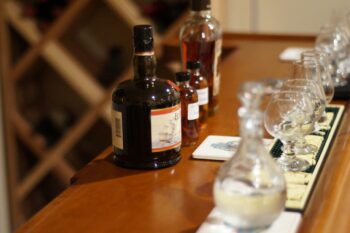 It's been one month since we began the process of testing the new liquor aging products from Beyond Barrels. We chose a bottle of Four Roses Small Batch and a bottle of El Dorado 12 Year Rum, and inserted a cherry wood Aging Mast in each.  Then we left the bottles to sit for a month.  (Read about the test here.)  That means it's time to get to some tasting.
As promised, we assembled a crack team of bourbon and whiskey aficionados to do the tasting.
Phillip: Phillip is originally from Central Illinois, but has lived in Louisville for 23 years.  He is a member of The Bourbon Society and considers himself a casual bourbon enthusiast.  Although his tastes lean toward the spicy and complex, he enjoys a full spectrum of bourbon flavors.  His "go to" bourbons include Four Roses, Rowan's Creek, and Knob Creek.
Victor:  Victor is a native of Cleveland, OH.  He has lived in Louisville for 15 years.  He is a novice, but avid bourbon drinker and enjoys smooth, drinkable bourbons.  His bourbons of choice include Blanton's, Maker's 46, and any of the Jefferson's Ocean series.
Scott:  Scott was born and raised in Chicago and has lived in Louisville for the past 13 years.  While he's a relative newcomer to the bourbon world, he's doing his best to make up for lost time.  His home bar, "Scott's Bourbon Bar," is stocked with over 100 different whiskeys.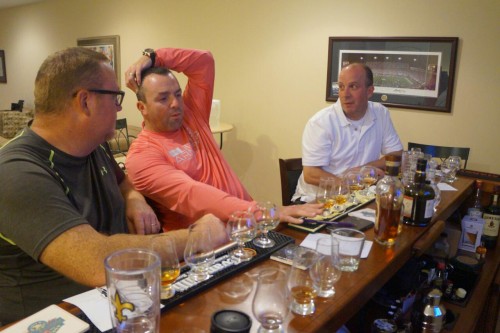 We convened in the ModernThirst Compound to taste the before and after versions of both spirits.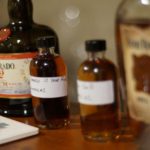 El Dorado 12 Year Luxury cask-aged rum is a solid $30-ish product of Guyana.  It is a mixture of rums, the youngest of which being 12 years old, aged in previously used bourbon barrels.  So it fits in well with the overall theme of this site and our test.  We began by tasting the unaltered El Dorado.
It comes off the palate incredibly sweet and imminently drinkable straight up.  It's creamy on the tongue, with loads of brown sugar and honey sweetness and just a hint of caramel from the barrels.  Very nice.  Naturally, we followed up by tasting the version that has aged for one month with the cherry wood aging mast from Beyond Barrels. The difference was immediately noticeable to our panel.
El Dorado 12 Year Rum
Scott:  "This is a really smooth, and sweet rum right out of the bottle.  With the aging stick, it was still pretty smooth, but there was a ton of spice up front with a lot of sweetness on the finish.  I didn't see a difference in color between either. I'd drink both of these."
Victor: "Really smooth, easy drinking without the Aging Mast  Lots of flavor on the front of the tongue.  With the aging mast, it was a little spicier, and a bit more harsh on the finish."
Phillip: "The aging mast made this really spicy, but it's still pretty sweet.  This (rum with the Aging Mast) would be great in egg nog."
The panel followed that up by tasting the bourbon.  As before, we tasted the bourbon from the control sample, unaffected by the Aging Masts.  Spicy rye and floral notes abound, as is common on the Four Roses Small Batch.  I immediately was worried that I'd made the wrong choice in bourbons.  Hearing feedback on the Rum, it occurred that choosing an already spicy high-rye bourbon might not have been the best choice, as Four Roses is already spicy, and not lacking the peppery character our tasters seemed to get from the Aging Mast.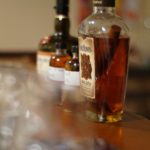 Four Roses Small Batch Bourbon:
Phillip: "This is light, very floral on the nose and tongue.  With the Aging Mast, it was REALLY peppery with a slightly salty finish. It reminded me a little of Jefferson's Ocean. I liked it better without the Aging Mast."
Scott: "With the Aging Mast, this comes off a little harsh on the palate.  It's a bit over spiced, but it calms down and seems to smooth out a little after it rests in the  glass for a few minutes.  I liked it better before the Aging Mast."
Victor: "This has a spicy flavor with a warmer finish than I like.  With the Aging Mast, it's crisper on the finish with a little less sharpness.  I like it better after the Aging Mast."
It's clear the Aging Masts do affect the liquor.  After tasting both spirits, there can be no doubt of that.  The overall impressions of its affect on the rum were nearly universally positive, while the results on the bourbon were clearly mixed.
Beyond Barrels lists two other variants of the Aging Masts on their website, one White Oak and one French Oak.  Having tasted various French Oak-finished bourbons over the past several years, I'm honestly most interested in trying that on the bourbon.  Both Maker's 46 and several Buffalo Trace Experimental collection bottles have affirmed that French Oak adds a very nice layer of complexity to bourbon.  I've never seen Cherry Wood used on bourbon before at all, so this is a first for me.  But I wouldn't recommend Four Roses Small Batch, if you're trying this at home.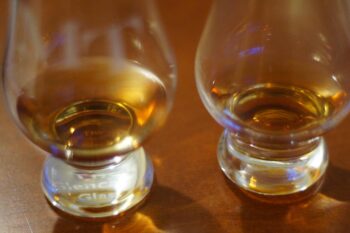 Ultimately, I think these masts would have worked better in a slightly less spicy, sweeter bourbon.  I don't know if it's the particular wood (cherry), or the bourbon in general.  Really, the four Roses simply didn't need the extra spice kick, in my estimation, so that's likely a result of the label choice on my part. But if the rum in any indication, this product has a really interesting application.
Likewise, this might be a really fun product to use with pre-made cocktails.  A Manhattan cocktail with a cherry wood Aging Mast might be quite interesting.  That led me to another thought.  Could I re-purpose the previously used Aging Masts?  What about using the Rum-used mast in a bourbon to give it a rum-finished character?  How about adding the bourbon-used Mast to another cocktail or spirit to infuse some bourbon flavors?  Once we've completed this test, I might give the then-bourbon/rum infused Aging Masts a shot in bottles of cocktails or other liquors to see if they'll impart their flavor there as well.
We will convene the tasting panel in another month to see how more time affects the liquors, so keep reading ModernThirst!
Cheers!