Old Ezra
While lacking subtlety, Old Ezra is a nicely aged straight-forward bourbon at a strong enough proof to warrant a second sip. Its price point isn't as attractive as it could be, but it's far from a bad value.
What it is
Old Ezra is the 7 year version of Luxco's standard rye mash bourbon line, Ezra Brooks. If you're not familiar with Ezra Brooks, don't worry. It's not that they're newcomers to the bourbon scene, it's really just that they're not as well marketed and not as well known as many others. Part is due to their history as a sourced bourbon. Regardless, Ezra Brooks is a Heaven Hill sourced bourbon bottled by Luxco (of Rebel Yell). Old Ezra is the 7 year old 101 proof variant of the line.  ModernThirst has previously reviewed Old Ezra B, a now discontinued 12 year version.
For a great readup on the history of the name and logo of Ezra Brooks, check out Sipp'n Corn's blog post here.
Since this is Heaven Hill sourced, it should follow the same mash bill and barrel entry proof as the rest of Heaven Hill's rye-based bourbon recipes.
Old Ezra Vital Stats
ABV:50.5% (Proof: 101º)
 Mash Bill: 78% Corn, 10% Rye, 12% Malted Barley
 Barrel Entry Proof: 125º
 Barrel Char Level: #3
 Style: Straight Kentucky Bourbon
 Produced by: Luxco (Sourced)
 Distilled at: Heaven Hill, Louisville, KY
 Age: 7 Years
 Price Paid: $22
 Availability: Can be difficult to locate due to distribution

Packaging
Old Ezra comes in a standard square bottle similar to Evan Williams, for obvious reasons, with a screw-top.  If you read Sipp'n Corn's blog post I linked above, you'll be interested to note that the label does not much resemble Jack Daniels these days.  Instead, it's a rather nice cream and copper motif.
Appearance
Dark, murky.
Nose
Typical Heaven Hill with heavy dose of oak and char right off the bat.   There are strong notes of caramel and burnt brown sugar just below that with hints of vanilla and almond.
Taste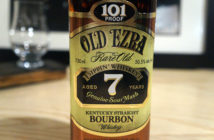 The tip of the tongue gets a lot of the standard heaven hill caramel and vanilla, but the mid palate gets a heavy dose of oak and charcoal followed by banana and almond again.  The proof asserts itself on the rear palate, and this is no light sipper.
Finish
Again, the alcohol is easy to taste here.  It's powerful and straightforward without a lot of nuance aside from the oak.  The finish is somewhat long, and not at all unpleasing.
Synopsis
I expected this bourbon to remind me a lot of the 6 year old Heaven Hill bottled in bond.  Surprisingly, it doesn't taste like it at all to me.  It's closer in profile to the 10 year old Henry McKenna bottled in bond, which, while a single barrel and 10 years of age, carries a lot of the same flavors and overall feel.  For $22, this is a pretty solid bourbon.  It would mix well into a cocktail, as you wouldn't risk losing any nuance (it really has very little subtlety to speak of), and yet for those of us who appreciate a straightforward, powerful bourbon, this fits that niche nicely, too.  Looking at the price of this compared to the 6 year Heaven Hill bonded product and the 10 Year McKenna, I'd say this is overpriced above $20.  But that's more a value play, not speaking to the quality of the whiskey.  This is good.
Luxco is currently in the construction phase of building their first bourbon distillery in Bardstown, KY.  Lux Row will open in the coming years, and we've been told its first priority will be supporting Luxco's current stable of bourbon products, which includes Rebel Yell, David Nicholson, and Ezra Brooks.  it has felt like, in recent years, Ezra Brooks has been shunted aside for the other labels, and that's a shame to some degree.  The whiskey is solid.  Granted, that's because Heaven Hill pretty much always produces solid whiskey, and that's where Luxco buys it.  They may or may not continue to support Ezra Brooks, and that's really okay.  My hope is that they can produce something near this quality in their new distillery.  The industry, and hence the consumer, is better off for it.
ModernThirst.com Score: 87 out of 100 Points
Related review: