J.W. Dant Bottled in Bond
One dimensional, over oaked, and not pleasing to sip, this feels like a label Heaven Hill uses to get flawed barrels out of their warehouses for a nominal return. Skip it, and try Evan Williams Black or other Heaven Hill alternatives instead.
[amazon_link asins='B00H143UXW,B016YPDI3A' template='ProductCarousel' store='modernthirstc-20′ marketplace='US' link_id='5fd76d64-8352-11e7-b4ba-4ba8c9ca927a']
What it is
J.W. Dant is one of the forgotten labels produced by Heaven Hill brands.  What do I mean by "forgotten?"  Take a look at Heaven Hill's website…looks like they've forgotten it, too.
Historically, the Dant family was among the first large-scale producers of whiskey and bourbon in Kentucky owning multiple distilleries prior to prohibition.  The name itself refers to Joseph W. Dant, a distiller in the 1830s who used the "log" method of distilling, where a hollowed tree trunk was used in place of a copper pot still.  His sons, among whom were J.W. Dant and J.B. Dant, continued in the distilling business.  J.B. founded, among other labels, Yellowstone.  By 1870, J.W. Dant had established his own distillery and from that lineage, J.W. Dant bourbon arose.
The Dant distilleries closed during prohibition, with Stitzel-Weller buying some of their stocks, and reopened in 1936, only to be sold off to United Distillers in 1940, who sold the plant and its labels to Schenley in 1952, who revived the J.W. Dant label.  It was later sold off to United Distillers, and by 1993 the label was sold to Heaven Hill, who owns and produces it to this day.
J.W. Dant is a standard rye-based bourbon made using Heaven Hill's standard bourbon mash bill.  It is generally considered a bottom-shelf bourbon, costing well under $20 a bottle in Kentucky.  This offering is Bottled-in-Bond, meaning it is a Straight Bourbon at least 4 years old and bottled at 100 proof.  I received the sample of this bottle for review from ModernThirst co-founder Matt Gates over a year ago, and am just getting around to it.  I have a fondness for Bottled in Bond bourbons, so I've been meaning to get to this review for some time.
Appearance
This is a medium-to-dark brown with only hint of amber.  I'm guessing this comes from the higher areas of the rick houses.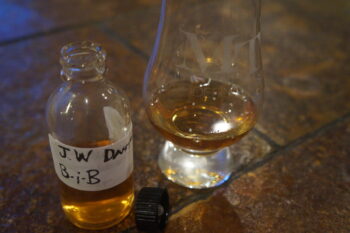 Nose
Bananas pop to the forefront immediately upon nosing the glass, followed by mild sweet corn and a blast of heavy barrel and oak notes.
Taste
There are notes of standard caramel and corn on the front of the palate, but extreme barrel flavors hit the rear palate and overpower any subtlety.
Finish
This is a finish that lingers a bit too long.  The oak again dominates, but some black pepper spice does rear its head midway through with some brown sugar and sour apple flavors.  There is a bit of a metallic or medicinal thing going on with the finish here, and it's hard to place.
Synopsis
I was not overly impressed with this whiskey the first time through, so for the second tasting, I added water to see if I could pull a little more complexity from it by muting some of the barrel flavors.  Adding a splash of water did indeed calm the oak, but it also muted any caramel notes, though it did accentuate the sour apple and pear flavors on the rear palate and finish.
If I had to guess, I would say this brand doesn't get a lot of love in terms of aging and barrel selection.  This tastes and feels like it relies heavily on barrels that were exposed to too much heat in the high reaches of the warehouses and rather than mix it in with flagship brands like Evan Williams or Elijah Craig, they decided to cut their losses and sell them in this format.  In all honesty, I'd say the flavor profile would best be explained as what I'd imagine were barrels intended for the McKenna 10 Year Bottled-in-Bond that were rejected at an early age and pushed to market.  Yeah, it's cheap, but it's also flawed.  And I say that as a bit of a Heaven Hill fan boy.  Save your dollars and try Evan Williams black label, or the Evan Williams Bottled-in-Bond or Heaven Hill 6 year Bottled-in-Bond if available in your area.  They're around the same price and miles ahead of this one.
ModernThirst.com Score: 79/100