Sunshine Reserve
A unique craft whiskey with an oats-based mash bill. A little on the young side, this could use a year or two more in the barrel.
[amazon_link asins='B00H143UXW,B06Y1VGMH2′ template='MT-product-carousel' store='modernthirstc-20′ marketplace='US' link_id='99d04f00-ebf5-11e7-aeb6-b7f8f0abc2f3′]
What it is
Here's a different one for you. It's not a bourbon, it's not a rye, and it's not a single malt. It's a 4 grain whiskey distilled and aged by Manhattan Moonshine Company in Westfield, NY. And what makes it unique is its mash bill. Consisting of 4 grains, primarily oats and rye, this doesn't attempt to be a bourbon or rye whiskey, like most American bottlings, and instead follows the growing craft trend of experimenting with various grains to come up with something different and unique. Though the label says it is aged at least a day, the distiller tells us that they have chosen that statement not because it is literally aged only a day or two, but because they don't feel the age statement is truly meaningful, other than it is under 4 years old (which makes an age statement of some sort required.) So they instead put only the minimum age statement as required by law on the label. The bottle is designed with an easily removable label to serve as a decanter when finished, which is nice touch. Before tasting, I did not know the mash bill of this whiskey, so while my notes aren't blind, per say, I assumed this was corn or rye based. I adjusted my notes as I read more about the product. It is bottled at 42.5% ABV (85 proof)
Appearance
Somewhere between brown and gold, on the darker end of that spectrum.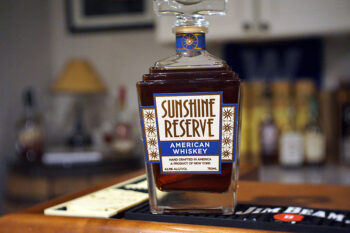 Nose
Grainy. There is a hint of underaged distillate on the nose that warns me of some heat coming on the palate.
Taste
The first and foremost flavor is oatmeal, which in retrospect now makes a lot of sense. There is indeed a fair amount of ethanol on the palate that I get often with younger Irish Whiskeys, but there is a definite touch of peppery rye on the rear palate.
Finish
This finishes fairly short, with more oat and rye pepper.
Synopsis
I'll admit that my first experience with this was difficult. In opening the packaging, I accidentally spilled some of it all over my jeans, which left an ethanol smell on me for an hour until I could get to a new pair of pants. And my initial tasting caught me by surprise, expecting traditional American corn or rye. But after settling in with it, I approached it more as an American take on Irish Whiskey and I found it to be perfectly fine for sipping. Were this a year or two older, I could actually see it being a really high quality whiskey in that regard. As it is, it tastes a bit on the young side, but it has some interesting flavors that feel like they could be developed with time- which means there's definitely potential with the distillate.
ModernThirst.com Score: 83 out of 100 points