Gaur Spice No.1 Blend
This is a flavored whiskey. So take that with a grain of salt. But it's so sickeningly sweet and heavy-handed with the flavoring that regular whiskey drinkers are well-warned to steer clear.
[amazon_link asins='B00H143UXW,B00P553P1Q' template='MT-product-carousel' store='modernthirstc-20′ marketplace='US' link_id='8df13dbc-faed-11e7-86d3-dd732ac02146′]
A Sample of Gaur Spice was provided to ModernThirst for review with no strings attached. The thoughts and opinions in this review are our own.
What it is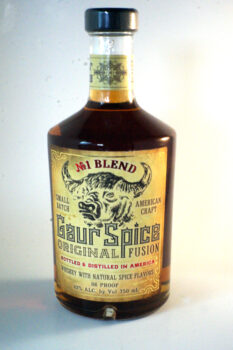 Gaur Spice No. 1 Blend is a product from Spectrum Spirits of New Jersey. In a nutshell, this is a flavored whiskey. It is a low aged whiskey blended with cinnamon, nutmeg, cloves, and ginger. This is supposedly a recipe that has been blended for generations in India, and is named for the "Gaur Family," who apparently owns Spectrum Spirits. The Gaur is also the largest bull on earth, and is native to south and southwest asia, which adds to the "India" connection.
Now, where the underlying whiskey was distilled is a mystery that is actually easily solved based on their own marketing. The bottle says it was "produced and bottled by Spectrum Spirits in North Charleston, SC." Their marketing paperwork states "Our process removes all the harsh alcohols and delivers a well
balanced, smooth taste with NO bite or burn."
A little detective work shows that Spectrum Spirits doesn't operate any facility in North Charleston. But TerrePure does. And TerrePure is the company with the rapid aging technology that also claims to remove harsh alcohols and leave a smoother whiskey. I think we can say with 99.9% certainty that this is TerrePure juice with spices added. And how is Terrepure whiskey? Well, in the case of Winchester Extra Smooth Bourbon, it's abysmal.
But this is a flavored whiskey and it's bottled at 86 proof. Before we go much farther, let me say I'm no fan of flavored whiskey. If you need a flavored whiskey, drink a cocktail. But there is certainly a market for it, so let's dig in.
Appearance
Golden brown
Nose
Whoa. It's like boiled custard in a glass. In all honesty, I get virtually no whiskey notes at all. No oak, no grain- nothing. What I get is a Holiday-smelling concoction that is a dead ringer for Egg Nog. The nutmeg is front and center and the cinnamon is a slight tinge on the edge of the nose. I don't necessarily get the ginger, but the cloves are in there as well. It blends into a vanilla extract type of aroma.
Taste
Sticky sweet.  The cinnamon and ginger are here at the tail end, but the story is still the cloves and nutmeg. Virtually no whiskey notes on the palate make me wonder why this is marketed as a flavored whiskey at all. It's more like a finished cocktail.
Finish
The mouth feel on this is as viscous as vanilla syrup, and that's largely what it tastes like. The cinnamon and ginger ride out the finish down the center of the palate with an appearance, at last, of a hint of alcohol.
Synopsis
I was intrigued by this for a couple reasons. One, I wanted to try a second product that Used TerrePure technology. Two, I've been to India on several occasions in my day job, and I enjoy the cuisine. If Gaur Spice actually did use the TerrePure process, this is head and shoulders better than WInchester Extra Smooth from a liquor standpoint. There's no off-putting notes here as there is there. But as a whiskey, this is a head scratcher. First, it's way too sweet, even for a flavored whiskey. Second, it lacks the good flavors that make whiskey desirable in the first place. It's like drinking eggnog without the cream. And it certainly doesn't remind me of anything I ate or drank in India.
If sickeningly sweet is your thing, you might give it a try. But don't confuse this with whiskey. It's not. In the meantime, I need to go rinse my mouth out with whiskey.
ModernThirst.com Score: 68 out of 100 points