Jameson Caskmates IPA Edition Irish Whisky
Jameson finally delivers a whisky in this series to show the idea actually makes sense. Definitely a new and innovative product worthy of a buy.
Jameson Caskmates IPA Edition
[amazon_link asins='B00G9J9TJ4,B0725C15JD' template='MT-product-carousel' store='modernthirstc-20′ marketplace='US' link_id='519b0606-2793-11e8-b2d3-a74d46b3ee9f']
Today we're going to drink a brand new product from one of the world's biggest brands, Jameson's Caskmates IPA Edition. Jameson is an Irish Distillers brand sold under the banner of global liquor giant Pernod Ricard.  Jameson's brand is iconic and ubiquitous and it is one I love very much.  Very few bar shots rival the Jameson and pickle backer shot for instance. That said, Jameson's parent company, Irish Distillers, once held a monopoly in the Irish spirits market.  For that reason, some do not have a favorable view of them, or their products. Without going down the rabbit hole of corporate missteps, let's look at this whisky by its merits alone.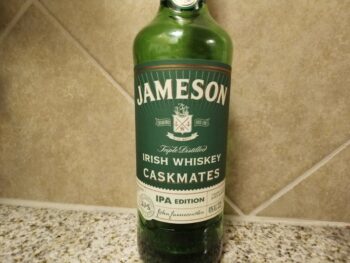 Nose:
Definitely unlike anything else in the whisky category. The nose has an almost mentholated and antiseptic quality that is jarring initially to say the least. Notes of curacao-like liqueur, other citrus fruits, herbs, barley, roasted vanilla bean, molasses, and something resembling sweet vermouth. The whisky has thin, runny legs.  This is a dead giveaway that the whisky is young.
Sip:
The flavor of the whisky betrays some of the interesting but perhaps off-putting characteristics of the nose. A sip reveals a buttery sweetness with some bitterness not unlike adding a dash or two of Angostura to your drink. Other hints of mint sprig, citra hop, the aforementioned molasses and vanilla bean, ginger, nutmeg, and apricot round out the middle, finishing with a deliciously deep malt flavor.
This is certainly not a typical Jameson whisky product. When I reviewed the previous iteration roughly two years ago, the Caskmates Stout Edition, I certainly felt the idea was great. The execution was the problem there. Being blunt, the stout that was stored in those casks was not present enough in the whisky to make an appreciable impact on the flavor.  The low age of the product also caused the score to suffer. This Jameson, however, shows that the idea is workable after all. Innovation can be a long, difficult, and certainly tedious process. Jameson IPA Edition shows that Jameson has a great idea that they should continue to experiment with going forward. I think it is fairly obvious at this point, but I really like this whisky. I hope you all that try it do too.
ModernThirst.com Score: 88 out of 100