[amazon_link asins='B003QX2JMA,B000AV16H0′ template='MT-product-carousel' store='modernthirstc-20′ marketplace='US' link_id='9b287f6f-dd1e-11e8-a532-5b3f0f3c324b']
From the producer:
A 750ml bottle of Steamboat with custom labeling will retail for $45 in a limited edition canister featuring the historic image of Steamboat from the Wyoming State Archives. Steamboat is smooth, easy-drinking, and slightly lighter than Wyoming Whiskey's Small Batch bourbon with a red berry note complementing its customary vanilla and caramel flavor profile.  It is bottled at 90 proof.

The label of this bottle pays tribute to Chugwater, the birthplace of Steamboat, with an image of the Chugwater Cliffs.

Like all WW products, Steamboat is 100% locally-sourced and was named after the Cowboy State's iconic symbol which is represented on the Wyoming license plate.  Steamboat was the name of an "unrideable" horse ridden by Clayton Danks in the Cheyenne Frontier Days rodeo in 1909.  While some controversy surrounds the identity of the rider, the duo is believed to be the bronc and rider that inspired Wyoming's revered logo.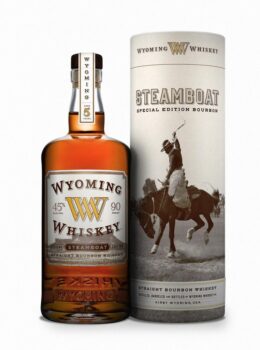 You may remember our review from earlier this year of Wyoming Whiskey's Small Batch Bourbon. Well, Steamboat is a limited edition Wyoming-only release. Steamboat Edition is 90 proof, and not age stated. We found the standard bourbon to be a refreshingly high quality whiskey, and still recommend it. So we are particularly interested in Steamboat.
Appearance
Straw, light golden in color.
Nose
Young corn, a slight stringency followed by grassiness and graininess more commonly found in malt-based whiskeys such as blended Scotch.
Taste
There is a chemical note on the front of the palate that reminds me of plastic. It is followed up by a rush of popcorn on the mid palate with notes of black pepper and tannins on the periphery. The rear palate gets a very slight hint of sweet cream corn with a touch of vanilla and raisin.
Finish
Medium in length, slightly on the short side, the whiskey takes a tannic turn with a peppery, puckery hint of spice and pepper with a lingering grassiness that hearkens back to the nose.
Synopsis
I have to say I'm slightly disappointed in this release. It's not that it's terrible, it's that as the limited edition, I expected it to be much better than the standard bourbon release. It isn't. In fact, it's not as good. I tried this over the course of 2 days and got the same results, so I took a couple weeks off before returning to the sample provided by the producer, but to no avail. It's just okay. The chemical note on the front of the palate is a bit off-putting and I would almost swear this is younger than the standard small batch, at least in terms of flavor, which is odd for a limited release. There are still plenty of sweet notes, and the corn is on full display here, but ultimately this is a step down from the standard small batch offering. So unless the special packaging appeals to you, I'd stick with the standard.
ModernThirst.com Rating: 82 out of 100 points.
Wyoming Whiskey Steamboat Bourbon
It's not terrible, but as a limited edition, it's also not as good as the standard small batch bottling, and that's disappointing. If the commemorative packaging appeals to you have at it. If it's the whiskey in the bottle you care about, go for the standard small batch bourbon.