Such high hopes for this bottle, but it did not deliver. The tainting by the sulphur from the sherry casking masked any other positives of this bottling.
[amazon_link asins='B003QX2JMA' template='MT-product-carousel' store='modernthirstc-20′ marketplace='US' link_id='6aea14c5-ec04-11e8-9b27-0f231e010382′]
MUSINGS
The sixth and final review in our series on The Balvenie Distillery is The Balvenie 15-Year Old Single Barrel Sherry Cask.  Last time we spent some time with the The Balvenie 14 Year Old Peat Week (2003 Vintage) – a favorite of both Jeremy and I.  In our very first Balvenie review, we touched on two bottlings of The Balvenie DoubleWood 12-Year Old – a 2014 bottling that has been open for a few years and a newer 2017 bottling (an interesting comparison) and then we discussed The Balvenie 12-Year Old Single Barrel before moving to The Balvenie 14-Year Old Caribbean Cask.  Most recently we enjoyed The Balvenie 14 Year Old Peat Week (2003 Vintage), preceded by The Balvenie 14-Year Old Peat Week (2002 Vintage).  You can click on any of the titles in this paragraph to go to the other five reviews.
As I sit writing up this review I'm again listening to my favorite artist of all time Bob Dylan – specifically, The Bootleg Series Vol. 14: More Blood, More Tracks– Deluxe Edition which includes every available iteration of Dylan's songs on my all-time favorite Dylan album Blood on the Tracks from 1975.  This Dylan six-CD set is simply outstanding, but I digress.  I wish this Balvenie were so.  I like Balvenie, but of the seven total bottles reviewed over the past few months this one comes in at the bottom (and not just for Jeremy and I).  And I really like sherried whiskies.  So on to the review and the challenges this bottle presents.
BACKGROUND ON THIS BOTTLE
For a little background on this bottling from The Balvenie Distillery: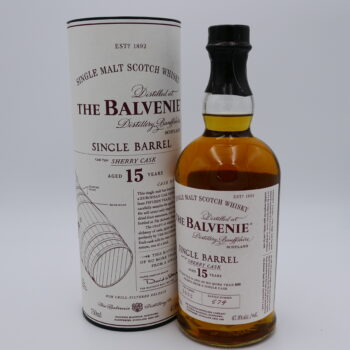 The Balvenie Single Barrel Sherry Cask has been matured exclusively in a single European oak sherry butt for at least 15 years. The term 'Single Barrel' conveys the unique nature of the single malt whisky, which has been drawn from a single cask of a single distillation.
Limited by nature, each heavily toasted European oak Oloroso sherry butt will yield no more than 800 bottles of Scotch whisky.
I will note here that Balvenie does not list whether the bottlings are first-fill, second-fill, etc. sherry casks. Many fans of the series do note however, and I've experienced through further research in local stores myself, that you can tell the difference between the 1st fill and 2nd fill versions of the whisky.  From the appearance of this bottling I would say it is definitely not 1st fill which presents a much darker sherry influenced coloring.
STATS
 THE BALVENIE 15 YEAR OLD SINGLE BARREL SHERRY CAK
Mash Bill: 100% malted barley
Casks:  exclusively aged in a single European oak sherry butt
Age: 15 Years
ABV: 47.8% (95.6 proof)
Bottle Details: cask number 2032, bottle number 579
Producer: The Balvenie Distillery
Price:  $115-125
Availability: readily available 


SCORING NOTES
Notes for Jeremy and I are annotated below by the identifiers (JR) or (WJ).
As always – the notes you see below were written and the bottle scored prior to any discussion by Jeremy and me of what we nosed, tasted, or felt overall, about the dram in consideration.  Side note: we have each visited this dram three times or more as we've grappled with how to rate it.  I will admit it has improved a bit as the bottle has had time to open up more (about 2/3 finished with the bottle at this point).  Our scores have adjusted slightly as we have bounced back-and-forth on how to score it and I think we arrived at a fair representation of this single barrel.
APPEARANCE
amber in color; standard classic Balvenie tin with lots of info included
NOSE
some sulphur notes immediately jump out, rubber, spent gunpowder – had to let it sit for a while before tasting – honey cereal underneath with some dried fruits, definitely no sherry bomb (WJ); sulphur – but some sweet sherry manages to come through if left to sit uncovered, a touch funky – like a struck match, rubber, not altogether pleasant (JR)
PALATE
hope the taste can overcome the nose, sulphur/rubber notes linger, some honeyed malt pushes through at the end, a touch of barrel char with some fruity notes buried behind, water does not diminish the sulphur note (WJ); sulphur, musty, bitter but syrupy feel, some spice, better than nose but not great (JR)
FINISH
medium length (not that you want it to go very long), a touch of oak – still get sulphur (WJ); medium-long, some spice again, not special (JR)
SYNOPSIS
THE BALVENIE 15 YEAR SINGLE BARREL SHERRY CASK:  One of the first sherry-finished scotches that I get the definite sulphur note – an expensive experiment on this single barrel bottling.  Is it a bad cask?  I hope so.  If nothing else, this proves the hit and miss element of single barrel purchases – especially when finishing is involved (WJ); I just cannot get past the feeling of having lit a match from the sulphur on the nose and taste.  I'm surprised they bottled this especially for the price.  Not horrendous, but . . .(JR).
ModernThirst.com Score:  77 (combined); 79 (WJ) and 75 (JR)
 WRAP-UP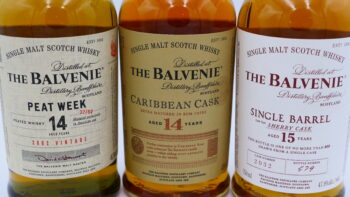 So, we end our Balvenie reviews with the lowest rated bottle of the grouping.  Before we started I thought this would be one of my favorites, but those honors were taken by the two Peat Week variants scoring 90 and 91.5 respectively for the 2002 and 2003 vintages.  After this experience I think I will try and taste the particular barrel of the 15 Year Old Single Barrel Sherry Cask before spending a Benjamin plus on another bottle. How did the Proper Pour Whisk(e)y Club rate this bottle you may ask, if you have followed some of our other write-ups?  So far we have rated 239 whiskies and this bottle ranks #239 – yes, last place with a 65 point average amongst six different tasters.  The 77 above represents several revisits with this bottle as I mentioned earlier.  Cheers and may your single barrel picks prove more fruitful (pun intended) than this one.