[amazon_link asins='B0747LBSVT,B0725C15JD' template='MT-product-carousel' store='modernthirstc-20′ marketplace='US' link_id='b09fc379-1112-4efe-800d-391a5a2a4ed4′]
INTRODUCTION
It has been fifteen months since we have reviewed an Ardbeg Distillery release. I'd say that is long enough without a write-up of one of my favorite Islay distilleries. Two Ardbeg Drum releases (the Committee Release and the standard offering) are up next in back-to-back reviews over the next two days. If you'd like to go back and peruse our previous six Ardbeg reviews on ModernThirst just click on the bottle name listed here (listed in the order we have reviewed them): 10-Year Old, Uigeadail, Corryvreckan, Dark Cove, Kelpie, and Grooves Committee Release.
 BACKGROUND ON ARDBEG DRUM COMMITTEE RELEASE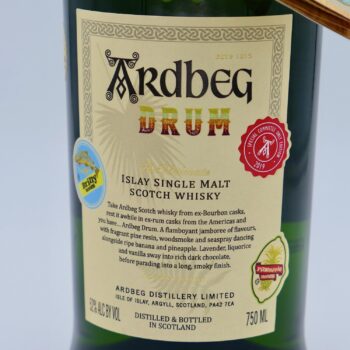 In previous reviews we have touched a little on background of the Ardbeg Distillery. The Scotch Test Dummies on their YouTube channel just posted a video about the distillery (click here to view the video) with some great aerial drone footage provided by Aqvavitae.  In the video, Jackie Thompson, the Ardbeg Visitor Center Manager, notes that Ardbeg is in the process of doubling capacity from 1.4 million litres to 2.8 million litres by adding two more stills, increasing to four total, over the next year (and you can see the construction in the video).
The Ardbeg Drum releases are both part of the special releases each year – coinciding with Ardbeg Day (the Committee Release comes out a couple months prior to the standard release, is available in fewer numbers and at a higher proof). I was able to get hold of a bottle of the Ardbeg Drum Committee Release in March of this year and the standard release just this month in June. We have had time to sit down with both drams a few times now and are ready to give our thoughts.
Before doing so let's see what Ardbeg has to say about the Committee Release on their website:
In an Islay time gone by – on the last day of the Feis Ile Festival – locals would transform everything from harvesters to hatchbacks into magnificent floats. If it had wheels, they decorated it.
Adorned with brilliant flowers and fabrics, these vibrant mobile gardens were a sight to behold. Starting at the pier in Port Ellen, the procession would roll by the crowds at Ardbeg, before honking and tooting its way back to be judged. This was a typically Islay cavalcade of colour.
And this year, it just so happens that Ardbeg Drum is a perfectly peaty excuse to celebrate.
In Ardbeg Drum, Ardbeg Scotch whisky from ex-Bourbon casks has been rested in ex-rum casks from the Americas to produce a downright wondrous paradiddle of aromas. Fragrant pine resin, woodsmoke and seaspray dance alongside ripe banana and pineapple. Lavender, liquorice and vanilla sway into rich dark chocolate, before parading into a long, smoky finish.
 Do the Drum releases measure up to the other's we've reviewed? Let's see . . .
STATS
ARDBEG DRUM COMMITTEE RELEASE
Mash Bill: 100% malted barley (peated to a level of 50 ppm)
Casks: whisky from ex-bourbon casks, finished in ex-rum casks
Age: NAS
ABV: 52% (104 proof)
Producer: Ardbeg Distillery
Price: $115-$135
Availability: very limited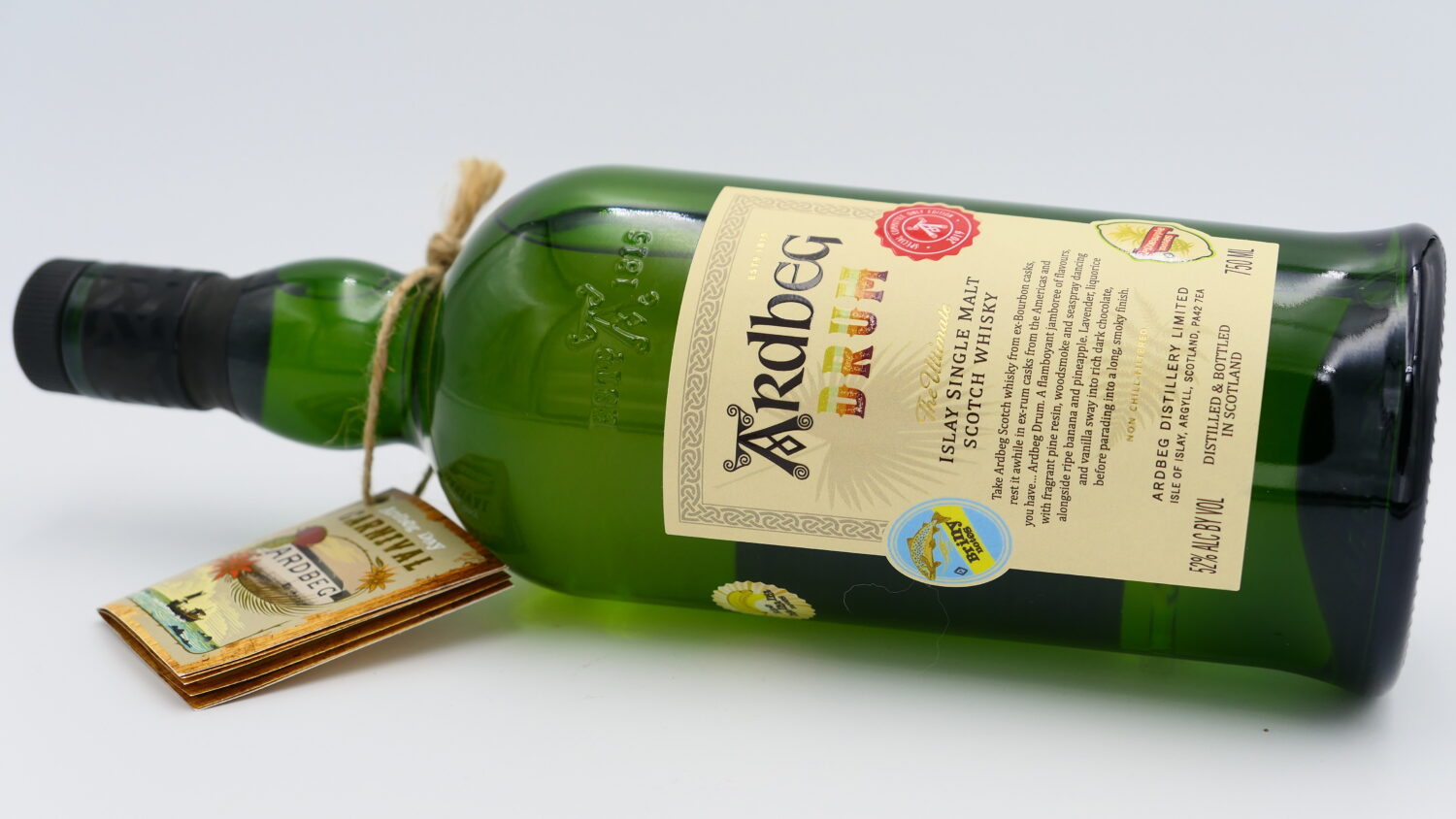 SCORING NOTES
Notes for Jeremy and I are annotated below by the identifiers (JR) or (WJ).
As always – the notes you see below were written and the bottle scored prior to any discussion by Jeremy and me of what we nosed, tasted, or felt overall, about the dram in consideration.  We have spent time with this whisky on multiple occasions.  There may be a few comparisons contrasting with the upcoming standard release review in the notes below.
APPEARANCE
very light, palest of yellow
NOSE
smoky, syrupy sweet vanilla, I do get a touch of banana (runts candy), some tart citrus – maybe pineapple, I definitely pick up the rum influence here, this dram is a touch 'darker' on the nose it seems to me than the standard release (WJ); deep dark burnt ash/char, dark sugar – crème brulee, bananas foster, caramel, citrus, brine, sea salt, pepper, wood, peat – a bright, sunny ocean vacation, banana candy, Turkish delight, pineapple (JR)
PALATE
the peat smokiness arises more on the palate – banana dipped in dark chocolate held over bubbling creosote, do not know if it is subliminal from the stickers but I can definitely get some grilled pineapple, savory pepper-spiced pork (WJ); we are in deep dark peat land – with some citrusy fruitiness trying to poke through (JR)
FINISH
medium-long, some smoky char followed by sweetness – toasted marshmallow, slight pepper (WJ); shorter side of medium, a bit short for the ABV, ash, lots of char, dried wood, tarter than sweet (JR)
SYNOPSIS
ARDBEG DRUM COMMITTEE RELEASE: I like the uniqueness here. I'm a fan of what Ardbeg tries to do each year with the Committee Release – will be interesting to see how the standard release measures up – written in my notes a couple months before it came out.  This is not my favorite of the Committee Releases, but it holds its own. I prefer this release over the standard – but less so than the Grooves Committee Release last year. I'd say to give it a try for something different in the Ardbeg world. I liked it better over time (WJ). I liked this less and less as I drank it.  The peat just built until my palate was a charred mess. Ash. This is not Committee Release level but I'm thankful for the experimentation (JR).
ModernThirst.com Score:  85.5 (combined); 88 (WJ) and 83 (JR)
WRAP-UP
The Ardbeg Drum Committee Release as you can see from our notes above garners different reactions between our two palates and I think it will be that way for many that encounter it – some will love the different qualities of this compared to other Ardbegs and others will long for more traditionally oriented offerings from the distillery.  In comparison to our other Ardbeg reviews it does not fare as well – the Ardbeg 10 Year Old is much cheaper, and two years ago we actually gave it the exact same scores. So take that for what it is worth.
Some will love what the rum influence does to the Ardbeg distillate, and others not-so-much. It is not a bad dram by any means, but you might want to try before you buy. An average, peated scotch whisky. Is the price point worth it to you? Do you like Ardbeg no-matter-what, that could be your deciding factor.