Not our favorite amongst the Edition series – a solidly average Macallan. We'd put our money towards other Macallan offerings at a lower price point.
[amazon_link asins='B016YPDI3A,B01N5HU3CP' template='MT-product-carousel' store='modernthirstc-20′ marketplace='US' link_id='806c254c-1c46-4187-9025-f8b5dc80f461′]
INTRODUCTION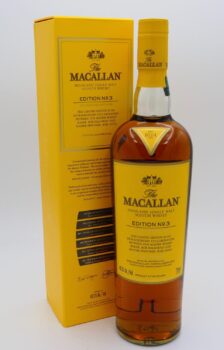 We last visited with some Macallan bottlings back in March and April of this year.  To check out those reviews you can click here: The Macallan Edition No. 4 and Showdown: Macallan Classic Cut 2017 vs Macallan Classic Cut 2018. Today we are going to go back a couple years to review The Macallan Edition No. 3 release. This bottling is still available in some stores and online, but it is getting harder to find. Edition No. 5 is supposed to be coming out some time soon, but information on that release is scarce at the moment.  I own bottles of Editions No. 2, No. 3, and No. 4 (and all have been tasted by our whiskey club). I was also able to taste Edition No. 1 in an airport bar a few years back.  So how does Edition No. 3 compare to the others in the lineup? – Let's find out.
BRIEF BACKGROUND on this BOTTLE
Macallan, founded in 1824, accounts for over 9% of the world market share for scotch (behind Glenfiddich and Glenlivet), and their distillery capacity, at 15,000,000 litres of alcohol per year, is second only to Glenlivet Distillery.
The bottling we will be reviewing today was a collaboration between the Master Whisky Maker at Macallan, Bob Dalgarno, and one of the world's most respected Master Perfumers, Roya Dove. Macallan describes Edition No. 3 as follows:
Inspiration and innovation lie at the heart of The Macallan and nowhere is this more evident than in The Edition Series. Edition No. 3 brings to life the flavor experience of The Macallan through aroma, calling on Master Perfumer Roja Dove's remarkable sensory knowledge and expert sense of smell to create the third unique expression in the series. Borne of two art forms, Edition No. 3 unites the worlds of whisky and aroma to reveal the complexities of single malt character and the power of the senses in creating and experiencing The Macallan. When we experience and enjoy whisky, the power of aroma is unquestionable – and it is this power that makes the approach to Edition No. 3 truly mesmerizing.
Edition No. 3 consists of European and American oak, both first fill and second fill [32% hogsheads, 31% butts, 30% puncheons, and 7% barrels]. The Master Distiller's description:
Exceptional oak casks are the single greatest contributor to the outstanding quality, natural colours and distinctive aromas and flavours of the The Macallan. The power of aroma in whisky making is unquestionable and it is this power which makes the approach to Edition No. 3 truly mesmerizing.  This limited edition whisky has been shaped not only by the use of exceptional oak casks, but also by the sensory and aroma adventure of the collaborators.
Roja brought his skill to the distillery, nosing a range of whisky samples and interpreting the character and aromas he encountered.  Bob then utilised Roja's articulation of aromas to select dominant notes, balancing the dried fruits and citrus of the Hudosa cask, the light vanilla flavours of the bourbon cask and the florals and fresh cut oak from European and American oak casks, with the sherry element and heavier notes from Tevasa casks which The Macallan is renowned for . . .  .
With natural colour of barley gold, Edition No. 3 is a sensory journey of flavor and aroma intimately entwined.  The nose is reminiscent of a fine fragrance, leading with vanilla, fresh cut oak and delicate florals.  Orange oil provides subtle grandeur while ginger, cinnamon and nutmeg flit in and out. Vanilla imparts sweetness, leading citrus fruits forward then allowing chocolate to show.  Burnished oak delivers a soft ending.  The palate is sweet citrus and vanilla while ginger and cinnamon are balanced with a light resinous oak finale.  The finish is long, sweet and fruity.   Bob Dalgarno, The Macallan Whisky Maker
As usual, we do not typically read the box or marketing notes of the whiskies tasted until it is time to put our previously written review notes into formatting for the review.  Always interesting to see what they market and to compare that with what we get from our interactions with the whisky.
STATS
THE MACALLAN EDITION NO. 3
Mash Bill: 100% malted barley

Casks:  variety – 1st fill American Oak Hudosa Butts, 2nd fill Refill European and American Oak Butts, 1stfill Tevasa European Oak Butts and Puncheons, 1st fill American Oak Bourbon Hogsheads, 1st fill European Oak Tevasa Hogsheads, 1st fill American Oak Bourbon Barrels

Age:  NAS, natural color

ABV:  48.3% (96.6 proof)

Producer:  The Macallan Distillery

Price:  $125-$165

Availability:  getting hard to find, but still available


SCORING NOTES
Notes for Jeremy and I are annotated below by the identifiers (JR) or (WJ).
As always – the notes you see below were written and the bottle scored prior to any discussion by Jeremy and me of what we nosed, tasted, or felt overall, about the dram in consideration.  We have spent time with this whisky on multiple occasions.
APPEARANCE
golden amber (WJ/JR)
NOSE
really pleasant nose on this dram, sherry notes, floral elements, caramel, vanilla, slight citrus note, ever so slight touch of rubber – the nose is the best part of this whisky in my opinion (WJ); nose is easily the best part, sherry and wood hit at first, reduced balsamic vinegar, almost medicinal, quite a bit of rubber (no sulphur) but floral too, smells 'dark' and rich, with vanilla and citrus (JR)
PALATE
spice, charred oak, sherry dark fruit elements come through behind the spicy notes, bitter chocolate at the end – does not exactly line up to the nose (WJ); sherry, citrus, some rubber also – but that is about it for me, taste pales in comparison to the nose and feels hotter than the ABV (JR)
FINISH
spice lingers, with medium-long finish (WJ); more heat, and you guessed it sherry . . . but not in a sweet rich way, the oak + sherry are a touch bitter here (JR)
SYNOPSIS
THE MACALLAN EDITION NO. 3: I personally liked Edition No. 2 and Edition No. 4 better overall than this version (have not spent enough time with Edition No. 1 to compare).  This version takes the prize on the nose amongst 2, 3 and 4, however.  Not bad, just not my favorite of the Edition series.  I would not seek out another bottle (WJ). I think the various 'distinctive oak' casks give this a wonderful nose, but did not lead to a great taste. Get the Macallan Classic Cut (2018) instead, I would not seek this out.  It's OK, but clearly not worth the dollars that could go to a different Macallan (JR).
ModernThirst.com Score:  85 (combined); 86 (WJ) and 84 (JR)
WRAP-UP
The Macallan Edition No. 3 is an intriguing dram and gets a variety of responses from those in our whisky circle that have interacted with it.  Personally, my current ordering for Editions 2, 3, and 4 is Edition No. 2 in first place, then Edition No. 4, and Edition No. 3 in last place.  For Jeremy he orders them Edition No. 4, Edition No. 3, and then Edition No. 2 bringing up the rear.  And our Proper Pour Whisk(e)y Club when tasting an eight Macallan whisky lineup favored the Edition No. 3 interestingly out of the three with an 89 average from 10 tasters (scores ranged from a low of 83 to high of 93). The Macallan Classic Cut (2018) took the top honors that evening with a 91.5 rating. All of this to show – that palates are different and what some like others will not like so much. Our noses, palates, and preferred profiles are all unique and that is part of what makes the whiskey experience so much fun when you sit down together and compare your likes and dislikes about a dram.  Until next time, cheers.