This "whisky spirit" is a wonderful experiment demonstrating the creativity of Compass Box – well crafted, beautifully presented, and delicious.
COMPASS BOX STRANGER & STRANGER
INTRODUCTION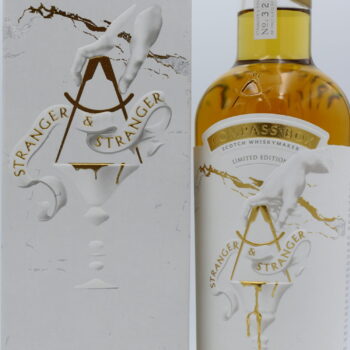 Out of all of the non-American whisk(e)y reviews we have brought to you on ModernThirst we have only reviewed two other Compass Box whiskies: Phenomenology and Juveniles – and those two bottlings received a 93 and 92 score respectively – click on the title to go to the specific reviews. Both of those bottlings are still available from my recent scanning of the shelves.  I noted in the previous reviews that Compass Box is one of my favorite brands.  I like what they are doing and the releases are becoming more frequent it seems. Stranger & Stranger was released in March 2019 in the US.  Let's see how this "spirit drink" compares to Phenomenology and Juveniles.
LIMITED EDITION STRANGER & STRANGER DESCRIPTION
The Compass Box press release describes this whisky as follows:
Celebrating ten years of working together as whiskymaker and packaging designer, Compass Box and the famed London agency, Stranger & Stranger have collaborated on a limited edition whisky that's not technically Scotch whisky and with a label like no other in the world of spirits.
Since 2008, when John Glaser met Kevin Shaw, the founder of Stranger & Stranger, their respective teams have collaborated on over 35 different Compass Box whiskies . . . .  [For this release] Glaser had the idea of blending old single malt whiskies with a small amount of an extraordinary delicious one year-old spirit the company had been aging in experimental casks. He explains: "We had taken to calling it 'sacrificial spirit' because we didn't know what it would taste like after a year in these experimental new barrels. Turned out, it was amazing! And adding just a small amount to old single malt whiskies provided a lovely underlying sweetness and complexity.  The only problem was because it was just one year-old it wasn't technically Scotch whisky yet, because Scotch has to be a minimum of three years-old.  We thought about this for a while, then concluded: for a product called 'Stranger & Stranger', who cares!"
The design team at Stranger & Stranger . . . loved this notion of sacrificial spirit; this inspired the label design. . . . The label is so heavily embossed [creating 3-D type effect]that it requires a specially trained team to apply the labels – each bottle takes over five minutes for the application of the extra-large, highly-embossed label, the wax-dipping of the cork enclosure, then placing each bottle into a custom made box.
Ninety-nine percent of the liquid inside 'Stranger & Stranger' is composed of single malt whiskies from three venerable Speyside distilleries: Glenlossie, Glen Elgin and Linkwood distilleries. The inclusion of just one percent of the 'sacrificial spirit' – actually grain whisky from the Girvan distillery, aged for just over a year in an experimental toasted and charred American oak barrel – precludes the product from being labeled Scotch whisky.  Nonetheless, 'Stranger & Stranger' drinks for all intents and purposes like a beautifully-aged old malt whisky.
 Hmm.  Let's see for ourselves.
STATS
COMPASS BOX STRANGER & STRANGER LIMITED EDITION
Mash Bill: single malt and grain whisky blend – Glenlossie single malt (80%), Glen Elgin single malt (14%), Linkwood single malt (5%), and Girvan wheat and barley grain spirit (1%)
Casks: Glenlossie from re-charred hogsheads, Glen Elgin from re-charred barrels, Linkwood from sherry butts, and Girvan from refill experimental American oak hogsheads
Age: NAS (although you can go to the Compass Box website and request age breakout)
ABV: 46.0% (92 proof); non chill-filtered, natural color
Producer:  Compass Box
Price: $185-$245
Availability: limited release, but still available – 4,802 bottles
SCORING NOTES
Notes for Jeremy and I are annotated below by the identifiers (JR) or (WJ).
As always – the notes you see below were written and the bottle scored prior to any discussion by Jeremy and me of what we nosed, tasted, or felt overall, about the dram in consideration.  We have spent time with this whisky on multiple occasions.
APPEARANCE
golden, light honey (WJ/JR)
NOSE
dark sugars, apple, pear, honey malt sweetness, white grape juice, apple skins, maybe a touch of spice – a beautiful nose (WJ); dark sugars, something acidic, green apple, green grass, honey, pear, almonds, citrus (JR)
PALATE
toffee sweetness, spiciness comes through – baking spices – apple cinnamon pie crust, some ginger spice lingers on the tip of the tongue (WJ); wonderful base cereal grain note that everything builds off – excellent malt, almonds have become marzipan candy and something powdered perhaps Turkish delight because of the floral notes, caramel, more citrus, and touch of spice (JR)
FINISH
lingering long finish, typical well-balanced Compass Box release (WJ); medium-long, flavors, as noted above, linger and last with the smallest bit of heat (JR)
SYNOPSIS
COMPASS BOX STRANGER & STRANGER: Presentation is wonderful – one of my favorite bottles all-time (in the design category) – another excellent overall Compass Box offering (WJ). I love this! It's impressively complex, especially given its lack of finishing or peat. Bold, beautiful malt gives way to a subtle yet yielding dram. This is nearly exactly what I want in an unfinished, unpeated malt (JR).
ModernThirst.com Score:  92.5 (combined); 90 (WJ) and 95 (JR)
WRAP-UP
Compass Box Stranger & Stranger also fared very well in our Proper Pour Whisk(e)y Club at a recent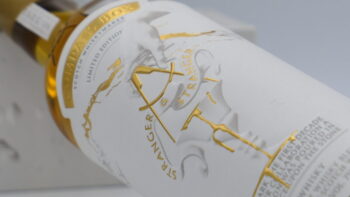 tasting (in a lineup with nine other whiskies).  It finished the night with a 93.6 average from seven different tasters and is now ranked #6 overall out of 306 whiskies we have tasted and rated.  Those seven tasters gave this dram a 90.5, 92.5, 93.0, 93.5, 94.5, 95.0 and 96.5.  Quite the tally.  I'll admit this is not a cheap bottle – would I buy it again?  I already did.