Drinks by the Dram Irish Whisky Advent Calendar Top 10
Well, here we are once again – the end of the annual ModernThirst advent calendar review.  Many people, including myself, have been tweeting, Instagramming, and posting via other means, about their various advent calendar experiences this year.  In 2017, I worked through a Drinks by the Dram Premium Whisky Advent Calendar and then last year in 2018 it was a Japanese Whisky Advent Calendar – again by Drinks by the Dram (click on the calendar titles to check out those collective reviews).  So, to wrap up the 24 whiskies from the Irish Whisky Advent Calendar this year I thought I'd create a culminating write-up on my Top 10.  This experience introduced me to many Irish whiskies I have not tasted before. As I scored the daily one-ounce samples on a letter grade scale, I also kept a running list of my favorites and that is what I'm going to share with your now.  Each of these top 10 whiskies scored a "B" or higher in the daily reviews.  I gave 4 of the 24 whiskies an "A" range rating, 12 of 24 a "B" range rating, and 8 of the 24 a "C" range rating.  You can read more details about each whiskey listed below by clicking on the name of the whiskey.
Before getting to the Top 10 list – here are the 24 whiskies tasted in alphabetical order: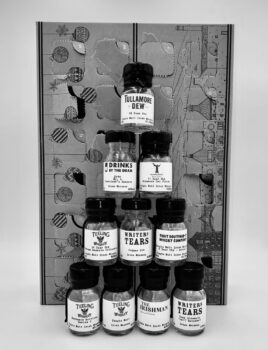 Connemara Peated Single Malt Whiskey, The Dubliner 10 Year Single Malt, Glendalough 7 Year Old Porter Barrel Finish, Glendalough 13 Year Mizunara Cask, Glengarriff Peated Char, Hyde 6 Year Old No. 3 Aras Cask, Hyde No. 6 President's Reserve, The Irishman Single Malt, Kinahan's 10 Year Single Malt, Paddy Irish Whiskey, Peaky Blinder Irish Whiskey, The Pogues Irish Whiskey, Roe & Co Blended Irish, The Silkie Blended Irish Whiskey, Teeling Whiskey Brabazon Bottling Series 2, Teeling Whiskey Single Malt, Teeling Whiskey Small Batch, Teeling Whiskey 24 Year Old Vintage Reserve, That Boutique-y Whisky Company 8 Year Old Single Malt Irish Whiskey Batch #2, That Boutique-y Whisky Company 13 Year Old Single Malt Irish Whiskey Batch #3, Tullamore D.E.W. 12 Year Special Reserve, Tullamore D.E.W. 18 Year Old, Writers Tears Copper Pot, and Writers Tears Cask Strength (2017 Release).
Now to the best of this grouping.
Top 10 from the Irish Whisky Advent Calendar are as follows:
As we approach the end of 2019, I want to take a moment to thank all of you that have followed along with us on ModernThirst.com, as we have continued our whisk(e)y journey this year.  Hopefully, you have enjoyed our thoughts on different whiskies – and will consider sharing about our site with a friend.  I look forward to what 2020 holds.  To new whiskies, and sharing them with friends – cheers, and Happy New Year.