INTRODUCTION
Last October I started writing a new feature on ModernThirst where we began pitting two whiskies against each other head-to-head.  So far we have directly compared the Stranahan's Single Barrel Cask Strength vs. Barrell Whiskey American Vatted Malt (click on the title to read the review) and last month we rated, Ardbeg Supernova (2019) vs. Bruichladdich Octomore 10.3.  As we go through 2020, I also plan to do some solo tasting Mini-Duels. These Duels are labeled "mini" because I will only have an ounce sample of each dram to compare. I will be doing this blind – without any knowledge of what is being compared.  As I take my notes I intend to try and guess what style of whisk(e)y I'm tasting, an age range, and estimated proof.  This could be scary and humbling at the same time.
BRIEF BACKGROUND on these SAMPLES
So how did I go about getting the samples.  Late in 2019 I picked up an extra Advent calendar from Drinks by the Dram that contained 24 samples from That Boutique-y Whisky Company.  I have tasted some of their whiskies before and really like what they are doing.  For those not familiar, they are "an independent bottler which offers stunning whiskies from world-renowned brands and distilleries.  Each bottle has a fun and informative graphic-novel-style label containing humorous references, in-jokes and shocking puns" (from their website).  Their labels are definitely entertaining.  One other note, I've only seen their bottlings offered in 500 ml size.  I intentionally did not research what was in the box – but am aware that, That Boutique-y Whisky Company offers a wide range of whiskies from all over the world, at varied ages, and finishings.  I opened the box – snapped a few quick photo shots, put blue painters tape over the labels, had my wife mix them up into two groups of twelve, and then randomly selected and labeled them A1, B1, A2, B2 . . . all the way to A12, B12.  Today I'll be tasting and providing my notes and overall rankings of samples A1 and B1.
SCORING NOTES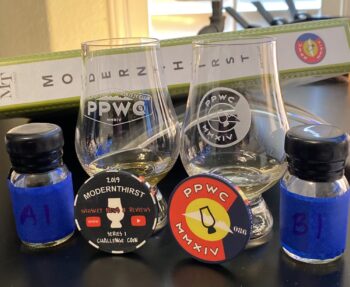 I will be using a similar scoring system for the Mini-Duels as I have the past three years on the annual Advent Calendars. I plan to give a quick overview of the nose, taste, and finish of the dram with an overall A, B, C type score.  Since each sample is only an ounce, the letter grade system allows for a more generalized overview of the whisky.
The scoring scale:  A+ = 95 and higher, A = 94-93, A- = 92-90, B+ = 89-87, B = 86-83, B- = 82-80, C+ = 79-77, C = 76-73, — and hopefully there will not be any whiskies at these levels, but just in case C- = 72-70, D = 69-60, F = 59 and lower
NOSE
[A1] quite the nose, rich caramel, red apple, figs – super sweet (darker in color than B1)
[B1] tarter on the nose than A1, touch lighter, honey, green apple, vanilla, maltiness
ADVANTAGE – A1 [A- to B+]
TASTE
[A1] spiced toffee, rich dark sugars, slight touch of oak
[B1] vanilla sweetness + some spice, touch of astringency comes in at the end
ADVANTAGE – A1 [B+ to B-]
FINISH
[A1] lingering medium to medium-long finish, nice spice, mouth coating goes on and on
[B1] wood tannins, spice, unbalanced compared to A1 – but gradually improves, drying
ADVANTAGE – A1 [A- to B]
SYNOPSIS and GUESSES
This is tough with just a one ounce sample, but fun, nevertheless.  The clear winner for me was sample A1.  It topped B1 in each category – nose, taste, and finish.  So what did I guess about each one before revealing the sample details to myself?
Guess for A1:  a scotch at 15-18 years old, possibly finished blend at 48% ABV
Guess for B1:  a scotch at 8-10 years old, single malt not finished at 52% ABV.
See the overall scores and unveiling below.
ModernThirst.com Overall Scores:
[A1]  Tomatin 11 Year Single Malt – Batch 4 (51% ABV) –

A- rating
[B1]  Royal Brackla 12 Year Single Malt – Batch 1 (47.9% ABV) – B rating
 WRAP-UP
An interesting first Mini-Duel.  Of note, I've actually tasted offerings in the past from both of these distilleries and from those tastings have preferred the Tomatin over the Royal Brackla when at similar age and finishing (or lack of finishing).  Until next time, let me know if you have had either of these That Boutique-y Whisky Company releases via the Advent calendar or have a bottle yourself.  I'd love to hear your thoughts.