Depending on the night I could see giving this whisky anywhere in the B+ to A- range score. A nicely peated whisky that will surprise you. Soft almond candy goodness wrapped in smoke and vanilla.
INTRODUCTION – OCTOMORE 8.1
Today we are going back in time a little to an older release from Bruichladdich that came out a little over two years ago. Recently, the Bruichladdich Octomore 10.3 was our Proper Pour Whisk(e)y Club's Top Whisky of 2019 – scoring an amazing 94.5 overall (read about it here). In this review we will visit with the Bruichladdich Octomore 8.1 – which is still available, but getting harder to find.
OCTOMORE 8.1 DESCRIPTION
The Bruichladdich website describes this whisky as follows: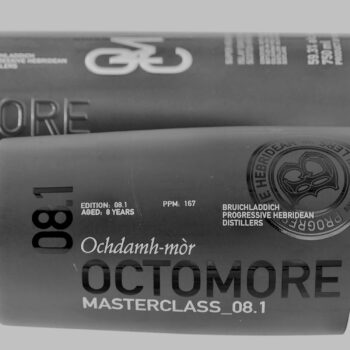 The spirit of Octomore has been defying logic for over fifteen years.  The 'what if' moment that once seemed almost absurd has progressively morphed into something endlessly alluring.  Now, suddenly, there are eight.  The Octomore 8.1 edition is 167 ppm and was distilled in 2008 using 100% Scottish barley, from 2007 harvest. 100% matured in first fill American oak casks, including Buffalo Trace, Clermont Springs, Four Roses, Heaven Hill, & Jack Daniels.
Octomore Farm on the Rhinns of Islay is a remote, wild place located on a hill above the village of Port Charlotte. The spirit that bears its name is a throwback to the days of fierce independence, when self-sufficiency was the only option, and the legality of distillation itself a revolutionary concept.
I'll admit, I've enjoyed each Octomore that I've had the opportunity to taste and plan to attend a special Octomore tasting event next month to try out the rest of the most recent line-up – the 10.1, 10.2, 10.3 – which I've already tasted and reviewed – and the 10.4).  There is something special about these heavily peated, younger whiskies.  They are not cheap though and have a strong following among those in the peat-head community.  How does this one compare to the 10.3 – our whisky of the year?  Let's find out.
STATS
BRUICHLADDICH OCTOMORE 8.1
Mash Bill: 100% Scottish barley, peated to 167 ppm (parts per million)
Casks: ex-bourbon American oak
Age:  8 years
ABV:  59.3% (118.6 proof); non chill-filtered, natural color
Producer:  Bruichladdich Distillers
Price:  $145-185
Availability:  42,000 bottle release, still available but getting harder to find


SCORING NOTES
Notes for Jeremy and I are annotated below by the identifiers (JR) or (WJ).
As always – the notes you see below were written and the bottle scored prior to any discussion by Jeremy and me of what we nosed, tasted, or felt overall, about the dram in consideration.  We have spent time with this whisky on multiple occasions.
APPEARANCE
very light gold (WJ/JR)
NOSE
honey, vanilla, tar note, saltiness, not overwhelming with the ppm of peat, lemon tartness (WJ); leather, pine, peat, vanilla, dark fruit, cherry chapstick (JR)
PALATE
spicy-peppery smoke, followed by dark caramel and vanilla, touch of citrus, slight mint note, something slightly savory – duck confit (WJ); peat, vanilla, hot but not unpleasant, marzipan – loads of almond paste goodness, citrus (JR)
FINISH
a well-balanced effort overall, drink as the last dram of the night or the only dram because you will want it to linger – so many layers for an 8 year old whisky (WJ); peat is finishing nicely, marzipan continues, medium-long (JR)
SYNOPSIS
BRUICHLADDICH OCTOMORE 8.1: This was the first Octomore we actually rated – both Jeremy and I – and the same for the PPWC (the Octomore 10.3 review was just posted first because it was our Top Whisky of 2019). I've tasted a few Octomores now and they are always intriguing – and pricey with an almost cult-like following.  Definitely worth giving a try if you have the chance – do not be afraid of the ppm level (WJ). The nose reminded me of my grandfather's lakeside, wood heated leather-working shop that sits in pine trees. It really took me back. The taste was soft almond candy goodness wrapped in smoke and vanilla (JR).
ModernThirst.com Score: 88.5 (combined); 89.5 (WJ) and 87.5 (JR)
WRAP-UP
Bruichladdich Octomore 8.1 also fared very well in our Proper Pour Whisk(e)y Club at a recent tasting – September 2019 (in a lineup with nine other peated whiskies).  It finished that night with a 91.5 average (rounded to the 1/2 point) from six different tasters and is now ranked in the top 30 overall out of 330+ whiskies we have tasted and rated.  Those six tasters gave this dram an 89.5, 90.5, 91.0, 91.0, 92.0, and 96.0.  As you can see the club really liked it – and even if you throw out the two outliers it comes in at a solid 91 overall.  I feel confident in touting this as a solid B+/A- whisky.  Give it a try and let us know your thoughts.