INTRODUCTION
The following intro is a repeat from the past couple write-ups on Top Whiskies Tasted in 2019 – Honorable Mentions and #15 to #11 and Top Whiskies Tasted in 2019 – #10 to #6 (click the two titles to go back to those reviews).  Well, 2020 is here and we have not yet provided our list of best whiskies tasted in 2019.  As you know there are all kinds of whiskey year-end lists out there – "best of" – "best value" – "best NAS" – "best craft" – "best bourbon" – "best scotch" – etc..  Well, Jeremy and I decided to do our third such listing (see results from 2017 and 2018 by clicking on the year) a bit differently this time.  It is going to be a combination of the Proper Pour Whisk(e)y Club rankings for 2019 and some of our personal favorites from the year combined – and it includes a bit of all the lists above. Again this is just the opinion of a whiskey club + two guys that enjoy a variety of whiskies.  You may agree, disagree, or think maybe I should give that whiskey a try, but wherever you fall on the spectrum hopefully you'll enjoy reading another "best of" list. A quick reminder before providing some more background details – this is the list of best whiskies TASTED in 2019, not released.
In January 2017 – right at three years ago now – Lagavulin 8 Year Old was my first review on ModernThirst.  It has been quite a journey since then – and lots of different whiskies have been tasted. I compile an ongoing list of all the whiskies I personally taste each year and in 2019 via our whiskey club meetings, ModernThirst reviews, distillery visits, advent calendar, various whiskey events, etc., I finished the year with 365 different whiskies tasted – a nice number for a year. The Proper Pour Whisk(e)y Club (PPWC) tasted and scored 100 different whiskies in 2019 – some known, some blind.  Our process typically includes tasting whiskies at least one time known and one time blind for a combined overall score.  To break that 100 ranked whiskies out even further for the year, it included: 58 non-American whiskies (Scotch = 46, Japanese = 9, Taiwanese = 2, and Indian = 1) and 42 American whiskies (Bourbon = 21, American Single Malt = 15, Rye = 4, and Whiskey = 2).  For our Top 15 Tasted in 2019 we are going to use the top 10 from the PPWC, and then Jeremy and I are going to add 5 more whiskies that we both felt personally merited a top 15 ranking (one that was not tasted by the club) plus a couple honorable mentions to round out the list.  There are no criteria on certain styles, availability, or costs to make these rankings.  Around 13 of the 17 whiskies listed are still available with a little searching.  And 10 of the 17 whiskies that will be ranked have been, or will be reviewed, on ModernThirst (those reviewed will be highlighted with links).
For this listing of Top Whiskies tasted in 2019, we will break out the rankings into three parts published over the next week or so. Today, we list our #5 to #1 whiskies of 2019.
TOP WHISKIES TASTED IN 2019 – #5 to #1 by the PPWC & Two Guys that Really Like Whiskies
 #5  GlenDronach 21 Year Old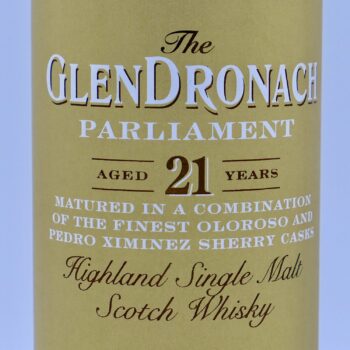 The GlenDronach 21 Year Old Parliament is a Highland Single Malt Scotch Whisky aged in a combination of
Oloroso Sherry Casks and Pedro Ximinez Sherry Casks.  Like the GlenDronach 18 Year Old (and 15 Year Old, and 12 Year Old – which is my go to decanter scotch) it is a wonderul whisky. The PPWC tasted this whiskey – along with an amazing lineup of whiskies (more on that in a moment) – in June of last year and it came in third place for the evening. Yes, you read correctly, third out of nine whiskies.  It was quite the tasting evening. That single tasting had the third highest average score (out of 57 total tastings over the past five years) in the history of our club with an overall 91 average for the different whiskies. Six of the whiskies from that one tasting made our Top 10 for the year.  There were seven different tasters that evening. The GlenDronach 21 Year Old scored a combined 92.5 average.
#4  Ardbeg Supernova Committee Release (2019 Edition)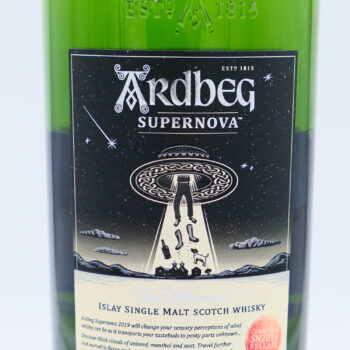 The third peated whisky to make our Top 15 comes in at #4 overall – the Ardbeg Supernova Committee Release (2019 Edition).  This non chill-filtered, 53.8% ABV whisky packs a punch.  This is the first Supernova our group has encountered.  Of the 334 whiskies we've tasted and rated as a group 11 of those have been Ardbegs. This one tops the list of Ardbegs so far with a 93.5 overall rating and sits at the #10 spot, all-time, in our tasting rankings.  On the evening it was tasted (by six different club members) it received three 1st place votes and three 2nd place votes. If you like peat and get a chance to give this one a try – you should do so
#3  Compass Box Stranger & Stranger
Back in January 2019 Jeremy and I reviewed this whisky on ModernThirst.  Or I should say we reviewed this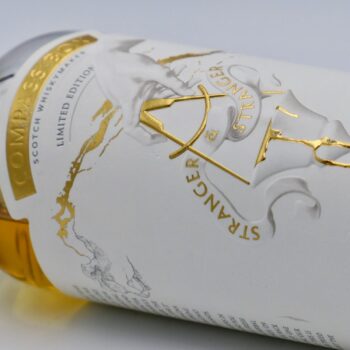 Scotch Malt Whisky Blended with Wheat and Barley Spirit – which actually makes it a Spirit Drink.  From the Compass Box team: Ninety-nine percent of the liquid inside 'Stranger & Stranger' is composed of single malt whiskies from three venerable Speyside distilleries: Glenlossie, Glen Elgin and Linkwood distilleries. The inclusion of just one percent of the 'sacrificial spirit' – actually grain whisky from the Girvan distillery, aged for just over a year in an experimental toasted and charred American oak barrel – precludes the product from being labeled Scotch whisky.  Well, whatever you call it – it is delicious.  At the time Jeremy and I scored it a 92.5, and when the PPWC tasted it later in June 2019 it merited a 93.5 overall average from the seven tasters that evening.  It garnered one 1st place vote and four 2nd place votes in the all-star line-up that night (see details on the June 2019 tasting in the GlenDronach write-up above). Out of 334 whiskies scored, so far, by the PPWC, Stranger & Stranger sits at #7 all-time.
#2  Edradour 2004 Cask Strength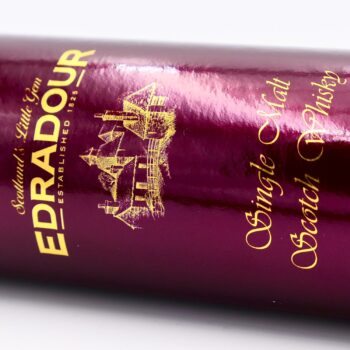 So I've mentioned the June 2019 tasting many times in this series of write-ups – and the winner of that amazing evening was the least expensive whisky tasted that night.  Coming in at #2 for 2019 and the fourth sherried whisky ranked in the Top 15 is the Edradour 2004 Cask Strength Highland Single Malt bottled on May 28, 2018.  It came in at 13 years of age and 57.2% ABV.  It garnered three 1st place votes and one 2nd place vote from the seven tasters in June and rated a 94 combined overall average.  Only five whiskies have ever reached that threshold in our group out of the 300+ whiskies tasted.  Currently, this particular Edradour bottling (only 699 total available), sits at #5 in our all-time rankings.  I liked it so much I searched out a 12 Year Old, 2006 version bottled exactly one year later on May 28, 2019.  I can only hope it is as good when we finally crack it open.
#1  Bruichladdich Octomore 10.3
To round out our list for 2019 we have another peated whisky – the fourth one in our Top 15 rankings.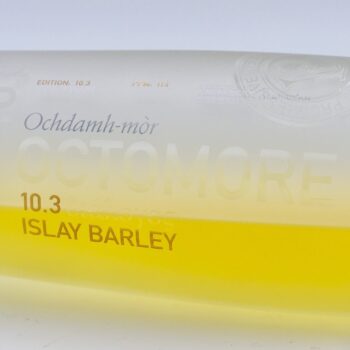 Interestingly, it has taken several of our club members a bit of time to warm up to heavily peated drams.  And on the evening we tasted the Bruichladdich Octomore 10.3 at least two of the six tasters were not known as particular peat fans – so I was personally curious as to how this whisky would fare. The Octomore 10.3 is made from Islay barley peated to 114 ppm and aged for six years only in ex-bourbon casks.  It comes in at 61.3% ABV and there are 24,000 bottles available – it is still on the store shelves. So, how did it fare with the six tasters – it got the nod of four as 1st place for the evening and two 2nd place votes overall.  Amazingly it came in at a 94.5 overall average for the group (a 93.5 combined from the typical non peat tasters) and our highest rated whisky of 100 whiskies tasted by the PPWC for 2019.  And all-time?  It sits at #3 out for 334 whiskies.  [Note: one of our next Duel reviews on ModernThirst will give the detailed notes from the head-to-head comparison between the #4 and #1 whiskies of the year – the Ardbeg Supernova Committee Release (2019 Edition) and the Bruichladdich Octomore 10.3.  Check back later this week for the more in-depth analysis.]
WRAP-UP
Hopefully you enjoyed reading about our Top 15 Whiskies Tasted in 2019. Interestingly of the 100 whiskies we scored this year, the Top 10 were all non-American whiskies (and American whiskies made up 42 of the overall 100 tasted). The all-time Top 10 for the PPWC, which had four new entries in 2019, is made up of five American whiskies and five non-American (all scotches). As we enter 2020 – may your glasses always be full of your favorite dram.  Let us know your thoughts on the listings – did some of your favorites make our lists? Finally, as I said last year, I hope you are able to taste one of those whiskies on your must try list in 2020.
Thank you for reading, and hopefully following us, on ModernThirst. Cheers.