INTRODUCTION
Well, 2020 is here and we have not yet provided our list of best whiskies tasted in 2019.  As you know there are all kinds of whiskey year-end lists out there – "best of" – "best value" – "best NAS" – "best craft" – "best bourbon" – "best scotch" – etc..  Well, Jeremy and I decided to do our third such listing (see results from 2017 and 2018 by clicking on the year) a bit differently this time.  It is going to be a combination of the Proper Pour Whisk(e)y Club rankings for 2019 and some of our personal favorites from the year combined – and it includes a bit of all the lists above.  Again this is just the opinion of a whiskey club + two guys that enjoy a variety of whiskies.  You may agree, disagree, or think maybe I should give that whiskey a try, but wherever you fall on the spectrum hopefully you'll enjoy reading another "best of" list. A quick reminder before providing some more background details – this is the list of best whiskies TASTED in 2019, not released.
In January 2017 – right at three years ago now – Lagavulin 8 Year Old was my first review on ModernThirst.  It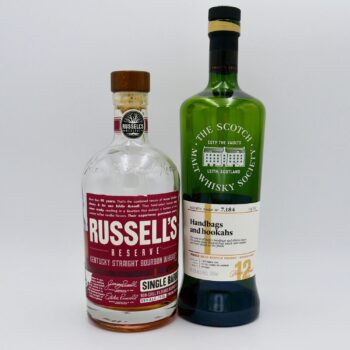 has been quite a journey since then – and lots of different whiskies have been tasted. I compile an ongoing list of all the whiskies I personally taste each year and in 2019 via our whiskey club meetings, ModernThirst reviews, distillery visits, advent calendar, various whiskey events, etc., I finished the year with 365 different whiskies tasted – a nice number for a year. The Proper Pour Whisk(e)y Club (PPWC) tasted and scored 100 different whiskies in 2019 – some known, some blind.  Our process typically includes tasting whiskies at least one time known and one time blind for a combined overall score.  To break that 100 ranked whiskies out even further for the year, it included: 58 non-American whiskies (Scotch = 46, Japanese = 9, Taiwanese = 2, and Indian = 1) and 42 American whiskies (Bourbon = 21, American Single Malt = 15, Rye = 4, and Whiskey = 2).  For our Top 15 Tasted in 2019 we are going to use the top 10 from the PPWC, and then Jeremy and I are going to add 5 more whiskies that we both felt personally merited a top 15 ranking (one that was not tasted by the club) plus a couple honorable mentions to round out the list.  There are no criteria on certain styles, availability, or costs to make these rankings.  Around 13 of the 17 whiskies listed are still available with a little searching.  And 10 of the 17 whiskies that will be ranked have been, or will be reviewed, on ModernThirst (those reviewed will be highlighted with links).
For this listing of Top Whiskies tasted in 2019, we will break out the rankings into three parts published over the next week or so.  First up, our honorable mentions and the whiskies we ranked #15 to #11 for this past year.
TOP WHISKIES TASTED IN 2019 – Honorable Mentions and #15 to #11 by the PPWC & Two Guys that Really Like Whiskies
Two Honorable Mentions:
Russell's Reserve Straight Bourbon Single Barrel – Westport Whiskey & Wine Pick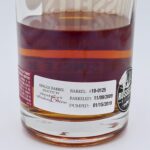 This selection was from barrel #18-0125, barreled on November 9, 2009 and dumped January 15, 2019.  The PPWC did an Elijah Craig, Four Roses, and Russell's Reserve showdown in November 2019 and the Westport Whiskey & Wine pick came in second place out of nine whiskies tasted that evening with an 88 overall score.  All whiskies, three each from Elijah Craig, Four Roses, and Russell's Reserve were tasted blind in random order.
Scotch Malt Whisky Society (SMWS) 7.184 Handbags and hookahs
This 12 Year Old Longmorn selection came from a cask that produced 187 bottles and was distilled on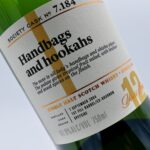 September 7, 2004 and aged in 1st fill ex-bourbon barrels.  The SMWS description reads – "The nose is all lady's handbags and shisha pipes. The palate gives tropical fruit salad; with leather and wood spices on the finish." The PPWC tasted nine different 12 Year Old scotches in May 2019 and the SMWS 7.184 Handbags and hookahs selection won the night with an overall score of 90.5.  Five of seven tasters gave it a first place score out of the nine whiskies competing and the other two tasters placed it second overall.  It was quite the standout for the evening.
#15  The Best Value in American Whiskey: Old Forester Rye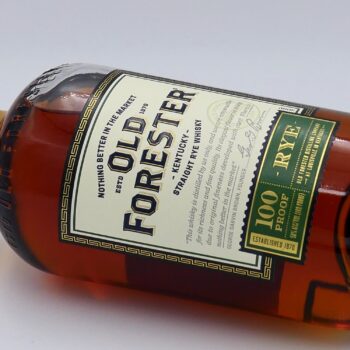 Without a doubt we feel that Old Forester Rye is currently the best value purchase in American whiskey.  You can typically find it on the shelf for $20-$25.  This rye features a mashbill of 65% rye, 20% malted barley, and 15% corn and comes in at 100 proof.  In April 2019 the PPWC blind tasted nine assorted American whiskies covering the gamut from rye to bourbon to American single malt to finished whiskies – and the least expensive whiskey tasted for the evening Old Forester Rye came in third place overall with an average score of 90 from four tasters – which just happens to be the score given to it by Bill from ModernThirst back in January 2019.  Read his review by clicking on the name in the header.
#14  Russell's Reserve Straight Bourbon Single Barrel – 5280 Whiskey Society Thunder Chicken Pick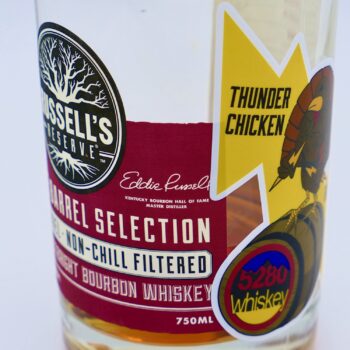 This selection was from barrel 0048 out of Warehouse A, Floor 4. It was barreled on December 23, 2009 and dumped August 5, 2019.  As noted in the honorable mentions above, the PPWC did an Elijah Craig, Four Roses, and Russell's Reserveshowdown in November 2019 and this 5280 Whiskey Society pick out of Denver, Colorado came in first place out of nine whiskies tasted that evening with an 89 overall score.  All whiskies, three each from Elijah Craig, Four Roses, and Russell's Reserve were tasted blind in random order.  Two of the six tasters for the evening gave this whiskey an overall first place vote out of the nine whiskies in the lineup.
#13  Westland Peat Week (2019 Release)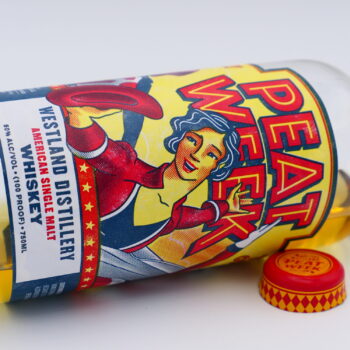 With a total bottling of 1,083 bottles the Westland Peat Week (2019 Release) is our #13 whiskey tasted in 2019. This whiskey was cask matured for 36-63 months in two 1st fill ex-bourbon casks, one new American oak cask, and two refill new American oak casks. Westland Distillery describes this offering as at "first subtle iodine on the nose then wafts of banana and peach rising beneath the caramel curves of clouds, full to the brim with ash and oak. On the palate, ash and oak rain down filling out the space between delicate milk chocolate, licorice, and the faint remains of what was savory now turned to smoke."  I like this one so much I bought three bottles. And it also has my vote for favorite packaging of the year. The PPWC tasted this whiskey with nine others, single blind, in April 2019 and it tied for first place that evening with an average score of 91 overall.  It received three first place votes from the four tasters that night.
#12  Distillery 291 HR (High Rye) Colorado Bourbon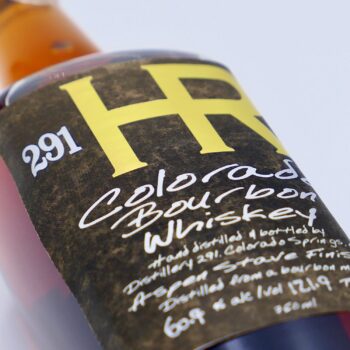 Distillery 291 in Colorado Springs, Colorado is producing some amazing award winning whiskies.  This particular bottling comes in at just over 2 years of age from 30 gallon barrels and clocks in at 121.9 proof. The mashbill is 67% corn, 32% malted rye, and 1% malted barley. I am truly a fan of their Bad Guy Bourbon releases and their Colorado Rye Barrel Proof but this one is also something special.  Only 458 bottles available.  The PPWC has not tasted this whiskey as a group, but both Jeremy and I have and it merits a spot in our Top 15 of the year.
#11  Barrell Bourbon Batch 018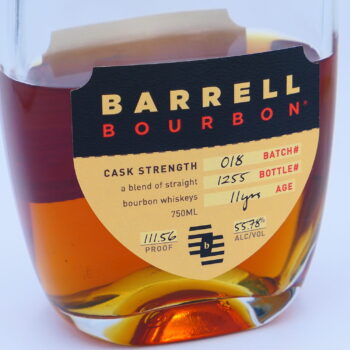 Barrell Craft Spirits puts out some amazing whiskies – I see at least six bottles on my shelves as I sit typing this best of 2019 list.  This particular whiskey won the Best Small Batch Bourbon 11 Years and Older at the San Francisco World Spirits Competition – 2019.  It is a blend of straight bourbon whiskies aged 11, 14, and 15 years from Tennessee and Kentucky.  A cask strength bottling it comes in at 111.56 proof.  The PPWC tasted nine American whiskies – three known and six double blind – against each other in July 2019 and Batch 018 came in third place with an overall 88.5 score.  Seven tasters participated that evening and Barrell Bourbon received two first place votes.  The second place whiskey from that tasting – one of the blinds made the top list of 2018 and was not included again this year (Distillery 291 Bad Guy Bourbon Batch #3).
Well, that wraps the first installment of our Top 15 Whiskies Tasted in 2019.  These five were the adds that Jeremy and I made to the Top 15 (so the ratings may not directly correlate to placement), the next ten whiskies were the ten highest rated tasted by the PPWC this past year.  Check back soon for the rankings #10 to #6.  Cheers and let us know what you think of any of these whiskies if you've had the opportunity to taste them.