INTRODUCTION
Today we have the second installment in a new feature on ModernThirst, one that hopefully will occur at least monthly in 2020.  We plan to pit two (or sometimes even more) whiskies against each other in what we are labeling The Duel. Sometimes the pairing will consist of a blind tasting of two whiskies from the nearly 150 blind samples I have set aside. As part of this new effort I'm going to bring in the thoughts, reviewing notes, and scoring inputs of some members of our Proper Pour Whisk(e)y Club (PPWC) to give multiple views on the whiskies challenging each other. Our club has been meeting for over five years now and have rated over 330 whiskies on a 100-point scale very similar to that used on the ModernThirst site. In our monthly meetings we will typically have from four to ten different members rate a lineup of whiskies. The challengers in The Duel this month are: Ardbeg Supernova Committee Release (2019) and Bruichladdich Octomore 10.3.
BRIEF BACKGROUND on these BOTTLES
These two whiskies were chosen due to their higher peat levels, comparable casks (to our knowledge), simila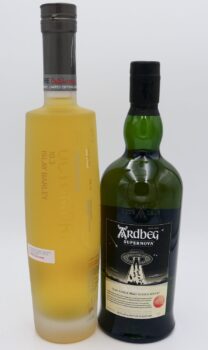 r cost, higher ABV, and due to the fact they are both of interest in the whisky community of late. The Supernova (the fifth release in this series by Ardbeg) will make the eleventh overall Ardbeg that our club has tasted and rated. The other ten include the – 10 Year Old, An Oa, Uigeadail, Corryvreckan, Dark Cove (standard release), Kelpie (standard release), Grooves Committee Release, Grooves (standard release), Drum Committee Release, and the Drum (standard release) – click on highlighted titles to go to our reviews on ModernThirst.  In the Octomore lineup we have access to sixteen different offerings starting as early as 6.1 through the most recent release 10.4 (just obtained). Our club, however, has only tasted and rated the Octomore 8.1 (review coming later) and the 10.3, included in this review. As with any group there are those that like peated whiskies and those that are not as favorable to higher peated whiskies, or peat in general.  For this tasting we had six tasters from the PPWC present. Going into the tasting I would classify four of the club members as peat aficionados, and two in the not-so-fond of peat category (the view on peated whiskies would change over the course of the evening).  On to the stats and then our thoughts.
STATS
ARDBEG SUPERNOVA COMMITTEE RELEASE (2019)

Mash Bill: 100% malted barley
Casks:  not released but suspected ex-bourbon casks
Age:  NAS
ABV:  53.8% (107.6 proof)
Producer:  Ardbeg Distillery
Price:  $180-$200
Availability:  limited


BRUICHLADDICH OCTOMORE 10.3

Mash Bill: 100% malted Islay barley (James Brown farm)
Casks: 1st fill American whiskey casks - Jim Beam, Heaven Hill, Buffalo Trace, & Jack Daniels
Age: 6 years, un-chill filtered and natural color
ABV:  61.3% (122.6 proof)
Producer:  Bruichladdich Distillery
Price:  $180-$260 (wide variations depending on if purchased in U.S. or Europe)
Availability: 24,000 bottles, still readily available


SCORING NOTES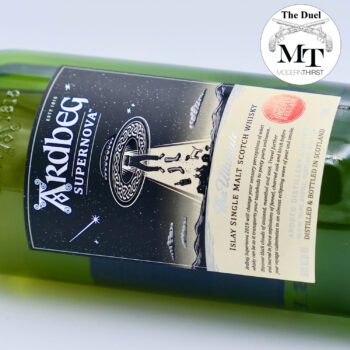 Notes for Jeremy and I are annotated below by the identifiers (JR) or (WJ). Other PPWC members will be listed by their initials for this tasting. Jeremy and I were joined by four other club members – (EJ), (JF), (AL), and (PM).
As always – the notes you see below were written and the bottles scored prior to any significant discussion by the group of what we nosed, tasted, or felt overall, about the drams in consideration.  If nothing was included in the notes for a specific area by a taster I listed 'no comment.' The bottlings are identified as [Supernova 2019] and [Octomore 10.3] in the breakouts below.  I'll provide the notes and winner in each category – nose, taste, finish, balance – and the overall winner and breakout of scores in the synopsis.
NOSE
[Supernova 2019] smoke, creosote, citrusy lemon tart, vanilla with burnt sugar, mint/eucalyptus (WJ); orange, black pepper, lemon, sooty smoke, menthol, tree sap (JR); eucalyptus, salt, tar, heather, green apple skins, a very sweet peat smoke note, creosote, brown sugar, vanilla cookie, light black licorice and iodine (EJ); smoke, sweet, fruit – grape/cherry, eucalyptus (JF); intense, smoky, woody sweet, musk, wet earth, marshmallow, cereal, tomato stem, menthol (AL); vanilla, smoke, campfire, delicate (PM)
[Octomore 10.3] briny, fruit, pound cake with berries, toasted marshmallow that has been dropped in the dirt, caramel drizzle, some nuts (WJ); cigar smoke, chocolate, thyme, some kind of berry jam, honey, wood bark (JR); berry jam and tire rubber, burnt marshmallows, lavender, brazil nuts, funky white cheddar, creosote, salt, a dry peat smoke note, light dried apple, smoked jerky (EJ); lemon citrus, peat, pepto, banana (JF); raw meat, cheese, campfire, polish (AL); cheese, meat, barley, very light smoke (PM)
[2 wins for Supernova, 2 wins for Octomore 10.3, and 2 ties]  ADVANTAGE –SUPERNOVA (ever so slight on average score)
TASTE
[Supernova 2019] smoky vanilla caramel goodness, some savoriness, tartness peaks through again at the end (WJ); sweet, spice, toffee, vanilla (JR); fully oily mouthfeel, see above for most of the nose makes itself known on the palate (EJ); sweet with mild spice and peat (JF); rubber, musty, tobacco fragrance, incredibly complex (AL); heavy peat, amazing molasses (PM)
[Octomore 10.3] vanilla sweetness wrapped in briny smoke, peppery at the end (WJ); sweet, like a smoked kids cereal, strawberry, mint, English biscuit (JR); oily mouthfeel, again see above – most of the nose is here in the taste, the ABV asserts itself (EJ); barley sweetness, banana, smoke, cheese, and a tanginess (JF); campfire, cheese, honey, spice, tang – and again incredibly complex (AL); smoke cubed, sweet on the back, dried fruit, leather (PM)
[0 wins for Supernova, 3 wins for Octomore 10.3, and 3 ties]  ADVANTAGE – OCTOMORE 10.3
FINISH
[Supernova 10.3] lingering smoke – long finish with spice and pepper (WJ); medium-long, worst part of this one, if there is one (JR); long, smoked fig newtons, heather, eucalyptus, iodine, creosote, and orange (EJ); medium-long, sweet vanilla, cinnamon – shorter than the Octomore (JF); no comment (AL); forever, sweet (PM)
[Octomore 10.3] mouth coating lingering goodness (WJ); medium-long, maybe long (JR); long, sweet berry jam, white cheddar, smoked beef jerky, creosote (EJ); long, smooth, fruity – solid finish (JF); spice, long (AL); forever, can I sleep with the bottle? (PM)
[1 win for Supernova, 3 wins for Octomore 10.3, and 2 ties]  ADVANTAGE – OCTOMORE 10.3
BALANCE
[Supernova 2019] really nice dram – glad I got a bottle before the secondary craziness (WJ); wonderful stuff (JR); one of the sweetest and most balanced Ardbegs ever – the nose, taste, and finish all have so much to seek out, it is full, complex, and smoky (EJ); well-balanced (JF); no comment (AL); yes, much so (PM)
[Octomore 10.3] delicious Octomore – want another bottle, it is that good (WJ); again wonderful (JR); one of the most unique Islay whiskies, like the Ardbeg there is so much to mine out of the nose, taste, and finish – again, so full rich, complex – it is so different from the Ardbeg, but I like them both for their differences (EJ); very well balanced (JF); no comment (AL); no comment (PM)
[1 win for Supernova, 3 wins for Octomore 10.3, and 2 ties]  ADVANTAGE – OCTOMORE 10.3
SYNOPSIS
It is always interesting to compare the tasting notes from a group effort and to see how a whiskey interacts with
us each individually and then to step back and look at the collective results. We all bring different experiences to the tasting table, different palates, and varied overall whiskey tasting histories. In our second duel it was a very close battle with three of the six tasters giving the outright victory to the BRUICHLADDICH OCTOMORE 10.3, two gave the nod to the ARDBEG SUPERNOVA, and one gave them a tie – just too close for them.  In the 24 rated areas for the 6 tasters (nose, taste, finish, and balance x 6) – Octomore came out on top in eleven areas, there were nine ties, and the Ardbeg took the honors in four ratings. The ARDBEG had the ever-so-slight advantage on the NOSE overall average (by .1 point), but the OCTOMORE took the honors on other three categories TASTE, FINISH, and BALANCE (by .4 points, .4 points, and .2 points respectively).
ModernThirst.com Overall Scores:
Ardbeg Supernova Committee Release (2019) – 93.5  Excellent  
An outstanding effort by Ardbeg.  This Supernova release tops our rankings of the eleven Ardbegs we have rated to date and is our #10 all-time rated whisky out of 334 total. Individual ratings in order from low to high: 90, 91.5, 93, 94.5, 95 and 96.
Bruichladdich Octomore 10.3 – 94.5  Oustanding
We could not have asked for a better battle for our second Duel.  This Octomore is an amazing dram, so much so that I have another bottle on the way.  It came out on top with a one point overall victory but took the evening in many of the sub-areas. This whisky has moved into the #3 all-time spot for the PPWC and was our #1 whisky of 2019 [you can read that review by clicking here] Individual ratings in order from low to high:  91, 94, 94, 95, 96, and 96.
 WRAP-UP
Hopefully you enjoyed this second installment of the new Duel format that included some other members of the Proper Pour Whisk(e)y Club – let us know what you think in the comments.  If you've tried either of these whiskies we'd love to hear your overall thoughts.  We are already planning out our future challenges. If there is something in particular that you'd like to see in The Duel send me an e-mail at [email protected].