A hot topic in the bourbon blog-o-sphere for the past several months or longer has been the fate of the Distillery formerly known as Old Taylor.  The facility, once the prime showcase of all things bourbon, has been dormant and deteriorating for nearly four decades.    When news broke a year or so ago that a new partnership had purchased the distillery and were going to renovate and reopen the historic site under the watchful eye of Master Distiller Marianne Barnes, bourbon geeks rejoiced.
Why is the name significant?  Because it's been a source of controversy.  Old Taylor was one of seven distilleries started or owned by Colonel E. H. Taylor in the late 19th century.  It was his showpiece distillery- built to draw tourists and be the shining example of distilling in Kentucky.  It was the first place that bottled bourbon, and Taylor insisted on Bottled-in-Bond whiskey (he was a major lobbyist in favor of the 1897 Federal Bottled-in-Bond Act).  He built the main facility in 1872, using locally sourced Kentucky Limestone for the main "castle."  It stood as a testament to the industry and the man himself for decades until declining interest in bourbon in the 1960s led to a consolidation of labels.  National Distillers bought the facility (along with the nearby Old Crow distillery) and more or less mismanaged it (And Old Crow) into oblivion, until it was sold in 1972 to Jim Beam Brands, and closed.  (For more on the history of the Old Crow distillery and the National Distillers period, click here).
When National distillers sold out to Jim Beam, they also transferred rights to the name "Old Taylor."  More recently, Jim beam sold that name to Sazerac and Buffalo Trace, who still owns that trademark.  Why would Buffalo Trace care about the name?  Simple.  Remember the part where I said Taylor started or owned seven different distilleries?  O.F.C., now known as Buffalo Trace, was one of those seven.  So Colonel Taylor has a historic significance to Sazerac as well, and his name plays prominently in Buffalo Trace's marketing and history- so much so that Buffalo Trace still produces Old Taylor bourbon and their higher end Colonel E. H. Taylor, Jr. line of whiskeys.
That means that the old distillery in Millville could not be named the "Old Taylor" distillery without incurring the wrath of Sazerac.  So the knowledge that the distillery was being renovated and revived has been floating around since 2014, but what would it be called?  And THAT has been the nagging question about the site for the past year.  Let's be honest, "The-as-yet-un-named-distillery-formerly-called-the-Old-Taylor-distillery" doesn't exactly roll off the tongue.
Finally, while on a recent tour of the facility led by Marianne Barnes and some of the partners and employees of the new venture, the name has been revealed to ModernThirst and a small group of bourbon writers and bloggers under the one condition that we didn't spill the beans until today.  Despite the urge to spill the beans, I've been good.  But it's finally time to reveal it!
So without further ado: Introducing….

You can find them on Twitter already at @Castleandkey and their website is CastleandKey.com
Full press release below:
ANNOUNCING CASTLE & KEY : KENTUCKY-BRED BOURBON
From the Historic site of Old Taylor Distillery Under Restoration By Partners  Including Marianne Barnes, The First Female Master Distiller of Bourbon In KY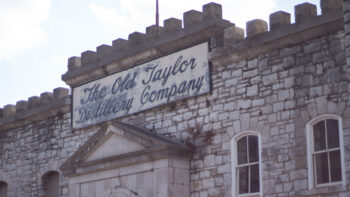 Millville, KY, February, 2016—Inside the walls of a 19th century limestone castle in the heart of bourbon country, history is being honored–and made. Master Distiller Marianne Barnes and her team are painstakingly resurrecting the historic site of the former Old Taylor Distillery to produce their Castle & Key brand bourbon and gin.  Production of Castle & Key's flagship bottled-in-bond bourbon is planned to begin this summer. As Barnes puts it, "The core of Colonel Taylor's vision with bottled-in-bond was building a relationship of trust with his consumer, providing a literal guarantee of bourbon's authenticity and, by extension, quality.  Our goal is to embrace and enhance that vision, creating products and sharing the story from the plow to the bottling line." Castle & Key plans to introduce a KY native botanical recipe gin this year, rye whiskey by 2018, and, then, traditional style Bottled-in-Bond bourbon to honor the Colonel's legacy.
When founding partners, Will Arvin and Wesley Murry, first saw the 1887 distillery, it had sat decaying for over 40 years.  Despite decades of neglect, Arvin and Murry recognized the potential of the site with much of the existing buildings and equipment in a salvageable condition. "Under the rubble and overgrowth, there were 100 year old buildings that were still structurally sound and architecturally astounding, and while a number of people seemed to have passed on this hidden treasure, we knew it could be revived to make great spirits," notes Arvin.
Combining vision, passion and talent, the team is bringing the distillery back to life using existing, new and repurposed equipment and materials.  State of the art distillation equipment manufactured by Vendome Copper & Brass Works has recently been installed positioning Castle & Key to begin production this summer with an annual capacity of 12,000 barrels per year.  In addition to distillation capabilities, the facility has two barrel storage buildings one of which is the longest bourbon rick house in the world measuring almost two football fields in length.
With this same uncompromising respect for both tradition and innovation, Barnes is crafting recipes using time honored traditions and methods to create distinctive Bourbon and gin.  Grains will be sourced from a local Kentucky farmer who is helping Barnes resurrect a strain similar to what would have been used during the prime of Colonel Taylor's era.
"We're very excited to be part of the revitalization of something important in the history of Kentucky bourbon whiskey, and integral in the momentum of the Bourbon Trail," says Brook Smith, the investment partner who, among his many successes, created the iconic restaurant, 610 Magnolia.
Over a century before the Kentucky Bourbon Trail, Col. E.H. Taylor, Jr. had the vision to create a distillery that would be a destination for visitors, a notion far ahead of its time.  The Castle & Key team is picking up where Taylor left off by carefully resurrecting the property and bringing it forward into the twenty-first century.  From the renovation of the glorious grounds and structures, to the bourbon production, they are taking bourbon tourism to the next level.  "It's so encouraging to see how much people want to know about the bourbon they drink, who made it, where and how it's made," says Barnes. "Castle & Key is a destination that encourages people to be our guest, taste, see and enjoy a step back into bourbon history."
The original 1887 formal sunken garden has been revived beyond its original splendor by world-renowned Kentucky fine gardener Jon Carloftis. Located at the foot of the towering castle, it features a koi pond with benches surrounded by greenery, southern magnolia and hydrangea. Carloftis also designed a quarter-mile botanical garden path from which Barnes will source botanicals for her gins.
A key to true Kentucky bourbon is the water.  Castle & Key's clear, limestone-rich source water bubbles up from the ground and fills a key hole-shaped pool under the restored 19th century springhouse. Facing the springhouse is a charming red brick train station—where guests arrived in private rail cars for Taylor's famous Derby parties— that is planned to be transformed into a full-service restaurant.   With Carloftis' creative touch other outbuildings will also be transformed into appealing event spaces for tastings, cocktail parties, weddings and private events.  Bourbon aficionados and day-trippers will enjoy a Napa Valley experience at Castle & Key.  Curated tours of the site, engaging tastings, leisurely strolls through the botanical garden, picnicking on the banks of Glenn's Creek, or shopping inside a renovated boiler house are all experiences guests can expect and enjoy. A number of interactive distillery experience itineraries will be available when the distillery plans to open to the public late summer of 2016. Follow our progress – CastleandKey.com
About Marianne Barnes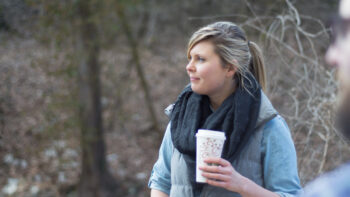 As a student at the University of Louisville, Marianne wasn't exactly sure how she would utilize her chemical engineering degree. In a stroke of fate, she accepted an auspicious internship at Brown-Forman, where she rose to the position of Master Taster in an unheard of five years. "Being mentored by Woodford Reserve Master Distiller Chris Morris was one of the best things that ever happened to me.  Learning from him really brought all of my studies and hard work together," says Barnes. She holds the remarkable distinction of being the first woman to earn the title of Master Distiller of KY bourbon since Prohibition. With her technical knowledge, hands-on experience and a specialized palate, Barnes is destined to produce exceptional products at Castle & Key.
CASTLE & KEY, Kentucky-Bred Bourbon
4445 McCracken Pike, Frankfort, KY/859.873.2481
MEDIA CONTACT: Philip Ruskin, Ruskin International Communications212.749.5511/[email protected]
Photo gallery from ModernThirst's RogueBuss visit to the distillery in advance of the 2016 Bourbon Classic: