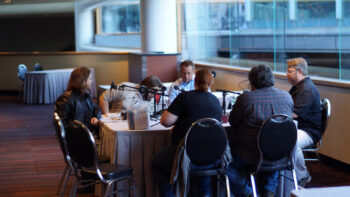 ModernThirst and the Bussclub sat down on the Saturday before the Bourbon Classic to record the mother of all bourbon podcasts. We discussed our adventures from the previous two days of distillery visits, the Bourbon Classic itself, and general bourbon topics. We give you: THE BIG PODCAST!
This is also available on iTunes and wherever you download your podcasts!
The Bussclub podcasters are:
Eight Piece Box – Jonathan & Tamara
Sips, Suds, & Smokes – Mike & Zane
The Modern Thirst – Bill & Matt
Bottom of the Barrel – Chris & Darren
www.bottomofthebarrelbourbon.com
Bourbon & Banter- Melissa
Charlie Tonic Hour – Charlie & Ginny
Big thanks to Dan and Four Roses Bourbon for hosting many of these events and Cary Ann at Straight Up 615 for pulling all this together. Big thanks to Mike and Zane for serving as the engineers who recorded this podcast and provided the equipment, and to Jonathan for serving as MC and herding all of us cats into one somewhat coherent audio recording!